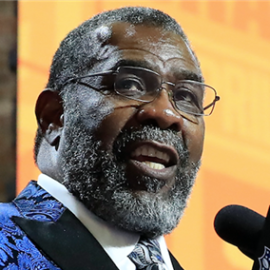 Joe Greene
Former American Football Defensive Tackle for the Pittsburgh Steelers; Four-time Super Bowl Champion
Charles Edward Greene, known as "Mean Joe" Greene, (born September 24, 1946) played his entire NFL career for the Pittsburgh Steelers (1969-1981). He is considered by many to be one of the greatest defensive linemen ever and was the cornerstone of the legendary "Steel Curtain" defense. He is a member of the Pro Football Hall of Fame and a four-time Super Bowl champion. His nickname, "Mean Joe Greene" stems from his alma mater, the University of North Texas' athletic teams, which are nicknamed the Mean Green. Greene is also well known for his appearance in the "Mean Joe Greene" Coca-Cola commercial in 1979, considered to be one of the all-time best Super Bowl commercials.
College Career
Before his NFL career, "Mean Joe" Greene had an outstanding college football career at North Texas State University (now the University of North Texas) (1966–68), leading the team to a 23-5-1 record during his three seasons. In his 29 games at defensive tackle, North Texas State held the opposition to 2,507 yards gained on 1,276 rushes, a per carry average of less than two yards per attempt. In 1984, he was enshrined in the College Football Hall of Fame.
Pro Football Career
In 1969, he was selected by the Pittsburgh Steelers with the fourth pick of the NFL draft and spent his entire career with them until his retirement in 1981. After he was drafted, Greene quickly established himself as a dominant defensive player. He was strong, quick and intense. He was the NFL's Rookie of the Year in 1969, even though he played on a Steelers team that went 1-13 in Chuck Noll's first year as its head coach. The Steelers quickly improved over the next few seasons. His intense desire to win rallied the veterans around him, and with great drafts as well as superb coaching, the Steelers franchise soon began to undergo a dramatic makeover. Joe Greene was credited as the cornerstone of the great Steelers dynasty and the most important player in team history. Greene was the leader and the anchor of the "Steel Curtain" defense that won four Super Bowls in the 1970s. He was recognized as the NFL Defensive Player of the Year in both 1972 and 1974. He, along with other members of the Steelers' front four (L. C. Greenwood, Dwight White and Ernie Holmes) even appeared on the cover of Time magazine. In Super Bowl IX, Greene became the first player ever to record an interception, a forced fumble, and fumble recovery in a single Super Bowl. He went to the Pro Bowl 10 times during his career. After leading the Steelers to another Super Bowl win after the 1975 season over the Dallas Cowboys in Super Bowl X, Greene missed the first several games of the 1976 season with a back injury. The Steelers started off the season 1-4 and looked like they would not make the playoffs. Quarterback Terry Bradshaw was also injured and was replaced by rookie Mike Kruczek. The season looked lost. But Greene and the Steelers defense carried the Steelers to nine straight wins and the playoffs. With a defense considered one of the best in NFL history, the 1976 Steelers held opponents to an average of less than 10 points per game (138 points over 14 games). During their nine-game winning streak, the Steelers defense recorded five shutouts, another modern record, and gave up a total of just 28 points (roughly 3 points per game). The defense allowed only two touchdowns over nine games. Ten of the eleven starters on that 1976 Steelers team were players who made the Pro Bowl at least once in their career (eight starters made the Pro Bowl after the 1976 season). Middle linebacker Jack Lambert had, along with Greene, become the emotional leader of the defense and over the next several years became the dominant player at his position while Greene continued to perform at an all-pro level, becoming a 5-time All-Pro (1972–74, 77, 79) and in 1969 receiving the first of his 10 Pro Bowl invitations. He retired after the 1981 season after 13 years in the league.
Post NFL Career
After retiring from the NFL, Greene spent one year (1982) as a color analyst for CBS' NFL coverage before becoming an assistant coach under Steelers' head coach Chuck Noll in 1987. He spent the next 16 years as an assistant coach with the Pittsburgh Steelers, Miami Dolphins, and Arizona Cardinals. In 2004, he retired from coaching and was named the special assistant for player personnel for the Steelers. In this position he earned his 5th Super Bowl ring after the Steelers won Super Bowl XL, and a sixth from Super Bowl XLIII. Greene is one of four people outside the Rooney family to have Super Bowl rings from the first six championship teams. Although the Steelers do not officially retire jersey numbers, Greene's number 75 has not been issued since his retirement and is understood to be "unofficially retired". Greene was inducted into the Pro Football Hall Of Fame in 1987.
Videos
---
Related Speakers View all
---
Vince Papale

Former NFL Player & Inspiration for the Movie "Invin...

Mike Ditka

Pro Football Hall of Famer, Three-Time Super Bowl Ch...

Rocky Bleier

Former NFL Football Player, Wounded Vietnam Veteran ...

Hines Ward

Retired American Football Wide Receiver, NBC Studio ...

Archie Manning

Former NFL Great and Ambassador of Goodwill

Brian Holloway

Five-Time NFL All-Pro; Motivation & Team Building Ex...

Brian Billick

FOX NFL Analyst, NFL Network Contributor & Former Su...

Jerome Bettis

Former NFL Halfback, Pittsburgh Steelers & Analyst f...

Pat Williams

Motivational Speaker & Sports Executive; Senior Vice...

Dan Marino

Pro Football Hall of Famer, NFL MVP, 9-time Pro Bowl...

Jon Gruden

Head Coach for the Las Vegas Raiders

Troy Aikman

Former Dallas Cowboys Quarterback & NFL Hall of Fame...

Blaise Winter

Blaise Winter is living proof of the POWER OF MIND A...

Bill Walton

Basketball Legend; Broadcaster & Humanitarian

Lynn Swann

Former Pittsburgh Steelers Star Wide Receiver; USC F...

Stephen A. Smith

Sports Journalist, Analyst and Talk Show Host on ESP...

Emmitt Smith

Leading Rusher in NFL History, Three-Time Super Bowl...

Don Shula

Legendary NFL Coach & Motivator

Joe Montana

"The Greatest Quarterback of All Time"; Living Legend

Marv Levy

Pro Football Hall of Fame Head Coach, Four-Time AFC ...
More like Joe