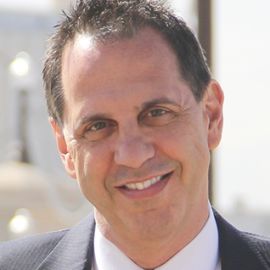 Joe Hammer
Joe Hammer's Business EXCELeration Programs contain effective techniques to better position small business entrepreneurs in a crowded, turbulent marketplace while removing the barriers and limitations most entrepreneurs experience in their business.
Joe's programs bypass conventional "entrepreneurial wisdom" and gets to the core principles of small business success; a business that is lucrative, systematic and fun! Joe's principles of success can be put to immediate work in their business.
Joe Hammer's knowledge of business comes from a lifetime of self-employment. He's been self-employed since the age of 8, and now busier than ever consulting, training and entertaining his audiences. 
Speech Topics
---
The Blind Leading the Mind - How to Form a New Reality Through Powerful Life Changes
There are changes you'd like to make in your life. You've immersed in seminars, read books and listened to the "gurus," but the change still seems to be elusive. How can that be?
After this program you will not only discover why, but you'll also learn an actionable process you can use to make a power life change starting tonight! Now you will realize the life change you most desire!
This is a program individuals who desire to make life changes, but frustrated because they never "stick." It is also a great breakout for spouses. This program can be sponsored and can be customized to meet your audience needs. It is based on the author's book, THE UNCONSCIOUS AUTHORITY.
Stealth Success - "Under the Radar" Advertising and Marketing Secrets of America's Most Profitable Businesses
Whether you're a business owner, or aspiring to be one, this fast-paced program will show you unconventional, tactical advertising and marketing approaches from an experienced pro. Discover how to make your advertising and marketing messages more effective by appealing to the subconscious motivators in the prospect minds. Start making every business advertising dollar prove and pay for itself.
Perfect for companies desiring to dramatically increase the effectiveness of their advertising and marketing efforts. This program is customized to meet your audience needs.
You'd Better Believe It! Unlocking the Unlimited Potential Flowing Within You
As the Founder of Rapid Changeworks™ and the author of THE UNCONSCIOUS AUTHORITY, Joe has assisted many of his clients in overcoming life-long fears, annoying phobias, negative habits and self-imposed limitations. Discover the underlying reasons we self-sabotage ourselves, and what you can do to reprogram and re-navigate your thought patterns to achieve your life's desires.
Perfect for individuals wanting to discover their true potential and banish unwanted subconscious thought patterns. This program can be sponsored and can be customized to meet your audience needs.
Related Speakers View all
---
Ryan Brueckner

Senior Manager in the Strategy & Operations at Deloi...

Liana Rosenman

Co-Founder & Chief Communications Officer of Project...

JP Pawliw-Fry

Co-Founder of the Institute for Health and Human Pot...

Chester Elton

#1 Bestselling Business Author, Organizational Cultu...

Ricky Mendez

Motivational Speaker, Consultant & Coach

Sonia McDonald

CEO & Founder of LeadershipHQ, Executive Coach & Aut...

Bradley R Staats

Professor at the UNC Kenan-Flagler Business School &...

Karla Starr

Author of "Can You Learn to Be Lucky? Why Some Peopl...

Sarah Hurley

Multi Award Winning Entrepreneur Sarah Hurley is the...

Jonathan Sandys

Speaking on the life & leadership of my great-grandf...

Paula McDade

Women's Empowerment & Leadership Speaker, Bestsellin...

Bill Wooditch

Founder, CEO, and president of The Wooditch Group

Dr. Srini Pillay

Neuroscientist & CEO of NeuroBusiness Group

C. Nathaniel Brown

Multi-bestselling author, publisher, filmmaker, and ...

Jennifer Thomas

Best-Selling Author, Motivational Speaker on Apology...

Amy Morin

Psychotherapist & Bestselling Author of "13 Things M...

Randy Charach

Organizations leave Randy's presentations with pract...

Ashley Michelle Berry

Anti-Bullying Advocate, Actress, TV/Radio Host and P...

Laura Saltman

Emmy-nominated Producer & Correspondent; Expert & Co...

Deepak Chopra

Co-Founder of The Chopra Center for Wellbeing
More like Joe