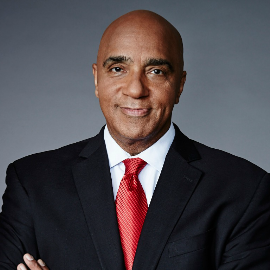 Joe Johns is CNN's senior Washington correspondent, responsible for covering a wide range of political and breaking news stories for the network. Prior to his current role, Johns served as a justice correspondent, covering the Supreme Court, legal and crime issues. With his judicial expertise, Johns contributed to the network's breaking news coverage surrounding the Affordable Care Act as well as the controversy involving electronic monitoring and surveillance involving the National Security Agency. He is based in the network's Washington, D.C. bureau.
Known nationally for his crime and law enforcement reporting, Johns previously served as senior correspondent covering current news events and political events across the network's programming. He contributed to the network's America's Choice 2012 election coverage, reporting at political events throughout the campaign season. He was also instrumental in the network's Emmy award-winning election coverage. Johns joined CNN as a congressional correspondent in January 2004.
Prior to joining CNN, Johns covered events on Capitol Hill, at the White House and at the Pentagon for more than 10 years with NBC News. He covered numerous breaking news and political stories at NBC, including the impeachment of former President Bill Clinton, the entire ""Beltway Sniper"" saga and the Sago Mine disaster in January 2006. He also broke the story of House Majority Leader Tom DeLay's first indictment on conspiracy charges and he traveled to Haiti with Marines ordered by Clinton to assist in that country's transition from a dictatorship to a democracy. He was among the NBC Nightly News team to receive an Edward R. Murrow Award for his ""Beltway Sniper"" reporting.
Johns first came to Washington, D.C., in 1983 when he joined WRC-TV, an NBC affiliate. There, he won an Emmy for his reporting on the violent tactics used by the Nation of Islam to rid a district neighborhood of drugs. Before joining WRC-TV, Johns was a reporter at WSOC-TV, in Charlotte, N.C. He began his TV career as a reporter and anchor in 1980 at WSAZ-TV in Huntington, W.Va.
His reporting contributed to two 2011 Emmy Awards for Anderson Cooper 360°'s Haiti earthquake coverage. Johns is the recipient of two National Association of Black Journalists Salute to Excellence awards. He was honored first in 2005 for a profile on lynching survivor James Cameron and then again in 2007 for a series of pieces on environmental injustice. He contributed to CNN's Emmy award-winning Election Night coverage in 2012 and 2006 and he was a member of the Peabody Award-winning Best Political Team on Television throughout the America Votes 2008 election coverage. He has also reported and narrated documentaries for CNN on the 2001 anthrax attacks in the United States, and on allegations of voter suppression and fraud in national elections.
Johns is a former chairman of the executive committee of Correspondents of the Congressional Radio and Television Galleries and president of the Radio and Television Correspondents' Association. He is also a former member of the board of the National Academy of Television Arts and Sciences for the National Capital Chesapeake Bay Chapter.
He earned a bachelor of arts degree in political science from Marshall University in Huntington and a law degree from American University.
Speech Topics
---
How to make it in the world when you don't come from money, power, or fame.
This is an inspirational speech. Its not always easy to find your place in the world, especially if you had a modest start. Growing up in the Midwest, I wasn't lucky enough to have wealthy parents. They couldn't afford an Ivy League education for me. But with a combination of hard work, some good books, and a little bit of luck, I ended up in a fascinating career, watching history, and sharing what I saw with millions of viewers all over the world. The key? Positive thinking and never giving up.
The Scandals
From Jim and Tammi Bakker, to the Iran Contra Affair, to Marion Barry, Monica Lewinsky, Edward Snowden, Hillary Clinton's Emails, and Russian interference in the last election, there are some common threads that run through the great American scandals of our generation --even beyond sex, power, greed and hubris. I was present for many of these, a ringside seat. There are many things to learn from these. One thing that's always true: the news stories we cant stop watching tell us as much about the consumers of news as about the characters involved in the drama.
Q & A on the last election and the current administration
What on earth is happening in Washington and why doesn't it make any sense?
Diversity in a center-right America
Does it even matter to have multiple cultural viewpoints anymore in a country that seems inclined to look inward?
Social Media and National Politics
In the course of one generation social media has launched an enormous shift in politics here and overseas. Instead of angry letters between envoys, allies and adversaries express their national interests on Twitter. Political movements communicate their goals and plans on of Facebook. American decision makers reach out to their grassroots supporters and communicate their policy goals to other government leaders using social media long before they submit any formal proposals. In the nineties, political negotiation via cable news was a real thing. But social media has inserted an entirely new dynamic: Negotiation in 140 characters or less
Related Speakers View all
---
Donna Brazile

Veteran Political Strategist, Bestselling Author, Fo...

Angela Rye

Attorney, Principal & CEO of IMPACT Strategies, CNN ...

Richard Lui

Journalist, Anchor of NBC News' "Early Today Show" &...

T.J. Holmes

Award-Winning Journalist

Monica Pearson

First Female & African-American News Anchor in Atlanta

Roland Martin

Award-Winning Journalist & Media Personality, Author...

Lester Holt

Anchor of NBC's "Nightly News" & "Dateline NBC"

Nia-Malika Henderson

Senior Political Reporter, CNN

Joy-Ann Reid

MSNBC Correspondent, Political Author & Former Host ...

Goldie Taylor

Editor-at-Large of The Daily Beast; CEO at GOLDIE; A...

Van Jones

CEO of REFORM Alliance, CNN host, Emmy Award-winning...

April Ryan

White House Correspondent, CNN Political Analyst & D...

Maya L. Harris

Influential Voice at the Intersection of Politics, P...

Leslie Dodson

Reporter & Videographer Covering International Finan...

Harris Faulkner

Award-Winning Newscaster; TV Host for Fox News Channel

Tavis Smiley

Broadcaster, Author, Publisher, Advocate, and Philan...

Greg Gumbel

Emmy Award-Winning Sportscaster for CBS Sports

Savannah Sellers

NBC News Correspondent; Anchor of NBC News NOW & Hos...

Joe Fryer

NBC Correspondent & Anchor of NBC News NOW

Dante Chinni

Journalist & Author of "Our Patchwork Nation: The Su...
More like Joe