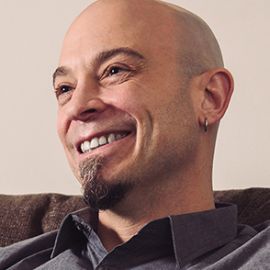 I strive to deliver thought-provoking, entertaining and — most importantly — practical advice that attendees can put to use the minute they get back to work.
It's my job to make you look good.
I am never anything less than completely honored when someone considers or chooses me as a speaker, because with that choice comes risk. The success of any event rests on the quality of the presenters and speakers – and whether or not they engage their audiences and deliver valuable insight. So I take the responsibility of making the event a success every bit as seriously as you do.
Here's what you can expect from me.
Replies within 24 hours to phone calls and email messages.
A personal phone consultation prior to the event, so we can discuss what would be most valuable for you and your audience.
Promotion of your event on my website, blog and social media channels.
A custom resource page, created exclusively for your event, including any slides I used in the speech or workshop, along with any other resources I think might benefit attendees.
A quick follow-up survey to make sure I met your expectations and to get your honest feedback on my contribution.
A Little About Me
I've been speaking publicly on the topics of User Experience (UX) and Design for more than 25 years, from national conferences like DevWeek and QCon to regional events like PechaKucha. I also spend as much time as I can talking to students across the country at colleges and universities, because I believe in giving back what others so generously gave me in the early years of my career.
I've launched two successful online courses. My online course, User Experience Design Fundamentals, has over 30,000 students. That response has been nothing short of humbling and overwhelming, but the level of engagement and the fact that enrollment grows daily tells me that people find it valuable. I've also recently launched a UX & Web Design Master Course, in direct partnership with Udemy, which contains 184 individual lectures and 23 hours of instruction.
I've written several books. My first book, Design Means Business, was published in 2000 (and is now woefully out of print). My new book on User and Customer Experience Strategy, Think First, launched on October 5, 2015. Over 3,000 readers have downloaded my latest eBook, 10 Commandments of UI Design.
I've written numerous articles about the roles Design, UX and CX play in business success for publications such as Fast Company, HOW, SmartCEO, The AIGA Journal, The Baltimore Business Journal and Business Monthly.
I have been a UX/CX Consultant for nearly three decades, and have been privileged to work with organizations from Fortune 100 companies to Government Agencies to small startups. That work includes commercial industry leaders like Broadridge, Condé Nast, Johns Hopkins, Mettler-Toledo, PHH Arval, SC Johnson and Wolters Kluwer, as well as government agencies like NSF/NCSES, NIH and the Dept. of Homeland Security.
I now devote my time to writing, coaching, consulting, and speaking. I've always been immensely passionate about UX and design and their inherent power, and I'm downright giddy when put in a position to share that passion and hopefully ignite someone else's. Nothing thrills me more than seeing that fire in someone's eyes, the light of recognition that leads to change. It just never gets old.
I live outside of Baltimore, MD with my wife Eli; together we have three children. In what little free time I do have, I enjoy motorcycling, art and making music.
Videos
---
Related Speakers View all
---
Peter Shankman

Thought-Leader in Communication & Customer Service

Micah Solomon

Customer Service & Experience Consultant

Nancy Douyon

Founder & Chairwoman of Douyon Signature; Former Int...

Kimberly Byers

User Experience (UX) & Design Expert

Hiten Shah

Hiten Shah is an American entrepreneur and startup a...

Caleb Jenkins

Director of Software Development at Solera, Inc.; Fo...

Mak Man

Dynamic Motivational Speaker and Published Author . ...

Kel Smith

Executive Leadership in Digital Innovation and Citiz...

Nicholas de Wolff

Digital Media & Brand Strategy; Economic & Social Tr...

Marty Stratton

Entrepreneur Spirited Speaker; Driven for Your Success!

Lisa Van Allen

Executive Coach and Spiritual Director to Mission-Dr...

Gillian Muessig

Thought Leader in Global Entrepreneurship

David Nour

Social Networking Strategist

Don Peppers

Marketing and Sales Futurist; Customer Experience Th...

Ali Rayl

Vice President of Customer Experience at Slack

Christina Kosmowski

VP, Global Head of Customer Success & Services at Sl...

Joan Gregor

Co-Founder and President of Intersection-Inc. & Foun...

Rick Osterloh

Senior Vice President of Hardware at Google

Lucie Greene

Worldwide Director of the Innovation Group at J. Wal...

Danielle Levitas

Senior Vice President, Research & Analysis for App A...
More like Joe