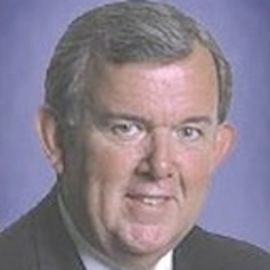 Joe Pettigrew, PhD
America's Leadership Coach
Dr. Joe Pettigrew is a leading authority on the issues affecting today's senior executives. He is a highly distinguished consultant, professional speaker, and founder of Leaderpoint, an international leadership consulting firm based in Memphis, TN. Joe's experiences represent 25 years of exceptional senior leadership and management success. He is among a very elite group of leadership coaches worldwide to hold a Doctorate Degree in the field of Leadership. His clients include many of America's Fortune 500 Companies as well as a large number of small for-profit and not-for-profit organizations. His daily experience in the corporate world, not just on the speaking circut, keeps him up to date with the current trends and issues facing today's senior executives.
Dr. Pettigrew has been featured in the Harvard Business Review, Fortune, U.S.A. Today, and the Wall Street Journal. Joe is known for entertaining keynote speeches and seminars packed with practical content, upbeat humor and extraordinary stories from the real world. He uses his vast knowledge and experiences to provide his audiences with real life solutions for today's management issues. His audiences leave his presentations with ready to apply information, renewed focus and enthusiasm.
Joe's ability to educate and entertain has earned him a reputation as a high content speaker who captivates his audiences. His audiences participate in his presentations, which helps to ensure their success. He has inspired and energized thousands of senior leaders with his vibrant personality, engaging style and unique insight into the pressing issues affecting today's leaders. Joe offers your organization:
A professional image, both on and off the speaker's platform
High morals and values
Twenty-five years of hands on managerial experience
A thoroughly researched and perfectly executed presentation,tailored to the client's needs
Audience participation to enhance the development of ideas
An inspiring and entertaining presentation, which will leave your members energized and motivated.
    Becoming a Leader
    Managers: Hurdling the Obstacles
    Ability May Get You to the Top, But Character Will Keep You There
    Lifestyle by Choice, Not by Chance
    Change Is Not a "Four Letter Word"
    Motivating Yourself and Others
    Building a Dream Team
Related Speakers View all
---
John Izzo, PhD

Leadership Expert & Bestselling Author

Tom Hinton

Expert on customer relations, leadership, team build...

Yvan J. Garcia

I am an extremely motivated individual who likes to ...

Mark Fournier

3-Time EMMY Award-winner; Founder of Ucoach Universi...

Gary Hernbroth

A straight-talking, humorous, and engaging speaker, ...

Sheldon Yellen

CEO, BELFOR

Jeremy Kingsley

Best-Selling Author, Leadership Expert & President o...

John Wood

Founder & Board Co-Chair of Room to Read; Former Mic...

Mike Jaffe

9/11 Survivor; Human WakeUp Call

Bill Treasurer

Bill Treasurer is the Founder and Chief Encouragemen...

Brian Adams

Brian Adams is a published author and award-winning ...

Don Yaeger

Award-Winning Leadership Coach & Best-Selling Author

Peter Sims

Entrepreneur & Best-selling Author; Known for "Littl...

Garrison Wynn

Comedian & Motivational Business Expert

Mark DeVolder

Change Management & Employee Engagement Expert

Joe Healey

CEO of Faster Asset Solutions, Inc.; Author; Consult...

Steve Sax

Five-Time MLB All-Star & Mental Health Advocate

Tim Sanders

Bestselling Author, Technology Pioneer, Expert on Co...

Howard Putnam

Former CEO of Southwest Airlines

Mike Mckinley

Motivational Expert & Founder of a Publishing House
More like Joe