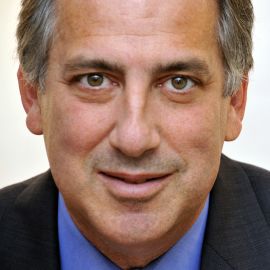 Joe Trippi – heralded on the cover of The New Republic as the man who "reinvented campaigning" – is widely recognized as one of America's leading and most influential political strategists. Trippi has run and consulted on numerous presidential, senate, congressional, gubernatorial and mayoral races, including the successful campaigns of U.S. Senator Alan Cranston of California, Mayor Tom Bradley of Los Angeles, Governor Bob Casey of Pennsylvania, and Congressman Tim Holden of Pennsylvania.
Trippi began his political career working on Edward M. Kennedy's presidential campaign in 1980. His work in presidential politics continued with the campaigns of Walter Mondale, Gary Hart, Richard Gephardt, Howard Dean and, most recently, John Edwards.
In 2004, as the National Campaign Manager for Howard Dean's presidential campaign, Trippi pioneered the use of online technology to organize what became the largest grassroots movement in presidential politics. Through his innovative use of the Internet for small-donor fundraising, "Dean for America" raised more money than any Democratic presidential campaign to that point – all with donations averaging less than $100.
In 2008, Trippi signed on with Senator John Edwards' presidential bid as a senior advisor, focusing on messaging, Internet strategy and online engagement. He was also responsible for producing the campaign's television spots, which were widely applauded as "innovative" and "highly creative" and among the best spots of the 2007-2008 election cycle.
Trippi also has an extensive international resume. In 1993, he worked for then PASOK leader Andrea Papandreou's successful campaign of Prime Minister of Greece, as well as for his son, George Papandreou, in 2007. Trippi advised former British Prime Minister Tony Blair during his successful bid for a third term in 2005. In 2006, he worked for Romano Prodi on his winning race for Prime Minister of Italy. In 2007, Trippi consulted on text messaging strategies to the opposition Action Congress (AC) Party in Nigeria.
Trippi is the author of The Revolution Will Not Be Televised: Democracy, the Internet and the Overthrow of Everything, the story of how his revolutionary use of the Internet combined with an impassioned, contagious desire to overturn politics-as-usual grew into a national grassroots movement – and changed the face of American politics forever.
In addition to his political work, Trippi has consulted with a number of leading corporations including MasterCard, Toyota, DaimlerChrysler, SES Americom, LabCorp, IBM, Lionsgate Films, BestBuy, MSNBC, Wave Systems, and Progeny Linux Systems. Trippi is especially acclaimed within the technology community. In 2004, he won Wired Magazine's Rave Award for his use of innovative technology in politics. Leading Internet companies, from Yahoo! to Google to Bebo invite him to speak to their employees and affiliates.
Trippi has been profiled in The New York Times, The New Republic, Fast Company, The Atlantic, The Washington Post and The New York Times Magazine. He is a CBS News political analyst and former Harvard University Fellow.
Videos
---
Speech Topics
---
Presidential elections -Technology & Politics
Internet and how it is changing people?s lives
Changing people?s perceptions/opinions
How to reach voters in the 21st century
How to create a message htat breaks through
Empowerment Age--How the Information Age is evolving into the Empowerment Age and what corporations and politicians need to do to succeed
Corporate public relations and how it is changing in the face of new activism--the Wal-Mart example
An Army of Davids
Gone are the days where the Goliaths of politics decide the outcome of elections in smoke-filled rooms. Technology and the Internet have redistributed power to ordinary people, allowing movements to organize and leverage an "army of Davids" to take on giants in government, politics and business. Recent elections have repeatedly proven that successful campaigns hand out slingshots—they empower their supporters to do small things that together create a formidable force for change. From President Obama to Jerry Brown's successful run for Governor in California to President Goodluck Jonathan's Facebook-centric approach in Nigeria—the Internet, social media and technology have completely revolutionized the way campaigns organize, fundraise and connect with voters.
The Revolution Will Not be Televised
News
---
How Joe Trippi Found Happiness At Fox News
HOW EXACTLY did Joe Trippi end up here: in a suit, on a Segway, racing Karl Rove through the ceremonial plaza of the NASCAR Hall of Fame? What turns does a man's life have to take?...
Related Speakers View all
---
Ramsey Musallam

Chemistry Teacher, Education Blogger

David McCandless

Author of "Information Is Beautiful" & Infographics ...

Dave Nielsen

Cloud Computing Evangelist & Entrepreneur.

Josh Rubin

Founder, CoolHunting.com

Thor Muller

Internet Entrepreneur

Hugh Evans

Humanitarian; Founder & CEO of Global Poverty Project

Steve Blank

Serial Entrepreneur; Founder, Lean Startup Movement

Clayton Morris

Co-host, Fox and Friends Weekend/Technology Correspo...

Eric Sanders

Playwright, Producer

Stephen King

Partner, Omidyar Network; Chief Executive, Luminate

Jack Hidary

Entrepreneur and Clean Energy Proponent.

Geoff Wardle

Director of Advanced Mobility Research, Art Center C...

Leonard Kleinrock

UCLA Professor of Computer Science

Viktor Mayer-Schönberger

Co-Author of "Big Data" and "Delete;" Expert on the ...

Frank Rose

Author of The Art of Immersion, Writer & Speaker, Di...

Kevin Clark

President and Founder, Content Evolution

Tal Ben-Shahar

Best-Selling Author & Positive Psychology Expert

James Currier

Technology Entrepreneur and Chairman of Medpedia

Ken Segall

Former Apple Ad Consultant

Neil Giuliano

Gay Rights Activist & President and CEO of Greater P...
More like Joe