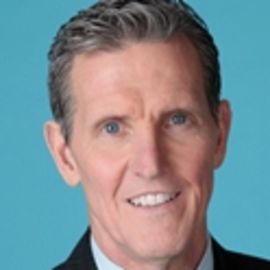 Joel T. Allison
President and CEO Baylor Health Care System
Joel Allison is president and chief executive officer of Baylor Health Care System (BHCS) in Dallas. His primary responsibility is to help Baylor attain its vision "to be trusted as the best place to give and receive safe, compassionate, quality health care". To do so, Allison continues developing Baylor as a patient-focused health care delivery system and clinical enterprise that offers prevention and wellness, physician, outpatient, acute hospital and other services that are geographically dispersed yet efficient and fully-coordinated. He maintains a focus on providing quality, safe patient care that can be measured and reported. He also places a renewed focus on medical education and health care research and continues to collaborate with physicians in the design and development of BHCS.
Allison's career includes more than three decades in health care management. He joined Baylor Health Care System in 1993, and served as Baylor's senior executive vice president and chief operating officer before being promoted to president and CEO in 2000.
Allison received a bachelor's degree in journalism and religion at Baylor University in 1970 and attended Trinity University's health care administration program where he earned a master's degree in 1973. He is also a graduate of the Advanced Management Program at Harvard Business School and in 2004 he received an Honorary Doctor of Humanities degree from Dallas Baptist University.
Allison is a Fellow of the American College of Healthcare Executives. Nationally, he serves on the Healthcare Leadership Council, the Joint Commission Board of Commissioners and he is also a member of the United Surgical Partners, International board. In addition, he serves on numerous state and local boards; including his appointment by Governor Rick Perry to the Texas Institute of Health Care Quality and Efficiency Board, the Baylor University Board of Regents, Texas Association of Voluntary Hospitals, Healthcare Coalition of Texas, Dallas Citizens Council, Dallas Education Foundation and the Denison Forum on Truth and Culture. He is also a past chairman of the United Way of Metropolitan Dallas Board, the Dallas Regional Chamber Board and the Dallas Citizens Council Board.
Allison was recently recognized as the recipient of the Baylor Alumni Association's 2013 George W. Truett Distinguished Church Service Award and he was honored in 2012 with the Texas Association of Business Distinguished Leaders Award. He is the 2011 recipient of the Texas Women's University "Virginia Chandler Dykes Leadership Award" and the B'nai B'rith "National Healthcare Award" and was also selected in 2011 as the recipient of the Dallas County Medical Society's "Millard J. and Robert L. Heath Award" for distinguished service by a non-physician. In 2010, he was inducted into the Baylor University "B" Association's "Wall of Honor" and was also recognized by Baylor University in 2004 as a "Distinguished Alumnus". In 2008, the Dallas Fort Worth Hospital Council recognized him with the "Boone Powell, Sr. Award for Excellence" and in that same year he was honored by the Texas Hospital Association with the "Earl M. Collier Award" for distinguished hospital administration. Other honors include the Modern Healthcare/HIMSS "CEO IT Achievement Award" for his leadership and commitment to healthcare technology and the Dallas Historical Society "Award for Excellence in Community Service". Allison is also a past recipient of the Trinity University Healthcare Alumni Association "Leonard A. Duce Award" for outstanding leadership and significant contribution to the healthcare field.
Today, through his leadership role with BHCS, Allison continues to fulfill his life-long mission to help lead an organization that combines ministry and health care in its mission statement and day-to-day operations.
Joel and his wife Diane have a daughter, two sons and six grandchildren.