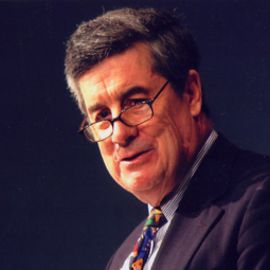 John A. Calhoun
Advocate for Bettering the Lives of Children, Founder of the National Crime Prevention Counci
By creating one of the most successful public/private partnerships in government history, Mr. Calhoun re-wrote the book on crime and helped Americans everywhere realize that they too could "Take a Bite Out of Crime."With McGruff, the dog, and a series of highly successful and much acclaimed crime prevention programs Mr. Calhoun successfully changed American's behavior from re-active to pro-active and taught us that even when facing a huge problem such as crime, we can actually do something.
Jack earned his BA from Brown University and a Master's Degree in Theology from Episcopal Theological Seminary. He earned his Masters of Public Administration from Harvard's John F. Kennedy School of Government, where he was honored as a Littauer Fellow. He also holds and honoary degree, "Doctor of Humane Letters," from Heidelberg College.
Prior to his twenty-year post at the National Crime Prevention Council, Jack served as the Presidentially appointed U.S. Commissioner of Administration for Children, Youth and Families. In this position he oversaw such programs as Head Start, Child Abuse and Neglect Prevention, Foster Care, as well as spearheaded one of his most successful programs, the Child Welfare and Adoption Act of 1980. Prior to this he was the Massachussetts Commissioner of the Department of Youth and Services and Chair of the Adolescent Task Forces and Massachussets State of the Family Conference.
A frequent media guest on The Today Show and Larry King Live, he is the author of numerous books and articles dealing with the prevention of delinquency and crime and the restoring and sustaining of civic health.
In his speeches Jack talks about empowering communities to prevent crime and build safer, more caring communities. With a rare ability to inspire, educate, move and motivate, Jack Calhoun teaches audiences how change America one heart at a time.