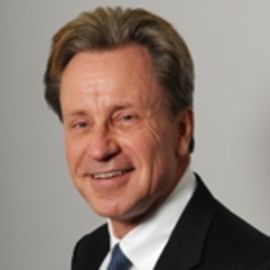 John A. Davis
Harvard Business Professor, Family Business Expert, Leading Financial Advisor
Recognized as one of America's leading wealth advisors, John A. Davis is Senior Lecturer of Business Administration at Harvard Business School. He is currently teaching the Entrepreneurial Management course, Management of the Family Business, which explores the personal, family, career and business issues found in family-owned and managed companies. Trained in business management, psychology and economics, John A. Davis is the Founder and Vice Chairman of an international organization that advises and educates business-owning families. Professor Davis also conducts leading edge research in the family business field. A faculty member at Harvard Business School (HBS) since 1996, John A. Davis is the faculty chair of the executive education program Families in Business: From Generation to Generation which examines the pivotal issues in family-owned companies of management and ownership succession, developing the next generation, and governance and leadership of the business and family. He also teaches in the Owner/President Management program and other executive programs at HBS.
John A. Davis is a fellow of the Family Firm Institute and of the Business Family Foundation, and a member of the Academy of Management, the Family Business Network, and the International Family Enterprise Research Academy. Professor Davis has served on the faculty of the Graduate School of Business at the University of Southern California, and has lectured on family business management at Stanford University, IMD (Switzerland), INCAE (Costa Rica), Universidad Adolfo Ibanez (Chile), and Universidad de los Andes (Chile).
As one of the world's leading experts and advisors concerning family business and family wealth, John A. Davis consults and speaks globally to family companies on the topics of dynastic success, family and business governance, working with relatives, managing succession, developing the next generation and professionalizing the family business.
Co-author of the book Generation to Generation: Life Cycles of the Family Business, Professor John Davis has also authored journal articles and HBS cases, readings and multimedia tools on a wide range of family business topics. He is completing a book describing the best practices of successful family business dynasties and another on the governance of family companies. John A. Davis also serves on the editorial board of Family Business Review, the leading journal in the field. Professor Davis's theories and observations have been cited by the Wall Street Journal, New York Times, Financial Times, The Economist, Business Week, Exame (Brazil) and Family Business magazine, and many other publications.
Generation to Generation presents one of the first comprehensive overviews of family business as a specific organizational form. Focusing on the inevitable maturing of families and their firms over time, John A. Davis reveals the dynamics and challenges family businesses face as they move through their life cycles. Professor Davis asks such questions as: what is the difference between an entrepreneurial start-up and a family business, and how does one become the other? How does the meaning of the business to the family change as adults and children age? How do families move through generational changes in leadership, from anticipation to transfer, and then separation and retirement?
Professor John A. Davis earned his Doctorate in Business Administration from Harvard Business School, his Master of Arts in Economics from the University of Wisconsin, and his Bachelor of Arts in Economics from Kenyon College.
Videos
---
Speech Topics
---
Generation to Generation: Life Cycles of the Family Business:
Family business dynamics, the life cycle of the family business, succession planning, and fundamentals of family business management.
The Three Components of Family Governance:
Having described the framework of family business governance and the governance of the business, John Davis discusses the most challenging of the family business governance topics-governance of the family itself.
Organizing The Family-Run Business:
The intricacies of creating a board for the family-run business.
Governing The Family-Run Business
Corporate governance can be difficult enough-but what happens when your board of directors is comprised of your cousins? Or when your CEO is your sister? Harvard Business School's John Davis discusses governance issues unique to the family-run business.
Related Speakers View all
---
Nitin Nohria

Dean of Harvard Business School

Andy Zelleke

MBA Class of 1962 Senior Lecturer of Business Admini...

James M. Sharpe

Senior Lecturer of Business Administration

Herman B. Leonard

Eliot I. Snider and Family Professor of Business Adm...

Joseph Grenny

New York Times Bestselling Author; Leading Social Sc...

Arthur I. Segel

Poorvu Family Professor of Management Practice

Janet J. Kraus

Senior Lecturer of Business Administration

Thomas DeLong

Author, Harvard Business School Professor of Managem...

Robert Eccles

Visiting Professor of Management Practice, Saïd Busi...

Timothy Butler

Senior Fellow Director of Career Development Program...

Joseph L. Bower

Professor of Business Administration at Harvard Busi...

Robert Simons

Charles M. Williams Professor of Business Administra...

Robert Cialdini

New York Times Best-Selling Author & The Foundationa...

John Wood

Founder & Board Co-Chair of Room to Read; Former Mic...

Ranjay Gulati

Paul R. Lawrence MBA Class of 1942 Professor of Busi...

Donald Sull

Senior Lecturer at MIT Sloan School of Management; C...

Ray Kurzweil

Chairman of Kurzweil Technologies, Inventor & Futuri...

Joline Godfrey

Authority on Financial Education, Author of Raising ...

Dan Ariely

Behavioral Economist; Professor at Duke University; ...

Lynn S. Paine

John G. McLean Professor of Business Administration ...
More like John