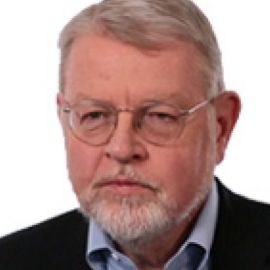 John Goodman is Vice Chairman of Customer Care Measurement and Consulting (CCMC). He graduated from Carnegie Mellon University with a B.S. in chemical engineering. He received an M.B.A. from Harvard Graduate School of Business Administration in 1971, In 1972, Mr. Goodman became a co-founder of TARP where he led research on customer service and complaint handling. His team created CCMC in 2001.
The American Management Association published his book, Strategic Customer Service, in May 2009. This book has been translated into four other languages and reach number 1 on Amazon.Japan.com business books. His new book, "Customer Experience 3.0", was published in July 2014 and is now also available in Chinese and Japanese. He has eight articles in Quality Progress and a ninth, "Applying LSS to Marketing and Sales, " was published in June 2017.
Over the past 40 years, Mr. Goodman has managed more than 1,000 separate customer service studies for 45 of the Fortune 100. He managed the White House-sponsored evaluation of complaint handling practices in government and business; studies of word of mouth and the bottom-line impact of consumer education sponsored by Coca-Cola USA; and a dozen benchmarking studies of customer service, complaint handling, the voice of the customer processes and the use of technology for service. He assisted Toyota, Honda, Ford, Hyundai and General Motors in establishing their 800 number-based consumer affairs service systems. He has taught service quality and service re-engineering courses at Wharton Business School's executive education program as well as in Ohio State's MBA program. He has appeared on "Good Morning America", National Public Radio, the Discovery Channel, the ABC Evening News, and as a panelist on the PBS show, "The Editors."
He personally visited and assessed the customer service/complaint handling systems of over 1200 corporations and govern¬ment agencies. He has assisted small and medium professional services firms in technology, engineering, real estate, consulting, legal and investment environment. Some of his private clients have included American Express, Salesforce.com, Harley Davidson, USAA, Apple, Aflac, AutoTrader, Guardian Insurance, Ryder Truck Leasing, SunTrust, CitiGroup, 3M, Xerox, FedEx, J&J, Allstate, Zurich Risk Management, American Agriculture Insurance, Chick-Fil-A, Toyota/Lexus, Hyundai, McDonnell Douglas, Milliken, Baxter Healthcare, Prudential, ServiceMaster, GE Capital, Sprint, Sears Home Improvements, IBM, Neiman Marcus, HSBC, McDonald's, Pitney Bowes, Charles Schwab, British Airways, British Gas, Cathay Pacific Airways, Komatsu, John Deere, Amtrak, Kroger Co., Goodyear Tire & Rubber, Marriott, General Motors and Clorox.
Government clients have included the U.S. Department of Agriculture, the National Highway Traffic Safety Administration, the Federal Reserve Board of Governors, the Consumer Product Safety Commission, the Federal Aviation Administration, the Food and Drug Administration, key member agencies of The Intelligence Community and the US Postal Service.
Related Speakers View all
---
Jeanne Bliss

President of Customer Bliss & Author of "Chief Custo...

Blake Morgan

Customer Experience Consultant & Futurist; Forbes Co...

Robert Spector

Customer Service Expert, Bestselling Author & Creato...

Doug Lipp

Former Head of Training at Walt Disney University & ...

Bill Capodagli

Author of "Innovate the Pixar Way: Business Lessons ...

Dee Ann Turner

Communicator, Consultant & Coach, Former Vice Presid...

Peter Shankman

Thought-Leader in Communication & Customer Service

Dennis Snow

Customer Service Expert, Formerly with the Disney In...

Gary Magenta

Author, Customer Experience Guru & SVP at Root Inc.

Dan Steinman

Entrepreneur & Chief Customer Officer at Gainsight

Horst Schulze

Legendary Hotelier Renowned for Creating a Culture o...

Nancy Douyon

Founder & Chairwoman of Douyon Signature; Former Int...

Jason Young

Former Senior-Level Manager at Southwest Airlines & ...

Micah Solomon

Customer Service & Experience Consultant

Erica Javellana

Employee Relations Manager at Zappos

Colin Shaw

Customer Experience Thought Leader, CEO of Beyond Ph...

Matthew Dixon

Chief Product & Research Officer at Tethr; Author; A...

Jake Poore

President & Chief Experience Officer at Integrated L...

Darryl Michael Speach

Customer Experience Thought Leader, People Performan...

Story Musgrave, M.D.

Retired NASA Astronaut; Physician & Professor at Art...
More like John