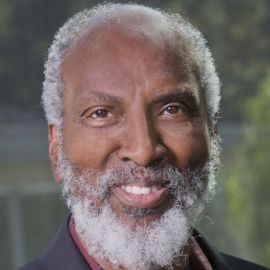 john a. powell is an internationally recognized expert in the areas of civil rights and civil liberties and a wide range of issues including race, structural racism, ethnicity, housing, poverty, and democracy. He is the Executive Director of the Haas Institute for a Fair and Inclusive Society, which supports research to generate specific prescriptions for changes in policy and practice that address disparities related to race, ethnicity, gender, sexual orientation, disability, and socioeconomics in California and nationwide. In addition, to being a Professor of Law and Professor of African American Studies and Ethnic Studies at the University of California, Berkeley, Professor powell holds the Robert D. Haas Chancellor's Chair in Equity and Inclusion. He was recently the Executive Director of the Kirwan Institute for the Study of Race and Ethnicity at The Ohio State University and held the Gregory H. Williams Chair in Civil Rights & Civil Liberties at the Moritz College of Law. Under his direction, the Kirwan Institute has emerged as a national leader on research and scholarship related to race, structural racism, racialized space and opportunity. He has been a leader in developing an "opportunity-based" housing model that provides a critical and creative framework for thinking about affordable housing, racialized space, and the many ways that housing influences other opportunity domains including education, health, health care, and employment.
Professor powell has written extensively on a number of issues including structural racism, racial justice and regionalism, concentrated poverty and urban sprawl, opportunity based housing, voting rights, affirmative action in the United States, South Africa and Brazil, racial and ethnic identity, spirituality and social justice, and the needs of citizens in a democratic society. He is the author of several books, including his most recent work, Racing to Justice: Transforming our Concepts of Self and Other to Build an Inclusive Society.
Previously, Professor powell founded and directed the Institute on Race and Poverty at the University of Minnesota. He also served as Director of Legal Services in Miami, Florida and was National Legal Director of the American Civil Liberties Union where he was instrumental in developing educational adequacy theory.
Professor powell has worked and lived in Africa, where he was a consultant to the governments of Mozambique and South Africa. He has also lived and worked in India and done work in South America and Europe. He is one of the co-founders of the Poverty & Race Research Action Council and serves on the board of several national organizations. Professor powell has taught at numerous law schools including Harvard and Columbia University.
Related Speakers View all
---
Jane Elliott

Anti-Racism Activist, Educator, Feminist & LGBT Acti...

Peggy McIntosh, Ph.D.

Feminist and anti-racism activist, the associate dir...

Candi Castleberry-Singleton

Vice President of Diversity & Inclusion at Twitter

Stacy Smith

Founder & Director of the Media, Diversity and Socia...

DeRay Mckesson

Civil Rights Activist & Host of "Pod Save The People"

Latondra Newton

SVP & Chief Diversity Officer at The Walt Disney Com...

Tony Prophet

Chief Equity Officer of Salesforce

Kat Chow

Reporter at "Code Switch" an NPR Podcast about Race,...

Dr. Michael Kaufman

Author & co-founder of the White Ribbon Campaign; Ad...

Kimberle Crenshaw

Civil Rights Advocate & Leading Scholar in Critical ...

Shaun R. Harper

Critical Race Theorist; Gender Studies Scholar

Constance Wu

Actress Known for "Fresh Off the Boat" & "Crazy Rich...

Ellen McGirt

Senior Editor at Fortune Magazine & "RaceAhead" Col...

Candice Morgan

Equity, Diversity & Inclusion Partner at Google Vent...

Chevara Orrin

Diversity & Inclusion Strategist, Social Entrepreneu...

Vanessa Sheridan

Director of Gender Equity and Inclusion at Center on...

Roy Gluckman

Equality, Diversity & Inclusion Specialist, CEO of C...

Barbara Adams

Author; Diversity & Inclusion Expert

Xernona Clayton

Creator of the Trumpet Foundation, Civil Rights Lead...

Ron Stallworth

Retired Police Officer who Infiltrated the Ranks of ...
More like John