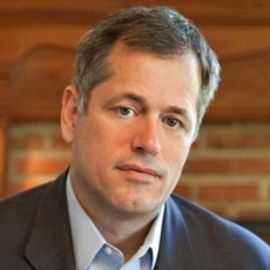 John Anderson is the author of "Stand By Her: A Breast Cancer Guide for Men," which was selected by The Wall Street Journal as one of the best health books of 2009. Anderson has been a caregiver for four women in his life who were diagnosed with breast cancer: his wife, mom, sister and his mom's best friend. Anderson is currently developing a pilot program with doctors in Virginia establishing a doctor/patient/caregiver triangle of medical care.
Anderson is also president and founder of The Farm, an advertising and production company with offices in New York and Virginia. He is an Emmy-nominated director of television commercials, including Lifetime Television's "Stop Breast Cancer for Life" campaign, and a writer, producer and director of television shows. He is an attorney licensed to practice in New York and Virginia, specializing in entertainment and business law. He is also a writer for newspapers and magazines whose work has appeared in The New York Times, Rolling Stone, Huffington Post, The Nation, and many other publications. Anderson has appeared on a number of national television and radio programs, including Today, CNN's House Call with Sanjay Gupta and ESPN radio.
Videos
---
Speech Topics
---
Healthcare Reform begins at the Doctor's Office: The Doctor/Patient/Caregiver Evolution of Medical Care
The greatest hot button issue, other than the economy, is healthcare. Cynics, especially those in the media, think there is no answer in sight. John Anderson disagrees. Thats because hes busy working with a team of doctors to solve the healthcare problem right in the doctors examination room. The answer lies with a newcomer to the doctor/patient relationshipthe caregiverto create an evolutionary change in medicine John refers to as the doctor/patient/caregiver triangle of care.
Millions strong, willing to work for free, 24 hours, 7 days a week, the newly-minted Medical Support Army of Caregivers is being activated one person at a time thanks to one very important thingdoctors ordersgiven directly to the caregiver to act in the best interests of their loved ones, the patient.
The American College of Physicians, the leading association for internal medicine doctors, recently issued a position paper that states doctors should work directly with caregivers in treating patients.
John, a caregiver for four women in his life who were diagnosed with breast cancer (his wife, mom, moms best friend and sister) is up to the challenge as he shares with his audience his exciting personal and emotional journey to change medicine, thanks to a unique partnership with open-minded physicians across the country, and around the world.
Get Well: What to do when your loved one's diagnosed with a life-threatening disease.
Everyone is directly affected as a caregiver when a loved one who has been diagnosed with a disease. Everyone.
Take breast cancer, and men, as just one small example. One in eight women will be diagnosed with breast cancer in their lifetimes. Given that every man has a mom, over 50% of all men get married at least once, and another 50% or so have either a daughter or sister, that means nearly 25% of ALL men will have a mom, wife, sister, or daughter diagnosed in their lifetime. One in four. And thats just counting the men in a breast cancer patients lifenot her mom, sisters, or daughters.
How many more caregivers, then, are out there today with loved ones diagnosed with other cancers, heart disease, respiratory illnesses, kidney disease, diabetes, HIV/AIDS, etc? Millions.
John Anderson in his speech serves as an invaluable guide for all those caregivers out there on how best to help their loved ones through their own personal journeys. John knows, first-hand, what to do, having been a caregiver to four women in his life who went through breast cancerhis wife, mom, moms best friend and sister, sharing his personal and emotional experiences. John will take his audience through every step of the medical processdiagnosis, surgery, recovery, prescriptions, insurance, and beyondalong with all of the difficult emotional and psychological landmines to overcome as well.
Books
---
Related Speakers View all
---
Geralyn Lucas

Breast Cancer Survivor & Author of "Why I Wore Lipst...

Shannon Miller

Olympic Gold Medalist, Health Advocate & Cancer Surv...

Diana Jordan

Veteran Stand-up Comedienne & Breast Cancer Survivor...

Zoleka Mandela

Global Ambassador for Child Health Initiative, Daugh...

Alexa Marks, RN, BSN

Registered Nurse, Mom of Three & Breast Cancer Survivor

Melanie Young

Breast Cancer Survivor; Health & Wellness Advocate; ...

Dr. Kristi Funk

Founder of Pink Lotus Breast Center; Breast Cancer S...

Marty Makary, M.D.

Healthcare Futurist, Johns Hopkins Surgeon & Profess...

Dr. Jennifer Ashton

Leading Women's Health Expert & Chief Medical Corres...

Elaine Sanchez

Caregiver Speaker, Author & Co-Founder of CaregiverH...

Kelly Corrigan

Author of "Glitter and Glue" & Breast Cancer Survivor

Giuliana Rancic

Entertainment Journalist & Breast Cancer Survivor

Nancy Snyderman, MD

Former Chief Medical Editor of NBC News

Jan Ping

Emmy Award-Winning Makeup Artist & Breast Cancer Sur...

Dr. Susan Love

Breast Cancer Researcher & Advocate; Teacher, Surgeo...

Beverly Kirkhart

Cancer Survivor, Co-Author of "Chicken Soup For The ...

Barbara Bowers, MD

Medical Oncologist Specialized in the Diagnosis & Tr...

Lillie Shockney

Director of the Cancer Survivorship Programs at John...

Mayim Bialik

Neuroscientist & Actress, Known For "The Big Bang Th...

Kathleen Kennedy Townsend

Maryland's 1st Female Lt. Governor
More like John