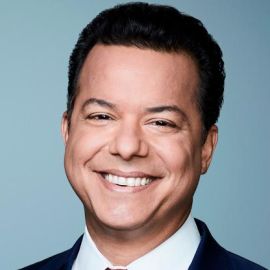 John Avlon
Senior Political Analyst & Fill-In Anchor at CNN, Former Editor-in-Chief of The Daily Beast
John Avlon is an author, columnist and commentator. He is a senior political analyst and fill-in anchor at CNN, appearing on New Day every morning.
From 2013 to 2018, he was the editor-in-chief and managing director of The Daily Beast, during which time the site's traffic more than doubled to over one million readers a day while winning 17 journalism awards.
He is the author of the books "Independent Nation," "Wingnuts," and "Washington's Farewell" as well as co-editor of the acclaimed "Deadline Artists" journalism anthologies.
Avlon served as chief speechwriter to New York City Mayor Rudy Giuliani and won the National Society of Newspaper Columnists award for best online column in 2012.
After the attacks of September 11th, 2001, he and his team were responsible for writing the eulogies for all firefighters and police officers murdered in the destruction of the World Trade Center. Avlon's essay on the attacks, "The Resilient City" concluded the anthology "Empire City: New York through the Centuries" and won acclaim as "the single best essay written in the wake of 9/11."
His first book, "Independent Nation: How Centrists Can Change American Politics" was described by Barron's as "a rewarding portrait of a political trend the established parties have tried to ignore" and hailed by TheModerateVoice.com as "the best political book ever on American centrist voters."
The two "Deadline Artists" anthologies, which Avlon co-edited with Jesse Angelo and Errol Louis, won acclaim from the Washington Post as "one of the greatest collections of newspaper articles ever compiled" while the American Journalism Review described it as "the most addictive journalism book ever."
Avlon has appeared on The Daily Show, Late Show with Stephen Colbert, CNN, Real Time with Bill Maher, PBS and C-Span. He has spoken at the Kennedy School of Government, the Citadel, the State Department's visiting journalist program and civic organizations around the nation.
Avlon is also a co-founder of No Labels – a group of Democrats, Republicans and Independents dedicated to the politics of problem-solving and making government work again.
Columnist Kathleen Parker wrote, "Americans who are fed up with the Ann Coulter/Michael Moore school of debate and are looking for someone to articulate a commonsense, middle path, may have found their voice in John Avlon."
He is married to Margaret Hoover, a conservative political analyst who is the great-granddaughter of former president Herbert Hoover, as well as the author of American Individualism and host of PBS's Firing Line. The New York Times says, "Their telegenic union may be a lesson in overcoming the orthodoxies that divide us."
They live in New York City with their son, Jack and daughter, Toula Lou.
Videos
---
Related Speakers View all
---
Joy-Ann Reid

MSNBC Correspondent, Political Author & Former Host ...

Bob Woodward

Legendary Pulitzer Prize-winning Journalist/Author a...

Frank Luntz

Political Pollster & Communication Expert

Ben Stein

Political Economist, Commentator, Author & Actor

Angela Rye

Attorney, Principal & CEO of IMPACT Strategies, CNN ...

Van Jones

CEO of REFORM Alliance, CNN host, Emmy Award-winning...

Donna Brazile

Veteran Political Strategist, Bestselling Author, Fo...

Katty Kay

Lead Anchor for BBC World News & Best-Selling Author

Tammy Bruce

Political Commentator, Talk Radio Show Host & Author

Margaret Hoover

Conservative Political Commentator, Political Strate...

Sam Stein

White House Correspondent for Politico & MSNBC Contr...

Sophia Nelson

USA Today & Daily Beast Contributor, MSNBC Commentat...

Laura Ingraham

Political Commentator, Television Host & Journalist

Ann Coulter

Bestselling Author & Political Commentator

Jamal Simmons

Democratic Strategist & Political Commentator

Juan Williams

New York Times Best-Selling Author, Fox News Politic...

Julian E. Zelizer

CNN Political Analyst, Professor of History & Public...

Eleanor Clift

Author; Washington Correspondent & The Daily Beast C...

Carl Bernstein

Pulitzer Prize-Winning Journalist, Author & Politica...

Michael Eric Dyson

MSNBC Political Analyst, Former Host of NPR's "The M...
More like John