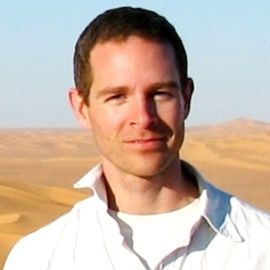 John Bohannon:
Is a biologist and journalist. After embedding in southern Afghanistan in 2010, he engineered the first voluntary release of civilian casualty data by the US-led military coalition. As a visiting scientist at Harvard, he studies the evolution of fame using data provided by Google. His research on the blurring line between the cuisine of man and pet caused Stephen Colbert to eat cat food on television.
Using an alter ego known as the Gonzo Scientist, he runs the "Dance Your Ph.D." contest for the journal Science, an international competition for scientists to explain their research with interpretive dance. He is the coauthor with Isabella Rossellini of Animals Distract Me, which premiered at the 2011 Sundance Film Festival. He has a Ph.D. in molecular biology from Oxford.
Credits for the TEDxBrussels performance:
The dancers come from Minneapolis' Black Label Movement dance company and from Brussels. Choreographer: Carl Flink and Edward Oroyan. Dancers: Jessica Ehlert, Brian Godbout, Stephanie Laager, Edward Oroyan, Nelle Hens, Camille Prieux, Mariel Blaise, Gapson Nenaks, David Zagari & Marcio Canabarro
Black Label Movement (BLM):
Founded in the fall of 2005 by choreographer Carl Flink as a creative laboratory and performance platform for his unique brand of intensely athletic contemporary dance making. The company name comes from the generic food brands of the late 1970s and 80s which simply bore white or yellow labels with bold black lettering declaring what each product contained e.g. Fruit Cocktail, Peas, Corn Flakes, etc. Flink and his friends called these black label foods. The no frills, you get what you see nature of these products was a perfect fit for Flink's aesthetic. The addition of Movement to the company name captures the intensely physical nature of the company, as well as its goal to be a socially conscious dancers' collective in support of the choreographic voices of all of its company members, which BLM calls movers.
Since 2005, BLM has quickly grown to be one of Minnesota's established contemporary dance companies. BLM has moved beyond the borders of Minnesota with appearances at the 2011 Bates Dance Festival, the White Oak Plantation – the original home of Mikail Baryshnikov's White Oak Project, numerous college residencies including an upcoming residency at the University of Kansas, and the 2011 Chicago Humanities Festival. Most recently, BLM in collaboration with Science Magazine correspondent John Bohannon presented Zero Gravity Dance and A Modest Proposal at the 2011 TEDx Brussels in Belgium. The video of A Modest Proposal went on to become an enormous viral internet hit.
Videos
---
News
---
Dance vs. PowerPoint: A Modest Proposal
John Bohannon has a modest proposal. In his TEDxBrussels talk from November 2011, he asserts that "bad PowerPoint presentations are a serious threat to the global economy." Touché, Mr. Bohannon. You're speaking our language already.
Related Speakers View all
---
Penn Jillette

Magician, Actor, Musician, Inventor, Television Pers...

Marco Tempest

Cyber-Illusionist

Min-Liang Tan

Razer co-founder and CEO

Kelly Day

Chief Operating Officer, ViacomCBS Networks Internat...

Oren Jacob

Fil Producer, Founder & CEO at ToyTalk Company & For...

Mark Fischbach (Markiplier)

YouTube Personality & Video Game Commentator

Olajide Olatunji ("KSI")

YouTube Star Known for His Comedy Sketches and Video...

The Fine Bros.

Online Producers, Writers & Directors; Known for The...

Jimmy O. Yang

Comedian & Actor; Known for His Role in HBO's "Silic...

Tadhg Kelly

Game designer, TechCrunch columnist, creator of What...

Sarah Perez

Writer for TechCrunch

Sarah Buhr

Writer and Reporter for TechCrunch

Sarah Lane

TechCrunch Executive Producer, Video Host, Crunch Re...

Felix Kjellberg (PewDiePie)

Swedish-Born Producer of "Let's Play" Videos on YouT...

JennXPenn

YouTube Star, Entertainer

Ruth Vitale

Executive Director, CreativeFuture

Matt Guthmiller

Entrepreneur. Pilot. Software Engineer. MIT. Younges...

SJ Murray

Emmy-Nominated Writer, Producer & Story Designer

Greg Brown

Co-Creator of AsapSCIENCE YouTube Channel

Joey Graceffa

YouTube Personality & Author of "In Real Life"
More like John