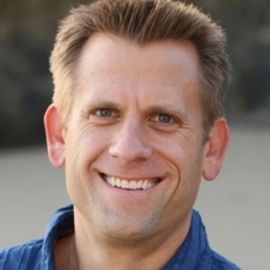 John Brenkus is the co-chief executive officer, director and creative director of BASE Productions and is responsible for developing the signature looks and styles that have defined BASE's growth in the industry. Brenkus has built BASE according to his vision of allowing audiences to experience and appreciate the science behind the most extreme events, conditions and experiences in the world. The result is high-octane programming that's proven successful across several formats and a variety of cable channels. Brenkus plays an integral part in the production of each BASE show, including his role as host of Sport Science. Brenkus' energy and constant enthusiasm for uncovering innovative new show formats drives the overall success of BASE.
Brenkus graduated with Honors and Distinction, from the University of Virginia, where he constructed his own major in Film and Rhetoric Communications. During the early years of his career, Brenkus produced numerous successful short films and music video projects before launching full time into film and television writing, production and direction. Brenkus is based in Los Angeles.
Current projects include Emmy Award-winning Sport Science (ESPN), Crime 360 (A&E), Jesse James is a Dead Man (Spike TV), Fight Science (National Geographic), Strong Men (National Geographic), Cowboys (Animal Planet), IPredator (Animal Planet), Known Universe (National Geographic) and Human Wrecking Balls (G4). His latest book is The New York Times best seller "The Perfection Point: Sport Science Predicts the Fastest Man," the Highest Jump, and the Limits of Athletic Performance."
Videos
---
Speech Topics
---
Maximize Your Performance & Potential
New York Times best-selling author, Emmy Award-winning producer and television personality, John Brenkus, inspires listeners to rise above the competition as he explores the physical and mental challenges faced by the world's top athletes. Brenkus will engage the audience by drawing from his creative scientific experiments that test the human body's limits, and by explaining his journey to complete an Ironman Triathlon. Through his good humor, passion and honesty, Brenkus encourages everyone to strive to reach their full potential. Working closely with some of the greatest athletes on the planet on his award-winning ESPN show, Sport Science, has provided Brenkus an understanding of what it takes to succeed, whether it's with family and friends, in the office, or on the field.