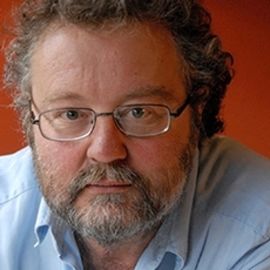 John Carlin
Award-Winning Journalist & New York Times Best-Selling Author of "Playing the Enemy: Nelson Mandela and the Game That Made a Nation;" Inspiration for the Oscar-Nominated Film "Invictus"
Award-Winning Journalist and New York Times Best-Selling Author, Playing the Enemy: Nelson Mandela and the Game That Made a Nation, Inspiration for the Oscar-Nominated Film, Invictus
John Carlin in an award-winning British journalist and author whose books have been translated into 18 languages. His inspiring book on Nelson Mandela, New York Times best-seller Playing the Enemy, was the basis for the Clint Eastwood movie Invictus, starring Morgan Freeman and Matt Damon.
A foreign correspondent covering the wars in Central America in the eighties, South Africa's transition from racial tyranny to democracy in the nineties and, from Washington, the second Clinton presidential term, Carlin has reported from more than 50 countries and written for The New York Times, Wall Street Journal, TIME, Financial Times, The Times and The Observer, among many others. Bilingual, able to write equally fluently in English and Spanish, he has reported frequently on world affairs for Spain's leading newspaper, El País.
Carlin worked as writer and producer on two major Mandela TV documentaries, one for PBS, Emmy-nominated The Long Walk of Nelson Mandela, and one for ESPN, Emmy-winner The 16th Man. He has been involved in numerous other documentaries for the BBC, Channel Four (UK) and others on politics and/or sport.
Equally authoritative writing about politics, race or sport, he has written Rafael Nadal's official biography, a book about the tragic and heroic story of the Paralympic athlete Oscar Pistorius and another about the world's biggest soccer franchise, Real Madrid, as well as a short and intimate biography titled Knowing Mandela.
Carlin has been a pundit on TV and radio in many countries—from the U.S., to Australia, to Chile—over 30 years and was an on-screen analyst for CBS when Mandela died in December 2013. He was won several awards for his work in the U.S., UK, Spain and Italy, including Spain's top "Ortega y Gasset" journalism prize, the British Press Award (UK Pulitzer equivalent) for "Food and Drink Writer of the Year" in 2004 and an award received from the hands of the King of Spain in 2009 for his book Playing the Enemy. He has delivered speeches on Mandela as the quintessential example of leadership (in any field) and on other subjects to business, legal, academic and high school audiences in the U.S., UK, Italy, France, South Korea, Argentina, Colombia and Chile.
The Bruce Willis movie Live Free or Die Hard was based on an article Carlin wrote for Wired magazine titled A Farewell to Arms.
Carlin was born in London to a Spanish mother and Scottish father and was educated in Argentina and England. He obtained a master's degree in English language and literature at Oxford University. He has lived in eight countries and is now based in London. Carlin has one son, James Nelson. His enduring passion is Shakespeare but the current love of his life is Raymond Chandler, all of whose books he has recently read for the fourth time.
Speech Topics
---
Additional Presentations by John Carlin:
Mandela: Ruthless Pragmatism and Generous Forgiving
Mandela: Overcoming Racial Conflict
Mandela: The Art of Negotiation
Mandela: Appealing to the Better Angels of Our Nature
Mandela: People Management Genius
Mandela: The Human Factor in Great Leadership
John Carlin, who is equally at ease in English or in Spanish and never speaks from a prepared text, will center his speeches on a man who, like Abraham Lincoln, belongs to the ages, whose lessons and example will ring as valuable and true in a thousand years as they do today. Carlin will select his material in such a way as to maximize the value of his spoken words in accordance with the needs and interests of each audience. For some, lessons in negotiating with rivals might be the key issue; for others, building up a company that has fallen on difficult times; or restoring bruised internal personnel conflicts; or how to blend tactical flexibility with strategic clarity. Then again, some might consider it paramount to learn how Mandela addressed himself to the eternal question of healing race relations. All audiences will be interested, however, in the chief themes that run through all Carlin's speeches on Mandela: generosity astutely deployed; patient wisdom and bold perseverance; enormous empathy and respect for all people, irrespective of their station in life; integrity—a diamond-hard coherence between what one preaches and what one does—as the engine of all truly convincing, successful leadership.
Related Speakers View all
---
Alden Mills

Former Navy SEAL Platoon Commander, Author, Founder ...

C.J. Huff

Superintendent, Joplin, Missouri Public Schools, 201...

JP Pawliw-Fry

Co-Founder of the Institute for Health and Human Pot...

Charlie Plumb

Former U.S. Naval Pilot / P.O.W. Survivor

Peter Vidmar

Olympic Gymnast, Fitness Advocate

Howard Putnam

Former CEO of Southwest Airlines

Vince Poscente

Former Olympic Speed Skier, Best-Selling Author, Lea...

Neal Petersen

History-Making Extreme Adventurer, Award-Winning Aut...

Roger Crawford

Hall of Fame Athlete; First & Only US Professional T...

Michael Massimino

Former NASA Astronaut, Columbia University Engineeri...

Justin Skeesuck

Also Known As "The Disabled Traveler," World Travele...

Jeff Salz

Explorer, Anthropologist, TV Personality & Author

Michael Gelb

Innovation and Creativity Expert and Author of "How ...

Grant D. Fairley

Inspirational Speaker and Teacher, Executive Coach &...

Charles Denham, MD

Founder and Chairman of Texas Medical Institute of T...

Robert Kriegel

Expert in Sports & Performance Psychology

Troy Hazard

Troy Hazard is the recent Global President of the el...

Joel Zeff

National Speaker and Emcee, Workplace Expert, Author...

Erin Gruwell

Founder & Executive Director of the Freedom Writers ...

Robin Crow

Acclaimed Musician, Entrepreneur & Bestselling Autho...
More like John