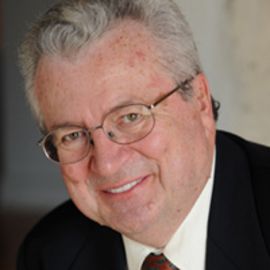 John D. Hofmeister
Founder and CEO of Citizens for Affordable Energy, Former President of Shell Oil Company
John Hofmeister is the former president of Shell Oil Company, the founding CEO of Citizens for Affordable Energy, and the author of Why We Hate the Oil Companies: Straight Talk from an Energy Insider (2010). He is currently a key member of the United States Energy Security Council, a bipartisan group that includes former Secretary of State George P. Shultz and two former secretaries of defense, as well as three former national security advisers, a former CIA director, two former senators, a Nobel laureate, a former Federal Reserve chairman, and several Fortune-50 CEOs.
Hofmeister's presentations offer rare insight about how the industry and special interests work and how the government approaches energy issues. He shares practical, understandable ideas on the spectrum of energy, from green to coal to gas, and solutions you would not expect from a former Shell Oil president. The future of our energy supply is a pressing issue for industries across the board, and a speaker with Hofmeister's level of candor, insight, and urgency is rare. Even better, he proposes solutions and a plan for how the U.S. can achieve both energy security and affordability.
Energy Insider. Hofmeister's energy expertise has made him a frequent guest on major media news programs, including NBC Nightly News with Brian Williams, CNN's Larry King Live, MSNBC's Countdown with Keith Olbermann, CNBC's The Closing Bell, and PBS's Charlie Rose. He has been interviewed by media outlets including The Washington Post, Fast Company, and USA Today, and his opinion pieces have recently appeared in the New York Times, Forbes, and the Wall Street Journal.
Business Leader. Hofmeister became president of Shell Oil after serving as group human resource director of the Shell Group, based in the Netherlands. As president, he launched an extensive outreach program, unprecedented in the energy industry, to discuss critical global energy challenges. The program included an 18 month, 50-city engagement program across the country during which Hofmeister led 250 other Shell leaders to meet with more than 15,000 business, community and civic leaders, policymakers, and academics to discuss what must be done to ensure affordable, available energy for the future. A business leader who has participated in the inner workings of multiple industries for more than 35 years, Hofmeister also has held executive leadership positions in General Electric, Nortel and AlliedSignal (now Honeywell International).
Grassroots Solutions. Upon retirement from Shell Oil Company in 2008, Mr. Hofmeister founded and heads the not-for-profit (501(c)(3) nation-wide membership association, Citizens for Affordable Energy. This Washington, D.C.-registered, public policy education firm promotes sound U.S. energy security solutions for the nation, including a range of affordable energy supplies, efficiency improvements, essential infrastructure, sustainable environmental policies and public education on energy issues.
Hofmeister serves as a Wrigley visiting executive in the Global Institute of Sustainability at Arizona State University, is the chairman of the National Urban League, and is chairman of the U.S. Department of Energy's Hydrogen and Fuel Cell Technical Advisory Committee. He serves as non-executive director of Hunting PLC, London, UK, Applus+, Barcelona, Spain, CAMAC Energy, Inc., Houston, TX, and advisor to Liberty Power of Fort Lauderdale, FL, the nation's largest minority owned power company.
Hofmeister also serves on the boards of the National Energy Security Council www.usesc.org/, Washington, D.C.; the Foreign Policy Association, New York; Strategic Partners, LLC, and the Gas Technology Institute. Hofmeister is a fellow of the National Academy of Human Resources. He also is a past chairman and serves as a director emeritus of the Greater Houston Partnership. Hofmeister is active in education, serving on the Energy Advisory Board at the University of Houston.
Hofmeister earned Bachelor's and Master's Degrees in Political Science from Kansas State University. In May 2010, he was awarded an honorary doctorate of letters from the University of Houston.
Videos
---
Speech Topics
---
How The United States Achieves Both Energy Security and Affordability.
After spending 25 years in energy-consuming companies like GE and Notel, and 10 years in energy-producing companies like Shell Oil, John Hofmeister learned a lot about energy, where it comes from, and how nervous it makes people. In this straight-shooting presentation, Hofmeister reveals how the U.S. can achieve a more affordable energy supply, with technology and innovation for energy efficiency, and more environmental stewardship for sustainability. With a non-partisan approach, he offers practical, understandable ideas on the entire spectrum of energy, from green to coal to gas, and solutions you wouldn?t expect from a former CEO of Shell Oil.
Related Speakers View all
---
Amy Myers Jaffe

Chair of the World Economic Forum (Davos) Global Age...

Robert Bryce

Energy Expert, Veteran Journalist & Acclaimed Author

Pat Wood

Former Chairman of the Federal Energy Regulatory Com...

Sarah O. Ladislaw

Co-Director and Senior Fellow, Energy and National S...

David Crane

Strategic Advisor Executive at Pegasus Capital Advis...

Bill Richardson

Former Governor of New Mexico; Former U.S. Energy Se...

Andrew Fastow

Former CFO of Enron; Expert Keynote Speaker on Finan...

Martin Eberhard

Founder, Original Chairman and CEO of Tesla

Daniel Yergin

Authority on Energy, International Politics & Econom...

Jeremy Rifkin

Leading Global Technologist, Futurist, Authority on ...

Ian Bowles

Environmentalist & Energy Expert; Co-Founder of Wind...

John Holdren

Professor of Environmental Policy & Director of the...

Alex Epstein

Founder, Center for Industrial Progress Author, Foss...

Kent Moors

Oil Policy Expert & Global Risk Consultant

Peter Guber

Executive, Entrepreneur & #1 NYT Bestselling Author,...

Adrian Grenier

Actor Known for HBO's "Entourage"; Environmental Act...

Erin Brockovich

Consumer Advocate, Author, TV Host & Environmental A...

Van Jones

CNN Political Contributor; Author; Human Rights, Edu...

Peter Diamandis

Founder & Executive Chairman of the XPRIZE Foundatio...

Kate Brandt

Lead for Sustainability at Google & Former Chief Sus...
More like John