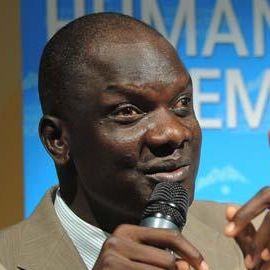 John Dau
Sudanese Refugee & Activist
Born in war-torn South Sudan, John Dau is one of 27,000 boys driven from their villages when the northern Arab government attacked the ethnic minority population of Southern Sudan in 1987.
Dau now speaks professionally throughout the United States, Canada, and Europe and serves as founder and president of The John Dau Foundation and South Sudan Institute, both non-governmental organizations based in Syracuse, New York. Dau has invested at least $3 million on projects in South Sudan.
In 2006, he was featured in the award-winning documentary film God Grew Tired of Us, and wrote his first book, also entitled God Grew Tired of Us: A Memoir, published by National Geographic in 2007.
As a human rights activist for the people of South Sudan, John Dau lived a remarkable life of cultural adaptation. He has received many prestigious awards, including the National Geographic Emerging Explorers Award, and was a Volvo for Life finalist in the Quality of Life category, which carried a financial contribution from Volvo to The John Dau Foundation. He was also named, alongside DRC president Joseph Kabila, a World Economic Forum Young Global Leader for 2008 and, together with Former Secretary of State Gen. Collin Powell, he has received a Most Caring Award from the Caring Institute. As a leader, Dau is an experienced social entrepreneur. He started four tax-exempt not-for-profit organizations, one of which is now running the Duk Lost Boys Clinic in Duk County.
Dau completed his associates degree at Onondaga Community College in Syracuse, New York, and progressed to the BA level in policy studies at Syracuse University's Maxwell School of Citizenship, from which he graduated in May 2011.
Videos
---
Speech Topics
---
Journey to Leadership
John Bul Dau endured the most extreme hardship during his youth and used it to transform his life and the lives of others in profound ways. From surviving the harrowing genocide of his people to leading hundreds of younger boys across Sudan, Dau shares his story as a Lost Boy and the life lessons that helped him and others through the most horrific of circumstances.
Between Two Worlds
With unique insight, John Bul Dau shares the myriad of cultural differences he faced upon arrival to the U.S. He recounts the shock of his tribal culture colliding with life in America and the challenges of making a new life for himself while keeping one eye on Sudan. Dau also helps audiences understand the struggles many first generation refugees face and how they can help refugees adjust to life in a new country.
Foreign Policy and the Bloodshed in Sudan
Drawing on firsthand experiences as a genocide survivor running from the murderous Sudanese regime, his continuous travel to and from Sudan, and conversations with top U.S. and UN officials, Dau explains the holocaust that created the Lost Boys generation, the hope for long-term political settlement in Southern Sudan, and the continued conflicts in the Darfur region.
Creating Your Vision for a Purposeful Life
How does a leader give hope to people? How do you succeed in life when faced by seemingly insurmountable challenges? Through the lens of his herculean efforts to rebuild his homeland, Dau helps audiences create a vision for their life's goals and an outlook to pursue it with a deep sense of focus, passion, and purpose.
God Grew Tired of Us: The Story of a Lost Boy of Sudan
Related Speakers View all
---
Jesse Jackson

Civil Rights Activist & Politician

Archbishop Desmond Tutu

Nobel Laureate & Human Rights Activist

Shoshana Johnson

First African American Woman POW in U.S. War History

Isaiah Washington

NAACP Image and SAG Award Winning Actor and Activist...

Chris Mburu

Human Rights Activist

Dr. Tererai Trent

Internationally Recognized Voices for Quality Educat...

Jurnee Smollett

Actress & Singer

Dr. Samantha Nutt

Founder & Executive Director of War Child North America

Raj Patel

Award-Winning Writer, Activist & Academic

J.R. Martinez

Actor, Best-Selling Author, Motivational Speaker, Ad...

Iran Hikers

Shane Bauer, Josh Fattal & Sarah Shourd

Somaly Mam

Survivor & Anti-Sex Slavery Activist

Sheryl WuDunn

Pulitzer Prize-Winning Journalist; Co-author of Half...

John Zogby

Trendspotter & Leading Pollster

Robert Dole

Former Senate Majority Leader; Former U.S. Senator o...

Sarah Culberson

Humanitarian, Author, Actress & Co-Founder of Sierra...

Bobby Seale

Political Activist & Co-Founder of the Black Panther...

Van Jones

CEO of REFORM Alliance, CNN host, Emmy Award-winning...

America Ferrera

Award-Winning Actress, Producer & Humanitarian

Hugh Evans

Humanitarian; Founder & CEO of Global Poverty Project
More like John