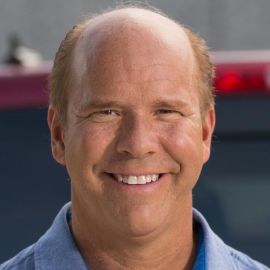 John Delaney
U.S. Representative for Maryland's 6th Congressional District; 2020 Presidential Candidate
Congressman John Delaney was elected in 2012 to serve Maryland's Sixth District, which encompasses portions of the Washington D.C. suburbs of Montgomery and Frederick Counties and all of Washington, Allegany, and Garrett Counties.
On July 28, 2017, Delaney became the first Democrat to announce he was running for president in 2020. Delaney did not run for re-election to Congress in 2018, choosing to focus on his presidential campaign.
Delaney was the only former CEO of a publicly traded company serving in the House of Representatives, having done that twice, and brings to Washington an extensive experience as a successful entrepreneur and as a private sector and non-profit leader. In 2017, Congressman Delaney was named one of 50 of the World's Greatest Leaders by Fortune Magazine, the only member of the House of Representatives to make the list.
As the son of a union electrician, Delaney grew up in a blue collar household. Scholarships from his father's union (IBEW Local 164), the American Legion, VFW, and the Lion's Club, allowed Delaney to attend college. Delaney is a graduate of Columbia University and Georgetown University Law Center. A business builder, Delaney founded two New York Stock Exchange listed companies before the age of 40, and is a past winner of the Ernst & Young Entrepreneur of the Year Award.
Delaney spent his business career starting and running successful companies and helping small businesses grow. Delaney's companies were both founded in Maryland, CapitalSource, which Delaney launched in 2000 and became a public company in 2003, lent money to thousands of small businesses around the country and has been recognized by the Treasury Department for lending to disadvantaged communities while also receiving numerous awards as one of the best places to work in the Washington D.C. region.
Delaney was Chairman Emeritus of CapitalSource. Prior to CapitalSource, he founded HealthCare Financial Partners, a successful company that was started in 1993 and became a public company in 1996.
Delaney and his wife April McClain-Delaney have made community service a priority, especially in the field of education, the provision of core services, and issues effecting children. They are generous supporters of the public interest law initiatives at Georgetown University Law Center, where they endowed the Delaney Family Professorship in Public Interest Law and have funded significant scholarships for student's interest in public service.
Delaney was a member of the Board of Directors of Georgetown University and the National Symphony Orchestra, was the past Chairman of the Board at St. Patrick's Episcopal Day School and was a past member of the Board of Directors for the International Center for Research on Women.
In 2011, Delaney founded Blueprint Maryland, a non-profit dedicated to invigorating Maryland's private sector. Blueprint Maryland gathered businesspeople, educators, labor representatives, and policy experts together to chart a way towards a high-tech, high-information, economy.