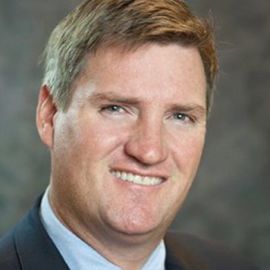 John Feehery
Political Communications Strategist, Columnist, Television Pundit, & Former Press Secretary to Dennis J. Hastert, Speaker of the U.S. House of Representatives
John Feehery is Partner of EFB Advocacy, a boutique lobbying and strategic advocacy firm located right next to historic Eastern Market on Capitol Hill. Previously he was President of Communications and Director of Government Affairs for Quinn Gillespie and Associates, Washington, D.C.'s top public affairs firm. He is also a frequent commentator on the political landscape, widely quoted around the country and often seen on such television programs as CNN's The Situation Room, MSNBC's Hardball, and Bloomberg Television's Money and Politics. He is also a columnist for The Hill.
Feehery has worked for almost two decades in a variety of influential positions both as a staffer for three prominent members of the United States House of Representatives Republican leadership and a legislative strategist in the private sector.
He has been called "indefatigable" by Norm Ornstein and "highly-regarded" by the Washington Post's Al Kamen, and he was repeatedly named to Roll Call's Fab Fifty List for when he served in Congress.
Most recently, Feehery served as Executive Vice President for Global Government Relations and Global Public Relations for the Motion Picture Association of America. There, he helped the MPAA make significant progress on legislative issues that faced the industry such as tax policy, internet piracy, net neutrality, and decency standards. He testified twice before the House Energy and Commerce Committee on behalf of the MPAA.
Feehery managed the communications operation for Speaker of the House J. Dennis Hastert. Feehery was the longest-serving top spokesman to a Speaker of the House in the history of the House of Representatives
Feehery came directly to the Speaker's office after a stint as a government relations advocate for the Barbour, Griffith and Rogers. He also served concurrently as Vice President for Communications for Policy Impact Communications. There, Feehery worked with former RNC Chairman, and now Governor of Mississippi Haley Barbour and future RNC Chairman Ed Gillespie.
Before that stint, Feehery served from 1995 until 1998 as the Communications Director for Majority Whip Tom DeLay. Before becoming DeLay's communications director, he served as the Whip office's Chief Floor Assistant, during the historically notable "Contract with America". He advised Members of Congress on how to vote, and helped the Whip Office count votes for the first eight months of the historic 104th Congress.
Feehery started his career with House Minority Leader Robert Michel, where he served as a research analyst and speechwriter. His most notable achievement during his service in Michel's office was his creation of the House Republican Theme Team. Under Feehery's leadership, for the first time in history, House Republicans used one-minute speeches and Special orders in a coordinated fashion to promote their message, helping to poke holes in the Clinton Administration's agenda and setting the state for the 1994 elections.
A double graduate from Marquette University, with both a BA and MA in history, Feehery was named the Young Alumni of the Year for Marquette's School of Arts and Sciences in 2003. Feehery serves as a member of the board of Cooperation Ireland, an organization dedicated to peace-building in the North of Ireland. Feehery has run three marathons and has two holes-in-one. He married Kerry Fennelly Feehery in Killarney, Ireland in 2003, and they have one son, Jack Feehery, and a daughter, Molly Kathleen.
Videos
---
Related Speakers View all
---
Paul Brandus

White House Correspondent & Award-Winning Author of ...

Patrick Buchanan

Former Communications Assistant for the President, C...

Frank Luntz

Political Pollster & Communication Expert

John Kasich

Former Governor of Ohio

Heather Hurlburt

Director of the New Models of Policy Change Project,...

Pete Seat

Former White House Spokesman, Author & Political Com...

Laura Ingraham

Political Commentator, Television Host & Journalist

Pat Buchanan

Editor, The American Conservative & Panelist on "The...

Candace Owens

Political Activist, Conservative Commentator & Found...

Ben Domenech

Founder & Publisher of The Federalist

Kevin Powell

Writer, Humanitarian, President of BK Nation

Juan Williams

New York Times Best-Selling Author, Fox News Politic...

Michael Gerson

Senior adviser at One, Washington Post Columnist & F...

Don Feder

Author, Lawyer, Former Boston Herald Editorial Write...

Linda Chavez

Conservative Political Commentator, Chairman of the...

Ron Bonjean

Partner at Rokk Solutions Public Affairs Firm, First...

Alexandra Jaffe

Political Reporter at The Associated Press

Astead W. Herndon

National Political Reporter at The New York Times

David French

Senior Writer for National Review & TIME Magazine Co...

David Neiwert

Award-Winning Journalist, Domestic Terrorism Expert ...
More like John