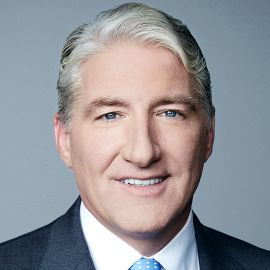 John King is CNN's chief national correspondent, anchor of "Inside Politics," an hour long program featuring a panel of top-tier political correspondents, and an award-winning journalist who has covered presidential elections and reported from all 50 states.
He is a global and political speaker offering news-maker interviews, political analysis, national and world affair coverage, and commentary in a way that is "like having the Sunday newspaper on television." A reporter at heart, he likes going places, meeting people, and seeing things, taking viewers outside of Washington to tell the stories of everyday Americans.
Joining CNN in 1997 and becoming chief national correspondent in 2005, King is a news veteran, in which he has covered eight presidential elections, the Iraq war, the September 11th attacks, the Clinton and Bush White Houses and Hurricane Katrina. Spanning the globe, King has reported from 70 states and has covered international events, including the first Persian Gulf War, the US military operation restoring the Aristide government to Haiti and the inauguration of Nelson Mandela as president of South Africa.
Before joining CNN, King was an Associated Press correspondent for 12 years. His AP duties included several major international events, including the Persian Gulf War, and serving as lead political correspondent for the 1992 and 1996 presidential elections.
Videos
---
Speech Topics
---
An Evening with John King
News
---
John King
In an interview on Tuesday, CNN's John King said that he was very embarrassed about his reporting mistakes during the Boston bombings. King had pe.
Related Speakers View all
---
Ben Stein

Political Economist, Commentator, Author & Actor

Anderson Cooper

Journalist, TV Personality, Anchor of CNN's "Anderso...

Alexandra Cousteau

Environmental Activist, Storyteller & Ocean Advocate

Dan Rather

Iconic Journalist & Former News Anchor for the CBS E...

Richard Dreyfuss

Academy Award-Winning Actor

Nicholas Kristof

Pulitzer Prize-Winning New York Times Columnist & Po...

Planet Money

NPR's Multimedia Team on the Global Economy

Katty Kay

Anchor on BBC World News America; Co-Author of "Wome...

Van Jones

CNN Political Contributor; Author; Human Rights, Edu...

Harry Markopolos

The Bernie Madoff Whistleblower

Andrea Mitchell

Award-Winning Chief Foreign Affairs Correspondent at...

Amy Goodman

Host & Executive Producer, Democracy Now!

Juan Williams

New York Times Best-Selling Author, Fox News Politic...

Hoda Kotb

Broadcast Journalist, Television Personality, Author...

Ted Turner

Media Mogul & Philanthropist

Asra Nomani

Journalist & Author, Women's Rights Activist

Laura Ingraham

Political Commentator, Television Host & Journalist

Eleanor Clift

Author; Washington Correspondent & The Daily Beast C...

Gloria Borger

Award-Winning Chief Political Analyst & Columnist

John Wood

Former Microsoft Marketing Executive & Founder and B...
More like John