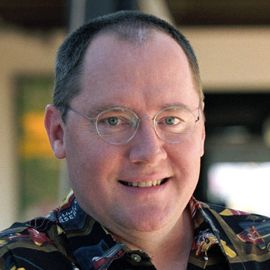 John Lasseter is a two-time Academy Award-winning director and oversees all films and associated projects from Walt Disney and Pixar Animation Studios. He directed the groundbreaking and award-winning films Toy Story, A Bug's Life, Toy Story 2 and Cars. 
Additionally, his executive producing credits include Monsters, Inc., Finding Nemo, The Incredibles, Ratatouille, WALL•E, Bolt, and the critically acclaimed Up, which enjoyed the distinct honor of opening the 2009 Cannes Film Festival and was awarded two Academy Awards for Best Animated Feature and Best Original Score. Lasseter also served as executive producer for Disney's Oscar-nominated The Princess and the Frog, a musical comedy set in the great city of New Orleans, as well as Disney•Pixar's box office hit, Toy Story 3, which is based on a story by Lasseter, Andrew Stanton and Lee Unkrich.
Lasseter has written, directed and animated a number of Pixar's early short films, including Luxo Jr., Red's Dream, Tin Toy and Knick Knack.  He has also been producer or executive producer on a number of shorts including Geri's Game, For the Birds, One Man Band, Lifted, Presto, Partly Cloudy and Day & Night.  Pixar's Tin Toy became the first computer animated film to win an Academy Award when it received the 1988 award for Best Animated Short Film.  Pixar earned two more Academy Awards for Geri's Game and For the Birds.
Under Lasseter's supervision, Pixar's animated feature and shorts films have earned a multitude of critical accolades and film industry honors.  Lasseter received a Special Achievement Oscar in 1995 for his inspired leadership of the Toy Story team.  His work on Toy Story also earned an Academy Award nomination for Best Original Screenplay, the first time an animated feature had been recognized in that category.
In 2004, Lasseter was honored by the Art Directors Guild with its prestigious "Outstanding Contribution to Cinematic Imagery" award and he also received an honorary degree from the American Film Institute.  Lasseter received the 2008 Winsor McCay Award from ASIFA-Hollywood for career achievement and contribution to the art of animation. In 2009, Lasseter and his fellow directors at Pixar were honored at the 66th Venice International Film Festival with the Golden Lion for Lifetime Achievement award.  Lasseter was also honored with the Producers Guild of America's 2010 David O. Selznick Achievement Award in Motion Pictures, making him the first producer of animated films to receive this award.
Prior to the formation of Pixar in 1986, Lasseter was a member of the Computer Division of Lucasfilm Ltd., where he designed and animated the computer-generated Stained Glass Knight character in the 1985 Steven Spielberg-produced film Young Sherlock Holmes.
Lasseter attended the inaugural year of the Character Animation program at California Institute of the Arts and received his B.F.A. in film in 1979.  While attending California Institute of the Arts, Lasseter produced two animated films, both winners of the Student Academy Award for Animation - Lady and the Lamp and Nitemare.  His very first award came at the age of five when he won $15.00 from the Model Grocery Market in Whittier, California, for a crayon drawing of the Headless Horseman.
Videos
---
Related Speakers View all
---
Jay Shuster

Art Director & Production Designer at Pixar Animatio...

Lee Unkrich

Award-Winning Director, Film Editor & Screenwriter a...

Jack Choi

CEO of Anatomage, a company specializing on 3D medic...

Cesar Kuriyama

Director, Producer & TED Speaker; Known for 1 Secon...

Joe Sabia

Head of Development at Conde Nast Entertainment, Dir...

John Ratzenberger

Emmy-Nominated Actor, Entrepreneur & Philanthropist

Don Levy

Media, Entertainment, and Technology Executive & Adv...

Andrew Stanton

Film Director, Screenwriter, Producer, & Voice Actor...

Ray Kurzweil

Chairman of Kurzweil Technologies; Inventor; Futurist

Chris Hewish

Social Media Speaker and Head of Global Interactive ...

Pete Docter

Film Director, Animator, Screenwriter, Producer and ...

Wingham Rowan

Founder of social business Slivers-of-Time, which ru...

Randi Zuckerberg

CEO & Founder of Zuckerberg Media, Author

Gary Vaynerchuk

Co-Founder & CEO of VaynerMedia

Tony Hsieh

Former CEO of Zappos; Co-Founder of LinkExchange

Graham Hill

Founder of Life Edited & TreeHugger.com

Peter Diamandis

Founder & Executive Chairman of the XPRIZE Foundatio...

Sir Richard Branson

Businessman, Founder of Virgin Group

Uri Levine

Entrepreneur & Co-Founder of Waze

Brad Bird

Director, screenwriter, animator, producer and actor
More like John