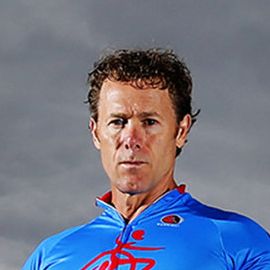 John MacLean
Founder of the John Maclean Foundation and Inspirational Corporate Speaker
During fitness training near his hometown in June 1988, John Maclean was hit by an 8 tonne truck as he rode his bike. The impact resulted in John suffering multiple breaks to his pelvis and back, a fractured sternum, punctured lungs, a broken arm, and left John a paraplegic. It took astonishing courage and determination, but somehow this near-fatal accident was the making of him.
Despite the grief of what he had lost, the excruciating physical pain and the challenges of daily life in a wheelchair, John decided he would become bigger and stronger than ever. He set about proving himself in the toughest sporting events the world had to offer.
In 1995 John made history by becoming the first wheelchair athlete to finish the course at world's toughest multi-discipline sporting event - the Hawaii Ironman Triathlon, drawing on all his inner strength to continue to the finish line after falling outside the able-bodied cut-off times in the bike section. The following year John narrowly missed the cut off time again, this time due to a flat tyre but proceeded to once again complete the entire course.
In 1997 he not only finished within the able-bodied cut-off times, he beat a third of the field and became the first ever wheelchair category winner. In 2002 John became the first non-American inducted into the Hawaiian Ironman Triathlon Hall of Fame.
His story and message is about looking inside yourself, digging deep and never giving up, especially on yourself.
In business and in life, we all face obstacles and crossroads. While John's own story is an extreme account of setbacks and facing up to them, John's message is not about those obstacles, or how they got there, but about finding the inner strength to manage, even flourish, through what can seem insurmountable. Corporations across the globe find John's wisdom and inspiration invaluable in achieving focus and delivering potential.
John's presentation is as inspiring as it is sobering and leaves an impact on many levels. John has managed to turn adversity in the extreme into greatness under the most dire circumstances, John's story can make significant impact to your workforce or personal life.
Speech Topics
---
John tailors his remarks;
Transformation - Choice, change and adaptability
Self Belief - See it, believe it, achieve it
Persistance - Never give up
Leadership - Building a team
Engagement - Prioritisation
Balance - Self, family, business, community
Teamwork - Connecting for a common goal
Inspiration - The pain won't last forever, but the memories will
Community - Giving back
Humility - Remember where you're are from
Related Speakers View all
---
Ron MacLean

Canadian Sportscaster

Dave Silk

Retired Professional American Ice Hockey Player

Dan Bylsma

Analyst, NHL Network

Claude Julien
Dave Tippett
Mike Babcock

Head Coach of the Toronto Maple Leafs; Stanley Cup a...

Marc Crawford
Lindy Ruff
Jacques Martin
Brent Sutter
Alain Vigneault
Chris Drury

Assistant General Manager for the New York Rangers &...

John Tortorella

Head Coach for the Columbus Blue Jackets of the NHL

Ed Olczyk

Former Professional Hockey Player & Former Head Coac...

Sergio Garcia

Professional Golfer, Winner of the 2017 Masters Tour...

Bryan Trottier

Former NHL Hockey Player & 4-Time Stanley Cup Winner

Mike Modano

Former Professional Hockey Player; Stanley Cup Winne...

Wayne Gretzky

Legendary Hockey Player & Founder of the Wayne Gretz...

Jim Furyk

PGA Tour Professional & 2018 Ryder Cup Captain

Tony Esposito

Former Professional NHL Goaltender
More like John