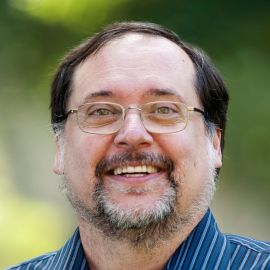 John Medina
Scientist Interested in Human Brain Development & the Genetics of Psychiatric Disorder; Author
Dr. John J. Medina is a developmental molecular biologist focused on the genes involved in human brain development and the genetics of psychiatric disorders. He has spent most of his professional life as a private research consultant, working primarily in the biotechnology and pharmaceutical industries on research related to mental health. Medina holds joint affiliate faculty appointments at the University of Washington School of Medicine, in its Department of Bioengineering, and at Seattle Pacific University, where he is the director of the Brain Center for Applied Learning Research.
Medina was the founding director of the Talaris Research Institute, a Seattle-based research center originally focused on how infants encode and process information at the cognitive, cellular, and molecular levels.
In 2004, he was appointed to the rank of affiliate scholar at the National Academy of Engineering. He has been named Outstanding Faculty of the Year at the College of Engineering at the University of Washington; the Merrill Dow/Continuing Medical Education National Teacher of the Year; and, twice, the Bioengineering Student Association Teacher of the Year. Medina has been a consultant to the Education Commission of the States and a regular speaker on the relationship between neurology and education. He also writes the "Molecules of the Mind" column for the Psychiatric Times.
Medina's books include the New York Times bestseller "Brain Rules," "Brain Rules for Baby," "The Genetic Inferno," "The Clock of Ages," "Depression," "What You Need to Know About Alzheimer's," "The Outer Limits of Life," "Uncovering the Mystery of AIDS," and "Of Serotonin, Dopamine and Antipsychotic Medications."
Medina has a lifelong fascination with how the mind reacts to and organizes information. As a father himself, he has an interest in how the brain sciences might influence the way we teach our children.
In addition to his research, consulting, and teaching, Medina speaks often to public officials, business and medical professionals, school boards, and nonprofit leaders.
Videos
---
Speech Topics
---
The Business Brain
The Presenting Brain
Most people would rather undergo a purely recreational colonoscopy than listen to a boring presentation. Yet neuroscience knows how to make presentations interesting, even compelling. This lecture discusses how to make effective, captivating presentations. Topics range from the types of visual information you should use to the placement of what researchers call emotionally competent stimuli. This lecture addresses how to use cognitive neuroscience to make effective presentations in any setting.
The Marketing Brain
Understanding the role emotions play in marketing campaigns is a Michelin three-star idea, but until recently, the science has been more frothy than functional. The secret is to understand the neurobiology behind how brains pay attention to things. This lecture describes what researchers call the attentional spotlight, focusing on the role emotions play in filtering and focusing information. It ends with practical suggestions about how to design effective advertising and marketing campaigns based on modern findings in the cognitive neurosciences.
The Innovating Brain
Anybody with a pulse can tell the difference between two sentences like "she drank her coffee" and "she heated her brain with an extra-hot double tall." Exactly what does this difference mean to a neuroscientist? Researchers are beginning to understand the biological nature of creativity, the conditions under which innovation flourishes and its relevance business practice. This lecture unpacks all these issues, even suggesting the best way to screen for creativity in job applicants.
The Storytelling Brain
Kurt Vonnegut boiled narrative down to two short sentences: "Get someone in trouble. Get them out." The brain pays ridiculous amounts of attention to this type of information—and in this lecture, we discuss its whys and hows. There are three content issues: a) how narrative is related to attention b) how narrative is related to memory and c) how business professionals can exploit this neurological processing in the shaping of their own messaging needs.
The Learning Brain
The Classroom Brain
Having brain science consort with education is the professional equivalent of a blind date. Yet there are exciting reasons for them to grab a dinner and a movie. Our understanding of how the brain processes information increases every week—data surprisingly relevant to education. This lecture discusses how modern neuroscience can influence the way we teach, showing how to integrate the science of learning with the practice of learning.
The Exercising Brain
Does fat hang on your friends like moss on a cypress tree? Here is a tangy brain-science reason to take them on a walk: physical exercise messes with your mind by messing with your body. Recent findings show exercise is a multifaceted brain vitamin, improving cognitive function in virtually every way you can measure cognitive function. This lecture discusses these astonishing findings, explaining why desks, from classrooms to boardrooms, should be replaced with treadmills. And why friends shouldn't let friends go a day without a walk.
Is Google Really Making Us Stupid?
Some studies say yes, some say no. Anyone attempting to make sense of these studies confronts the fact that, currently, these studies don't make any. This lecture explores this contradiction, describing how the brain rewires itself in response to any information. We explore what repeated exposure to the digital world does to cognitive processing, and what this means for the future of education and business practice.
The Stressed Out Brain
Does stress clutch at your throat like an invisible python? What are the constricting triggers behind stressful experiences? Modern neuroscience reveals that whether or not you feel in control of a given situation directly affects how you experience its stress. This lecture explains the neuroscience behind stress responses, focusing on this notion of control. Based on these data, practical suggestions about how to relieve the everyday stressors are discussed.
The Multitasking Brain
The idea that your brain can multitask needs a fresh coat of paint. What researchers call the attentional spotlight is incapable of multitasking. This lecture describes the brain science behind this big statement and, given this limitation, how you can order the tasks in your life to create a more productive environment at home and at work. The research is clear: by not trying to juggle two things at once, you actually get more done.
The PTSD Brain
In the human experience, not all scars are visible. Though perhaps poorly named, Post-Traumatic Stress Disorder (PTSD) is one of those. Many mental health professionals believe PTSD is not a mental disorder, but a mental injury. Therapies have been devised consistent with this notion that have proven to be remarkably effective. In this lecture, we discuss the brain science behind PTSD, the attitude undergirding the notion of mental injury, and the promise of the therapies designed to address them both.
Marketing (13 Lectures)
These lectures discuss what every marketing professional should know about how the brain pays attention to its surroundings. Here's the bottom line: The brain's processing speed is too slow to comprehend consciously all the information being supplied to it. That means the organ has to select what it will and will not pay attention to. How does it decide? What criteria does it use to pay attention to one input at the expense of another? Whether business professionals know it or not, understanding this question forms the basis of every marketing campaign ever established. This lecture series, delivered by a research scientist in a detailed, humorous, fashion, discusses how brains pay attention to things and what that means to 21st century marketing professionals.
Creativity (8 Lectures)
Anybody with a pulse can tell the difference between two sentences like "she drank her coffee" and "she heated her brain with an extra-hot double tall." Exactly what does this difference mean to a neuroscientist? Researchers are beginning to understand the biological nature of creativity and its relevance business practice. Using the essential oxygen of peer-reviewed research, this lecture series is delivered by a scientist in lay-friendly, humorous tones. Topics range from understanding the environmental conditions that foster innovation to how we test for innovative potential in the people who come through our doors.
Related Speakers View all
---
Ken Jennings

Jeopardy! "Greatest Of All Time" Winner; Longest Jeo...

Mayim Bialik

Neuroscientist & Actress, Known For "The Big Bang Th...

Paul Orfalea

Founder of Kinko's, Philanthropist-Chairman of the O...

Dr. Michio Kaku

World-Renowned Futurist & Theoretical Physicist

Leroy Chiao

Former Astronaut & International Space Station Comma...

B. Gentry Lee

Chief Engineer for Solar System Exploration, Jet Pro...

Steven Squyres

Scientific Investigator, NASA

Alan November

International Leader in Education Technology & Autho...

Robert Cialdini

CEO & President of Influence at Work; Leading Expert...

Wes Moore

CEO of Robin Hood Foundation, Best-Selling Author & ...

Watts Wacker

Futurist & Commentator

Kathy Ireland

CEO & Chief Lifestyle Designer of Kathy Ireland Worl...

Erin Gruwell

Founder & Executive Director of the Freedom Writers ...

Milton Chen

Former Executive Director of the George Lucas Educat...

Geoffrey Canada

Inner-City Youth & Education Advocate

Jon Bergmann

Pioneer of the Flipped Class Movement & Bestselling ...

Cynthia Lowen

Filmmaker of Bully & Poet

Dr. Ken Druck

Speaker, thought leader, executive coach/consultant ...

John Wood

Former Microsoft Marketing Executive & Founder and B...

Shawn Achor

Harvard Professor, Researcher & Positive Psychology ...
More like John