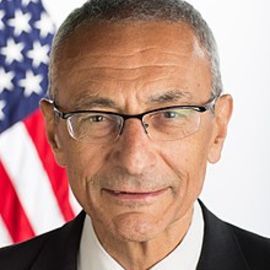 John Podesta is an American political consultant and former White House Chief of Staff to President Bill Clinton. Podesta was also a Counselor to President Barack Obama from January 1, 2014 until February 13, 2015.
Known for his straight talk, acerbic wit, and political instinct, John Podesta was the most powerful person in our government short of the president. Influential in setting the administration's course on economic, foreign policy, trade, and environmental issues, he served as Chief of Staff to President Clinton; responsible for directing, managing, and overseeing all policy development, daily operations, Congressional relations, and staff activities of the White House from October 1998 until January 2001. He also coordinated the work of cabinet agencies with a particular emphasis on the development of federal budget and tax policy, served in the President's Cabinet, and as a Principle on the National Security Council.
Podesta is currently the Chair and Counselor of the Center for American Progress (CAP), a think tank in Washington, D.C., and a visiting professor at Georgetown University Law Center, a position he also held from January 1995 to 1997. He has taught courses on technology policy, congressional investigations, legislation, copyright, and public interest law. He was also the chairman of the 2016 Hillary Clinton presidential campaign, Hilary for America.
Podesta first served in the Clinton Administration from January 1993 to 1995 as Assistant to the President and Staff Secretary. In that capacity, he managed the paper flow to and from the President. He also served as a senior policy advisor to the President on government information, privacy, telecommunications security, and regulatory policy. He is considered one of Washington's leading experts in technology policy, and has written a book, several articles, and lectured extensively in these areas.
In January 1997, Podesta returned to the White House as an Assistant to the President and Deputy Chief of Staff where he managed policy initiatives, developed overall legislative and communications strategy, and coordinated the selection of senior Administration appointments, including federal judges.
In 1988, Podesta founded with his brother Tony, Podesta Associates, Inc., a Washington, D.C. government relations and public affairs firm.
Podesta is a 1976 graduate of Georgetown University Law Center and a 1971 graduate of Knox College.
Videos
---
Related Speakers View all
---
Cory Booker

U.S. Senator from New Jersey; Author of "United" & F...

Sally Kohn

Founder and CEO of Movement Vision Lab; Liberal Poli...

Stephen Coleman

Stephen Coleman studies applied ethics, particularly...

George P. Bush

Politician & Land Commissioner of Texas

Marco Rubio

Senior U.S. Senator from Florida

Frank Luntz

Political Pollster & Communication Expert

Steve Largent

Retired American Football Player & Former Member of ...

John Kasich

Former Governor of Ohio

Donna Brazile

Veteran Political Strategist, Bestselling Author, Fo...

Dick Armey

Former House Majority Leader, Economist

John Hickenlooper

Former Governor of Colorado; Former 2020 Democratic ...

Tom Steyer

California Business Leader; Philanthropist and Clean...

Steve Clemons

Editor-at-Large at The Hill; Former Editor-in-Chief ...

Bill McInturff

Partner and co-founder of Public Opinion Strategies

Arne Duncan

Managing Partner, Emerson Collective; Former U.S. Se...

Michael Bloomberg

Former 2020 Democratic Presidential Candidate & Mayo...

Nancy Pelosi

Speaker U.S. House of Representatives

Darin Olien

Co-Host of Netflix "Down To Earth" with Zac Efron, B...

Chris Bashinelli

United Nations Speaker; National Geographic Young Ex...

Peggy Whitson

NASA Astronaut; NASA's Most Experienced Female Astro...
More like John