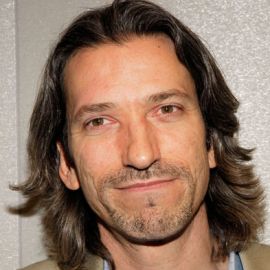 John Prendergast is a human rights activist and best-selling author who has worked for peace in Africa for nearly 30 years. An inspiring motivational speaker, he is co-founder of the Enough Project, an initiative to end genocide and crimes against humanity affiliated with the Center for American Progress. Prendergast has worked for the Clinton White House, State Department, two members of Congress, the National Intelligence Council, UNICEF, Human Rights Watch, the International Crisis Group, and the U.S. Institute of Peace.
Co-author of ten books, Prendergast's latest, Unlikely Brothers, is a dual memoir co-authored with his first little brother in the Big Brother program, which he has been a part of for over 25 years. His previous two books were co-authored with Don Cheadle: Not On Our Watch, a New York Times bestseller and NAACP non-fiction book of the year, and The Enough Moment: Fighting to End Africa's Worst Human Rights Crimes.
In 2014, Prendergast will appear in the film The Good Lie, starring Reese Witherspoon. He is a primary subject of the forthcoming book by Jane Bussman, A Journey to the Dark Heart of Nameless Unspeakable Evil. Also in 2014, he will launch his newest project on the Congo with Ryan Gossling.
Prendergast has appeared in four episodes of 60 Minutes, for which the team won an Emmy Award, and helped create African characters and stories for two episodes of Law and Order: Special Victims Unit, one focusing on the recruitment of child soldiers and the other on rape as a war strategy. He has traveled to Africa with NBC's Dateline, ABC's Nightline, The PBS NewsHour, CNN's Inside Africa, Newsweek/The Daily Beast, and The New York Times Magazine.
An in-demand campus speaker, Prendergast speaks about Africa, human rights, and the importance of giving back.
Videos
---
Speech Topics
---
Current and Global Affairs
10 Building Blocks for Making a Difference in the World and in Your Neighborhood
John has followed two paths towards making a difference: locally through being a mentor and "Big Brother" to kids whose fathers are absent, and globally through his work for human rights in Africa. A dynamic presenter, John talks about how he stumbled onto both of these paths in his early 20s, and then provides the "ten ingredients" he has used to make a difference throughout these last three decades. In this inspiring talk, John intersperses personal stories of Africa, celebrities and life in general to show how change can happen.
Good News Stories from Africa: How Hollywood and the Media Get it Wrong
The standard image of Africa is a starving baby, a continent of helplessness and a population ensconced in victimhood. These impressions are reinforced by the media, especially big-budget motion pictures that portray Africans as helpless or inherently violent. However, the reality is far different. In this revelatory talk, John illustrates the differences between "Hollywood Africa" and the African continent as it truly exists today, peeling back the veil of mystery and showing a vibrant, growing society filled with culture and promise.
The Holocaust, Modern Genocides and the Anti-Atrocities Movement
Genocide has evolved over time since the Holocaust. But the variables going into genocide have remained the same: targeting people on the basis of their identity. The biggest symbol of hope on the horizon regarding efforts to counter genocide is the growing people's movement to stop it from happening. In this motivating presentation, John talks about the power of social movements and how they have been used - and will continue to be used - as the major force in the prevention of genocide and other social atrocities.
Congo: Cell Phones, Laptops and the World's Deadliest War
In these talks, John connects the dots between the increasing demand for consumer electronics and the deadliest war in the world since the Holocaust. As it turns out, the minerals that are used to power items like cell phones, laptops and other modern day devices often originate in the Congo, where armed groups vie for control of those minerals and the profits they derive. However, a major consumer movement is now underway that is changing the equation for Apple, Intel and all other leaders in the electronics arena - including the U.S. government - greatly impacting the war-torn Congo region. John provides audiences with an inside look at the power of consumer choice and its far-reaching influence in the shaping of world events.
Natural Resources and War in the Sudans
There are many root causes of war, but in Sudan and South Sudan, the struggle for resources is chief among them. In both countries, the exploitation of major oil reserves has been a point of contention and corruption rather than cooperation and development. Environmental damage has led to a diminishing livelihood base, thus leaving young men with few options but to join armed groups. In this presentation, John offers solutions to the growing conundrum faced in these two countries, and looks at how a growing number of resource conflicts are shaping the future of armed struggle worldwide.
Related Speakers View all
---
Nicholas Kristof

Pulitzer Prize-Winning New York Times Columnist & Po...

Dean Karlan

Behavioral Economist, Social Entrepreneur & Author

Rye Barcott

Co-Founder & CEO of With Honor, Veteran and Author o...

Ralph Nader

Former Presidential Candidate for the Green Party, C...

Dr. Samantha Nutt

Founder & Executive Director of War Child North America

Sheryl WuDunn

Pulitzer Prize-Winning Journalist; Co-author of Half...

Anne-Marie Slaughter

Foreign Policy Expert, Author & CEO, New America Fou...

David Goodman

Investigative Journalist / Author

Archbishop Desmond Tutu

Nobel Laureate & Human Rights Activist

Asra Nomani

Journalist & Author, Women's Rights Activist

Roya Hakakian

Iranian Poet, Journalist & Author

Amy Goodman

Host & Executive Producer, Democracy Now!

Jared Cohen

President, Jigsaw (previously Google Ideas) & Chief ...

Raj Patel

Award-Winning Writer, Activist & Academic

Muhammad Yunus

Nobel Peace Prize Laureate & Founder of Grameen Bank...

Joseph Stiglitz

American Economist, Professor at Columbia Universit...

Josh Rushing

Award-Winning Journalist

Bernard Kouchner

Former French Minister of Foreign & European Affairs

Parag Khanna

Leading Geo-Strategist & Author

Chris Hedges

Foreign Correspondent & Author
More like John