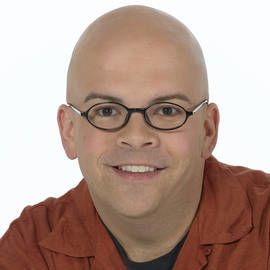 Motivational Speaker, Keynote Speaker, Mentalist, and TV Host John Pullum has motivated and entertained corporate audiences around the world for more than 25 years. He was the television host of the Discovery Channel's series "More Than Human" and "Cheating Death," game show host for "Thrill Rides: Put to The Test," and also appeared on "Unsolved History" and "More Science of Magic" as their hypnosis / mind reading expert.
Pullum's clients include: 3M, Ford Motor Company, Reebok, Prudential Financial, University of Notre Dame, Morgan Stanley, Hitachi, Munich Re America Healthcare, Nestle, Kobe Steel, MTV,SDI Technologies, Shell Oil Company, AmerisourceBergen Drug Company, PriceWaterhouseCoopers, The Discovery Channel, Origen Financial, Bosch, Toyota, Carrier, Flagstar Bancorp, Nissan, Mariner Health Care and many more.
Born and raised in the suburbs of Detroit, Pullum started performing at local events while still in his teens. Earning a reputation for his baffling mentalist stunts and incredible comedic timing, he quickly became a favorite at corporate events and private parties.
In 2003 the Discovery Channel put Pullum to the ultimate test. During the series finale of "More Than Human," the series Pullum hosted, they put him up against the top body language experts and thought reading devices. They wanted to challenge him to see if they could figure out what he was thinking. It was the ultimate test of man vs. machine and one of the most expensive lie-detecting experiments ever created for TV. Pullum continues to baffle the experts and his audiences around the world.
Videos
---
Speech Topics
---
Mentalist John Pullum, America's Funniest Mind Reader
This presentation can... Get you motivated.
Improve company morale.
Get your guests laughing, amazed and having a GREAT time!
John Pullum - America's Funniest Mind Reader - Mentalist! John's quick wit and amazing mind reading combine for a hilarious show. Will you be one of the lucky ones that has their mind read by John? You'll be totally amazed with his 100% clean, audience participation, comedy mind reading show.
John somehow taps into his audience's thoughts like a live psychic hotline only with hilarious results and without the phone charges. He doesn't claim to have supernatural powers. John doesn't like to call himself "psychic" because he feels he's just learned to tap into a part of his mind that we all have. He feels everyone has the ability to tap into their subconscious minds and do some amazing things if they just knew how to (and demonstrates this with audience members during the show). He makes his show fun for the audience and treats everyone with respect.
His fast moving audience interactive show combined with his precise comedic timing have made him a hit with audiences everywhere. He can't wait to look into your mind and have fun. This show takes place not only on stage but throughout the audience as well. Everyone feels like they are part of the show.
Shooting From The Hip
Over 4 years in the making, John's inspirational true story of trying to save a stranger's life by donating bone marrow. This speech is not about organ donation as much as it is about paying it forward. Learn to do more for your company, community and family by going outside your comfort zone. John adds some audience participation and fun into this speech to get you audience even more motivated. Your audience will leave inspired, motivated, entertained and with a message of hope for their future.
Want to get your employees inspired to do more for your company? Let them get motivated to do so with the speech as their guide!
Success is all in your head!
This presentation can...
Get you motivated.
Teach you how to reduce stress and worries at work and home.
Improve company morale.
Teach you how to use your mind's hidden power to accomplish your goals.
John Pullum has been interested in the human mind since a young child. Why do some people succeed and others don't? Why are some people motivated while others aren't? John has combined segments of his smash hit show Hypnotions and added proven facts and demonstrations on success and how to use your mind's unseen power to succeed. John's motivational message is carefully woven into his presentations. Your guests will laugh, have fun, be amazed and learn all at the same time. Don't hire a speaker that will bore them to death, hire John Pullum to keep them entertained while educating and motivating them. People seem to learn better while having a fun time. John's presentations are almost a "sneak up" approach to education. The audience is learning as they are laughing, participating and having a GREAT time. They almost don't realize they are learning because they are having so much fun in the process.
Using his background in hypnosis as a guide, John's motivation gets into their subconscious. This helps the message and motivation stay with your guests. John will motivate your employees to tap into the 90% of their minds they say we don't use. John was the mind reading / hypnosis expert for the Discovery Channel's "Unsolved History" and also had his amazing mind put to the test on "More Than Human", a Discovery Channel series which he also hosted
Related Speakers View all
---
Julia Sweeney

Former SNL Cast Member & Cancer Survivor

Ross Shafer

Six-Time Emmy Award-Winning Comedian, TV Host & Best...

Hypnotist The Incredible BORIS

Award-winning Motivational Hypnotist and Keynote Spe...

Loretta LaRoche

Author, Humorist, Stress Expert & TV Personality

Steve Rizzo

Hall of Fame Motivational Business Expert & Former N...

Greg Schwem

Business Humorist, Corporate Emcee, Syndicated Colum...

Mike Rayburn

Thought Leader, Artist & Entertainer

Juliet Funt

Founder, Owner & CEO of WhiteSpace at Work

Jeff Allen

Stand-up Christian Comedian; Marriage Motivator

Ron Frost

Life Coach, Motivational Speaker, Personal Empowerme...

Tim Seitz

The World's Happiest Hypnotist

Tina Marie Jones

Connecting with the audience through the style of a ...

Timothy Hyde

Australia's "Mind Magician." Corporate Conference Ma...

Brad Montgomery

Humorist, Motivational Speaker, Publisher & Author

Judy Carter

Master Teacher, Author, and Humorous Speaker

Dr. Will Miller

Educator, Psychotherapist, Author & Humorist; Author...

Mark Mayfield

Corporate Motivator & Inductee to the Speaker Hall o...

Frank King

Comedian & Mental Health Activist, Clean Comedy

John Heffron

Winner of Season 2 of NBC's hit reality series "Last...

David Alan Grier

Actor and Comedian Known for his Work on the Sketch ...
More like John