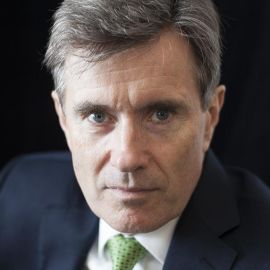 Sir John Sawers has 36 years' experience in diplomacy and intelligence, culminating in five years as chief of the British Secret Intelligence Service (MI6) from 2009 to 2014. In that role, he took part in the UK National Security Council and the Joint Intelligence Committee, contributing both to assessments of the threats to the UK's security and to the strategies and policy decisions on how to promote and protect British interests around the world. As MI6 chief, he led the service through a period of international political upheaval and high terrorist threat, including against the 2012 London Olympics. He also modernized the way the service works and created a more open approach to public accountability.
Prior to leading MI6 he was the UK's ambassador to the United Nations (2007-2009), political director of the Foreign Office (2003-2007), special representative in Iraq (2003), ambassador to Cairo (2001-2003) and foreign policy adviser to Prime Minister Tony Blair (1999-2001). In his earlier career he worked overseas in Yemen, Syria, South Africa and Washington, and at home was involved in policy on the EU, Russia and the Middle East.
Sawers studied at the universities of Nottingham, St Andrews and Harvard. He is a visiting professor at King's College London, a senior fellow of the Royal United Services Institute, and a governor of the Ditchley Foundation.
Videos
---
Speech Topics
---
Geopolitics and the State of the World.
Sir John Sawers' presentation is a powerful look at the unpredictable global landscape and how it is affecting the world today. Believing that the ongoing battle for "shared values and order" will most affect the outcomes of our global challenges, he offers insights on the forces and key players shaping today's geopolitics, the limits of security, and gives practical advice for how organizations can make it work for them. He draws from his personal experience in managing the most challenging foreign and security policy issues of the last 20 years, including the rise of China, the evolution of Russia, the threat of terrorism and cyber attack, the changes in the Middle East, and the nuclear negotiations in Iran.
Cyber Security.
Sir John Sawers understands our nation's need to adapt to our ever-changing informational landscape and the dangers, risks, and potential rewards of our digital security environment. He looks at the current cyber threats, the policy of cyber security, the likelihood of a wide scale attach, and what organizations can do to protect themselves. As "cyber attacks are not much impressed by international borders," he also discusses a need for an international approach to cyber security and shares insights on privacy versus security concerns and how audiences should be managing that balance in their own businesses.
Global Investments in a Chaotic World.
Sir John Sawers offers audiences a debrief on the state of the world and shares insights on the ramifications of today's hot spots on our global financial marketplace.