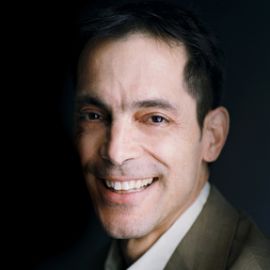 John Stauffer
Acclaimed Historian
John Stauffer is chair of the History of American Civilization and Professor of English at Harvard University. His first book, The Black Hearts of Men: Radical Abolitionists and the Transformation of Race (Harvard University Press, 2002) was co-winner of the 2002 Frederick Douglass Book Prize from the Gilder Lehrman Institute, the winner of the Avery O. Craven Award from the Organization of American Historians and the runner-up for the Lincoln Prize.
According to Stauffer, his most recent book, Giants: The Parallel Lives of Frederick Douglass and Abraham Lincoln, "began in 2005 as an essay on Douglass and Lincoln in the July 4th issue of TIME. Initially, I planned to include the essay as part of a book on interracial friendship, but their story, I realized, was bigger than an essay or chapter."
Published the same year as Lincoln's Bicentennial as well as Barack Obama's historical win of the Presidency, Stauffer views the two as closely tied. "Obama's journey, like Douglass and Lincoln's, has been nothing short of breathtaking. Perhaps it is not coincidental that he knows Douglass and Lincoln better than many scholars, has steeped himself in their writings, and has been inspired by them. While many journalists have noted the influence of Lincoln on Obama, none has shown how Douglass shaped his understanding of himself and his country."
At the podium, Stauffer explores the relationship between Lincoln and Douglas and how these two men have influenced President Barack Obama. He also explains why the "Civil War" isn't truly over and how Lincoln is too commonly misunderstood, deemed "born great" when in actuality he was born poor and worked hard to achieve "greatness."
"John Stauffer's collective biography of Frederick Douglass and Abraham Lincoln stands apart from other biographies by focusing on how each man continually remade himself, with help from women, words, self-education, physical strength, and luck. In the process Stauffer gives us the texture and feel-a 'thick description' -of the strange worlds that Douglass and Lincoln inhabited." - Henry Louis Gates, Jr.
Related Speakers View all
---
John Ferling

Historian and Author; Specialized in the American Re...

Renee Romano

Robert S. Danforth Professor of History, Comparative...

Mary Stockwell

Author and Historian

Mark Updegrove

Author; Historian; President & CEO of the LBJ Founda...

Dean King

Award-Winning Best-Selling Author; Motivational & In...

Richard Brookhiser

Journalist, Biographer, Historian & Senior Editor at...

Robert Watson

Historian, Author, Professor, Political Commentator,...

Irin Carmon

Journalist, Senior Correspondent at New York Magazin...

Laurence Bergreen

Award-winning Biographer, Historian and Author of "C...

Ian Morris

Jean and Rebecca Willard Professor of Classics and P...

Robert Greene

American Author; New York Times bestsellers The 48 L...

David M. Kennedy

Pulitzer Prize-Winning Historian

Brad Meltzer

Host of History Channel's "Lost History" & "Brad Mel...

David McCullough

Historian and Bestselling Author

Ken Burns

Historian & Award-Winning Filmmaker

Michael Beschloss

Presidential Historian, New York Times Columnist & B...

Gil Troy

American Historian

Stephen C. Head

Fourth Chancellor of Lone Star College

Daniel Kurtz-Phelan

Executive Editor of Foreign Affairs, Council on Fore...

Kevin Gannon

Professor of History, Teaching & Technology; Known a...
More like John