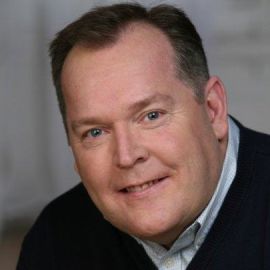 Inspiring Innovation at the Speed of Laughter
As a keynote speaker, Sweeney has captured the imagination of some of the most respected companies in the world. Not because he owns the nation's oldest comedy theatre; not because a quote from his first book appeared on millions of Starbucks coffee cups; and because he danced shirtless on national television earning him "Fan of the Year" accolades from the Today Show. Rather, we believe Sweeney's success is a result of how deeply and effectively his improvisational speaking and training programs have resonated with a broad spectrum of forward-thinking leaders.
One of Sweeney's early corporate clients, Phil Fawcett, a Microsoft employee since 1985, expressed it like this, "I have worked one on one with both Stephen Covey and Tom Peters and I find John Sweeney's ideas to be as valuable. His message and methods are fantastic!" Since that kind remark years ago, Sweeney has trained and entertained thousands of audiences.
Audiences come to understand, appreciate, learn and practice an improv-based mindset that helps them live and work better. Sweeney first conducts rigorous pre-event research and information gathering. He then uses the obtained client knowledge and his 15+ years of speaking expertise to create on-target, personal, and memorable experiences uniquely punctuated by an authentic and experienced brand of professional humor that further greases the wheels of learning and retention.
Sweeney is backed by a team of insightful, hands-on, authentic performers and trainers who possess uncommon business insight and unmatched event experience. His long list of repeat clients include Hilton, Unitedhealth Group, Honeywell, Microsoft, Land O' Lakes, Target, General Mills, US Bancorp, Medtronic, Thomson and approximately a hundred more.
Whether helping companies achieve greater innovation, improve teamwork and productivity, sell better, embrace change, personalize customer service, or renew workplace enthusiasm, Sweeney is undeniable in his ability spark laughter, deliver messages, provoke thought, and initiate change.
"Great session, John! It was terrific! It was a pivotal time for our team...so glad you were they to add huge value and experience it!" -- Tom Arrix, Senior Vice President, North America Sales, Facebook
Speech Topics
---
Innovation at the Speed of Laughter
Being Comfortable Being Uncomfortable
Building a Culture of Innovation One Behavior at a Time
Act the Way You Want Your Company To Be Building Idea Machines
Using Exceptional Customer Service to Drive Growth
One Plus One Equals Three
News
---
Chief Learning Officer article
John's article, "Do They Practice What You Preach" appeared in the 9/9/11 edition of Chief Learning Officer (CLO) magazine and is now available online.
Related Speakers View all
---
Afterburner

US Fighter Pilots & Team-Building Experts

Amanda Gore

CEO of The Joy Project; Author & Psychologist; Emoti...

Richard Florida

Leading Urbanist, Economist & Author of "The Rise of...

Shawn Achor

Harvard Professor, Researcher, Positive Psychology E...

Keith Ferrazzi

CEO of Ferrazzi Greenlight, Inc. & Bestselling Autho...

Rolfe Carawan

President of LifeMatters International; Accountabili...

Tony Alessandra

Premier Communications Expert; Author of "The Platin...

Garrison Wynn

Comedian & Motivational Business Expert

Jason Young

Former Senior-Level Manager at Southwest Airlines & ...

Robert Stevenson

Business Speaker & Author of "How to Soar Like An Ea...

Tim Sanders

Bestselling Author, Technology Pioneer, Expert on Co...

Don Peppers

Marketing and Sales Futurist; Customer Experience Th...

Gary Hamel

Internationally Renowned Expert on Business Strategy...

Dr. Kevin Freiberg

World-Wide Best-Selling Author, Speaker & Advisor

Peter Diamandis

Founder & Executive Chairman of the XPRIZE Foundatio...

Dan Clark

Master Motivator, CEO, New York Times Bestseller & M...

Ram Charan

World-Renowned Business Advisor, Execution Expert & ...

Jim Cathcart

Sales & Marketing Hall of Fame Speaker

Sir Richard Branson

Businessman & Founder of Virgin Group

Dan Ariely

Behavioral Economist; Professor at Duke University; ...
More like John