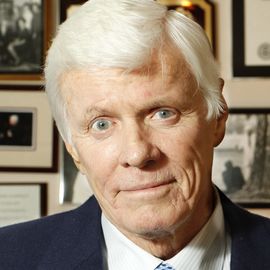 John Y. Brown Jr.
Renowned as one of America's foremost entrepreneurs, Governor John Brown has always challenged the traditional methods of doing business.
Renowned as one of America's foremost entrepreneurs, Governor John Brown has always challenged the traditional methods of doing business. Brown borrowed money to purchase the Kentucky Fried Chicken Corporation (KFC) from its founder, Colonel Harland Sanders. During his ownership tenure from 1964 through 1971, he established a worldwide reputation as a businessman and entrepreneur as he built KFC into the world's largest food service company. Along with Ray Kroc, Brown is recognized with launching the dynamic growth of the fast food industry.
Known as the "Franchise King," Brown has opened over 4,000 franchise units nationally and internationally while maintaining an honorable reputation of never having litigated an issue with a franchisee. Brown is also regarded as one of America's foremost entrepreneurs, having been recognized as the "Entrepreneur of the Year" by the National Franchise Association. He has always challenged the traditional methods of doing business, and has found consistent success with his vision of operating outside the box and focusing on franchising in the food industry.
Brown was recognized by the prestigious Harvard Business School as one of the "Great American Business Leaders of the 20th Century" in 2009. Harvard spent over eight years compiling a list of honorees in an effort to identify and chronicle the lives of 20th century men and women whose business leadership shaped the ways that people live, work and interact.
He is known by all as a self-made man, earning his own way beginning at age 16 when he sold Electrolux vacuum cleaners. While attending the University of Kentucky, where he earned both a Bachelor of Arts degree in 1957 and a law degree in 1961, Brown paid his way through college by working as a District Manager for Encyclopedia Britannica. He is still recognized by the company for setting a national sales record.
Brown began his political career managing his father's campaigns for a number of statewide races in the 1950s and 1960s. He became involved with the Democratic Party at the national level when he served as Vice-Chairperson for John F. Kennedy's presidential campaign in Kentucky. Brown was named Honorary Treasurer of the Democratic Party in 1972, after conceiving and directing a series of national telethons that ultimately raised $19 million and saved the party from bankruptcy.
Announcing his intention to enter the Kentucky governor's race in 1979, Brown won the election handily in a whirlwind sixty-day campaign. He used his business expertise in filling his administration with successful business people and keeping his campaign pledge of "running government like a business." He received national recognition for reducing the size of government by 22%, while projecting Kentucky as a leading state in attracting new industry. He used the nationally publicized slogan "Kentucky & Co. – The State that is Run like a Business."
Prior to his election as Governor in 1979, Brown was a major player in the professional sports arena. He served as president of the American Basketball Association and owned the league's Kentucky Colonels. When the league was absorbed into the National Basketball Association, Brown became owner of the Buffalo Braves and then traded that team for the Boston Celtics.
Brown is recognized as an outstanding motivational speaker, having been the keynote at such events as Amway's convention, the Norman Vincent Peale annual conference, and for chambers of commerce of Miami, Florida, Fort Lauderdale, Florida, and Louisville, Kentucky. Brown has previously been recognized as Speaker of the Year by the National Platform Association in Washington, DC.
Brown is a multi-subject speaker, from business to government to sports, and discusses franchising, entrepreneurial, and motivational topics. A dynamic speaker, he keeps his audience alive with his enthusiasm and Southern sense of humor.
Topics
Run like a Business: The Road to Success in Politics, Business & Life
Success is Built on the Footprints of Failure
Creating the World's Most Recognizable Brands
The Franchise King Shares His Secrets for Success
Videos
---
Related Speakers View all
---
Dr. Nido Qubein

Award-Winning Speaker and Author, President of High ...

Bob Pritchard

International Marketing Expert

Scott McKain

Customer Experience Expert & Best-Selling Business A...

Daymond John

"Shark Tank" Investor; Founder & CEO of FUBU; Presid...

Sam Geist

Consultant / Facilitator

Joe Pine

Expert on Experience Staging and Mass Customization

Sergio Zyman

Marketing Visionary; Former Coca-Cola Marketer

Robert Kriegel

Expert in Sports & Performance Psychology

Josh Linkner

Five-Time Tech Entrepreneur; Hyper-Growth CEO; NY Ti...

Ken Dychtwald

Founder & CEO of Age Wave; Gerontologist & Expert on...

Jeff Taylor

Founder of Monster.com & Eons.com

Robert Spector

Customer Service Expert, Bestselling Author & Creato...

Tim Sanders

Bestselling Author, Technology Pioneer, Expert on Co...

Don Peppers

Marketing and Sales Futurist; Customer Experience Th...

Harvey Mackay

Iconic Business Guru and Bestselling Author

Mark Victor Hansen

Founder & Author of Chicken Soup for the Soul Book S...

Jeffrey Gitomer

World-Renowned Sales & Customer Service Innovator

Libby Gill

Leadership Expert, Executive Coach & Award-Winning A...

Barbara Corcoran

Real Estate Entrepreneur & Mogul, Angel Investor, Au...

Joe Calloway

Bestselling Business Author, Performance Consultant ...
More like John