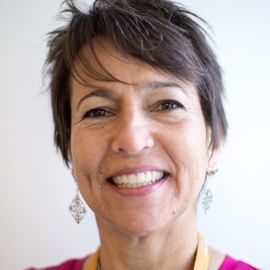 Dr. Joia Mukherjee is the Chief Medical Officer for Partners In Health (PIH), an international medical charity dedicated to providing a preferential option for the poor in healthcare. She is an internist, pediatrician, public health and infectious disease specialist and an Associate Professor at Harvard Medical School.
Dr. Mukherjee has been Chief Medical Officer of PIH since 2000, supporting PIH's efforts to provide high quality, comprehensive health care to the poorest and most vulnerable in partnership with local communities and health officials. Dr. Mukherjee's clinical focus in resource-poor settings has been HIV/AIDS, multi-drug resistant tuberculosis, mental health and Ebola. She is involved in the direct implementation of health programs and disease specific initiatives across PIH's 10 focus countries, as well as research and the generation of new knowledge in these arenas.
At Harvard, she teaches infectious disease, global health delivery and human rights to health professionals and students from around the world. Dr. Mukherjee has helped to create new residency and fellowship training programs for Rwandan and Haitian physicians as well as global health residencies and fellowships for US trainees at Harvard and other AmericanDr.
Dr. Mukherjee was recognized by Heifer International as Hero of Humanity for her outstanding service in 2006.
In 2014, Dr. Mukherjee was one of the lead strategists in launching PIH's efforts to fight Ebola and strengthen health systems in Sierra Leone and Liberia.
Videos
---
Related Speakers View all
---
Dr. Joel Selanikio

Award-Winning Physician, Health & Technology Activis...

Toby Cosgrove

Former CEO & President at Cleveland Clinic

Dr. Mehmet Oz

Cardiothoracic Surgeon; Host of "The Dr. Oz Show;" C...

Alanna Shaikh

Global Health & International Development Writer, TE...

Sandra Fluke

Lawyer, Social Justice Advocate, Women's Health Expert

Dr. Anthony Fauci

Director of the National Institute of Allergy and In...

Catherine Mohr

Vice President of Strategy at Intuitive Surgical & P...

Ofer Levy

Infectious Disease Specialist

Helen Egger

Founder, WonderLab & Chair of the Department of Chil...

Dean Blumberg

Chief of Pediatric Infectious Diseases at UC Davis C...

Zoleka Mandela

Global Ambassador for Child Health Initiative, Daugh...

Rhea Seddon

NASA Astronaut & Veteran of Three Space Shuttle Flig...

Michael Saag

Physician, Healthcare Activist and Prominent HIV/AID...

Dr. Thomas Lee

Chief Medical Officer at Press Ganey

Raj Panjabi

Co-Founder & CEO, Last Mile Health; Assistant Profes...

Dr. Nadine Burke Harris

Surgeon General of California; Co-Founder and Former...

Tal Golesworthy

Tal Golesworthy is an engineer and entrepreneur, wor...

Dr. Scilla Elworthy

Founder of the Oxford Research Group

Daniel Dennett

Professor of Philosophy at Tufts University

David Ho

Scientific Director & CEO, Aaron Diamond AIDS Resear...
More like Joia