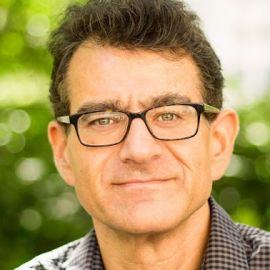 Jon Birger
Author of "Make Your Move" & "Date-Onomics," Expert on Relationship Science and Evolving Dating Culture
Jon Birger is an award-winning magazine writer and a contributor to Fortune magazine. In his second act, he's also become America's accidental dating guru. Jon is the author of two dating books —Date-onomics: How Dating Became a Lopsided Numbers Game (Workman Publishing, September 2015) and the forthcoming Make Your Move: The New Science of Dating and Why Women Are in Charge (BenBella Books, February 2021). A former senior writer at Fortune and Money, Jon was named to AlwaysOn Network's list of "Power Players in Technology Business Media." His work has also appeared in Barron's, Bloomberg BusinessWeek, New York Magazine, Time Magazine, The Daily Mail, The New York Post, and The Washington Post. Jon is a familiar face and voice on television and radio, having made appearances on ABC's Good Morning America, BBC World Service, CNBC, CNN, MSNBC, National Public Radio, and Fox News — discussing a wide range of topics from the dating market to the stock market to how college sex ratios affect campus life. A graduate of Brown University, Jon lives with his family in Larchmont, N.Y.
Videos
---
Speech Topics
---
THE NEW SCIENCE OF DATING
Drawing from his new book "Make Your Move" and from the very latest scholarly research on dating and sexuality, Jon shows how today's singles have been led astray by the old "rules" of dating. Most men do not enjoy the chase. Most women are not naturally coy and passive. This is why hetero women who tap into their natural assertiveness — who are willing to do everything from make the first move to propose marriage — fare so much better than their romantic rivals who play by the rules and wait to be courted.
ONLINE DATING IS KILLING MODERN ROMANCE
There's a reason why marriage rates are crashing among millennials. It's the same reason why young people on social media seem more concerned with winning the breakup than finding a soulmate. Drawing from "Make Your Move," Jon shows how online dating is changing love and romance for the worse. Dating apps and sites promote a consumerist mindset, one in which wvery relationship is returnable and disposable. It's why couples who met online tend to have shorter-lived relationships than couples who met at work, through friends, at church or in other real-world settings.
IT'S NOT YOU, IT'S THE SEX RATIO: HOW LOPSIDED SEX RATIOS HAVE CHANGED THE DATING CULTURE
Jon uses his "Date-Onomics" research to explore how lopsided sex ratios are driving the hookup culture and distorting modern dating. Traditional dating advice books tell women it's their fault — that they'd have their Mr. Right by now if only they hadn't returned his text message an hour too soon or an hour too late. Nonsense, says Jon. His explanation: With four women now graduating college for every three men, the post-college dating market has become hopelessly lopsided in men's favor—at least if you're dating other college grads. And science shows that the culture becomes less monogamous and more sexualized when men are in undersupply. The dating math is reversed in the blue-collar dating world, where it's women who have the leverage — which is Jon has been predicting in increase in what he first dubbed "mixed-collar marriage."
SOLVING THE BOY PROBLEM IN AMERICAN EDUCATION
There's a boy problem in our schools. Since 2000, 33% more women than men have been attending and graduating from college. Girls get much better grades in high school, accounting for 70% of valedictorians and 60% of students with "A" averages. What's going on? Conservatives blame feminism & Title IX. Problem is, the college gender gap is not a uniquely American problem. The numbers are similar in Australia, Canada and Europe too. The college gender gap even exists in China and Algeria—places where school curriculums certainly have not been hijacked by American feminists. Solving The Boy Problem requires understanding the latest science on brain-maturity differences between boys and girls. Jon explains how.
LOPSIDED SEX RATIOS AND #METOO
Writing in the 1970s, Harvard psychologist Marcia Guttentag argued that the rise of the feminist movement in the '60s and '70s was in part a backlash against misogyny spawned by the lopsided sex ratios in her era — one in which women were increasingly objectified and devalued. (Due to the Baby Boom and the traditional age gap at marriage, there were significantly more 22-year-old women than 26-year-old men by the late 1960s.) Were Guttentag alive today, I suspect she'd be making similar arguments about the college gender gap and the rise of the #MeToo movement. FBI and Interpol crime data show a clear connection between higher sexual assault rates and low ratios of men to women. To put it crudely, men seem to value women less when women are in oversupply. The opposite is also true too: Research on China shows that as sex ratios there have skewed more and more male, the only major crime rate that has declined is sexual assault. Jon discusses how lopsided sex ratios have contributed to a culture of sexual harassment and sexual violence — and how sex-ratio science can inform the response.
Related Speakers View all
---
Terry Crews

Actor, Author & Former NFL Player; Advocate for Wome...

Diane Rosenfeld

Law Professor & Director of the Gender Violence Prog...

Joe Quirk

Humorist / Author of It's Not You, It's Biology

Anthony Rapp

Actor, Singer & Author of "Without You: A Memoir of ...

Dan Savage

Advice Columnist & Host of the "Savage Lovecast" Pod...

Kevin Powell

Writer, Humanitarian, President of BK Nation

Jackson Katz

Anti-Gender Violence Activist, Author

Bill Bryson

Best-Selling Author Known for "A Short History of Ne...

Dr. Michio Kaku

World-Renowned Futurist & Theoretical Physicist

Paul F. Davis

Paul F. Davis is a worldwide speaker who has touched...

Ebony Roberts

Writer, Researcher & Activist

Rabiaa El Garani

Human Rights Protector

Lucille F. Sider

Sexual Abuse Survivor, Clinical Psychologist, Clergy...

Patricia Cumbie

Sexual Assault Survivor, Belly Dancer & Author

Emily Rothman

Researcher, Professor, Pornography Literacy Scientis...

James Paul Gee

Psycholinguistics Researcher & Author of "Language a...

Kristen Roupenian

Author of the New Yorker's Viral "Cat Person"

Lisa Wade

Sociologist, Author of "American Hookup"

Donna Hylton

Activist, Author, Advocate

Jonathan Sandys

Speaking on the life & leadership of my great-grandf...
More like Jon