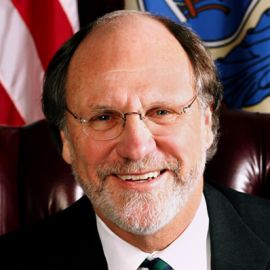 Jon S. Corzine is the former chairman and chief executive officer of MF Global Holdings Ltd. He resigned on November 4, 2011. Mr. Corzine joined the firm in March 2010. He Previously served as governor of New Jersey from 2006 to 2010, and in the United States Senate from 2001 to 2006. Before entering public service, Mr. Corzine was chairman and senior partner at Goldman Sachs, where he spent more than 20 years. Mr. Corzine joined Goldman Sachs in 1975 as a fixed income trader. He went on to serve as chief financial officer and as chairman and senior partner from 1994 through 1999. Mr. Corzine initiated a landmark Community Teamwork Project under which every department at Goldman sponsored public service projects. He also used proceeds from the firm''s initial public offering to establish a philanthropic foundation. In recognition of his expertise and reputation, President Bill Clinton named Mr. Corzine as chairman of a presidential study of federal capital budgeting to increase investment in schools, infrastructure and technology.
Shortly after leaving Goldman Sachs, Mr. Corzine was elected to represent New Jersey in the United State Senate. Mr. Corzine served on the Senate Banking, Budget, Energy and Natural Resources, Environment, Foreign Relations and Intelligence committees. His early accomplishments included shaping and co-sponsoring the Sarbanes-Oxley Act; securing federal funding for the upgrade of New Jersey''s transportation infrastructure; implementing new safeguards to prevent terrorist attacks on chemical facilities; and government assistance for 9/11 families. Mr. Corzine also championed initiatives to expand health care for children, to outlaw racial profiling, and to recognize and combat the genocide in Darfur. He was one of only 23 Senators to vote against authorizing the Iraq War.
In January of 2008, Mr. Corzine became New Jersey''s 54th governor. To make government live within its means, he initiated pay-as-you-go accounting. He eliminated budget earmarks and secured passage of a constitutional amendment to require voter consent on future debt issuances by the state. He cut the state budget by more than $4.5 billion and decreased the public workforce by more than 8,000 positions. Even as he made state government leaner, Mr. Corzine expanded funding for education and access to health care. In 2007, New Jersey became the first state in more than 40 years to abolish the death penalty, even as the violent crime rate fell during Mr. Corzine''s tenure. Mr. Corzine also worked with President Obama in shaping the federal economic recovery package.
Videos
---
Related Speakers View all
---
Sir Richard Branson

Businessman & Founder of Virgin Group

Robert E. Rubin

Former U.S. Treasury Secretary & Chair of the Counci...

Robert Menendez

U.S. Senator, (D) New Jersey

Daniel Altman

Sports Analytics & Strategy Expert

Peter Thiel

Former CEO and Co-founder of PayPal; Technology Entr...

Chip Conley

Strategic Advisor for Hospitality & Leadership at Ai...

Carla Katz

Former President, CWA Local 1034

Henry Rollins (Spoken Word)

Artist

Moby

Musician, DJ, Photographer

Ambassador Dennis Ross

Author, Counselor & William Davidson Distinguished F...

Jeremy Rifkin

Leading Global Technologist, Futurist, Authority on ...

Ray Kurzweil

Chairman of Kurzweil Technologies, Inventor & Futuri...

Maddy Dychtwald

Co-Founder & Senior VP of Age Wave, Author & Changin...

Peter Diamandis

Founder & Executive Chairman of the XPRIZE Foundatio...

Charles Best

Founder and CEO, DonorsChoose.org

David Patrick Columbia

Founder, The New York Social Diary

Neil Giuliano

Gay Rights Activist & President and CEO of Greater P...

George Rupp

President & CEO, International Rescue Committee

Jeffrey Israel

Jeffrey Israel has taught religion and political phi...

Sallie Krawcheck

Founder & CEO of Ellevest; Author of "Own It: The Po...
More like Jon