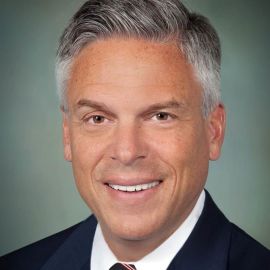 Jon Huntsman, Jr.
Former United States Ambassador to Russia, Former U.S. Ambassador to China (2009-2011) and Governor of Utah (2005-2009)
Governor Jon M. Huntsman, Jr. began his career in public service as a staff assistant to President Ronald Reagan. He has since served four U.S. Presidents in critical roles around the world including Ambassador to Singapore, Deputy Assistant Secretary of Commerce for Asia, U.S. Trade Ambassador and U.S. Ambassador to China. Most recently, he served as U.S. Ambassador to Russia from October 2017 to October 2019, when he resigned to return home to Utah.
Twice elected as Utah's Governor, Huntsman brought about strong economic reforms, tripled the states rainy day fund and helped bring unemployment rates to historic lows. During his tenure Utah was named the best managed state in America and best state in which to do business.
Recognized by others for his service, Huntsman was elected as chairman of the Western Governors Association, serving 19 states throughout the region.
Huntsman ran as a candidate for the 2013 Republican Presidential nomination. He now serves as co-chair, along with Democratic Sen. Joe Manchin of West Virginia, of No Labels, a growing citizens' movement of Democrats, Republicans and everything in between dedicated to promoting a new politics of problem solving.
He also serves on the board of Ford Motor Company, Caterpillar Corporation, Huntsman Corporation, The U.S. Naval Academy Foundation, The University of Pennsylvania, as a distinguished fellow at the Brookings Institute and as a Trustee of the Reagan Presidential Foundation and as Chairman of The Huntsman Cancer Foundation.
He is a graduate of The University of Pennsylvania and has seven honorary doctorate degrees.
Speech Topics
---
Challenges Facing America Today
A recognized bipartisan leader who has served in the administrations of four U.S. presidents -- Ronald Reagan, George H.W. Bush, George W. Bush and Barack Obama -- Jon Huntsman elevates the discussion of the key issues and challenges facing America today including the future of additional health-care reform initiatives, jobs, the economy, debt and the deficit, financial regulatory reform, immigration, energy security and cyber security.
Jobs and the U.S. and Global Economy
As Governor of Utah from 2005-2009 and in the midst of a national recession, under Jon Huntsman's leadership, Utah was ranked No. 1 in job creation and named the best-managed state by the Pew Center. While maintaining numerous job-stimulating construction projects during Huntsman's tenure as Governor, Utah was repeatedly recognized for its dynamism, business climate and quality of life. With a wealth of experience and insight, Huntsman discusses the most pressing economic issues today: tax code reform, regulatory reform, energy independence and the importance of free trade.
China: Opportunities and Challenges
A committed patriot, when Jon Huntsman was asked by President Obama in 2009 to serve as Ambassador to China he was unanimously confirmed by the U.S. Senate. Huntsman knows firsthand from his years of service why no other relationship in the world that, if mismanaged, carries greater negative consequences than the one between U.S. and China. Using his years of experience working closely with American business owners to facilitate commerce in the growing Asian market, Huntsman outlines ways to bring jobs and capital back to America, engage China from a position of strength and level the economic playing field in order to protect the U.S. economy.
Financial Regulatory Reform to Remain Competitive in the 21st Century
With all eyes on the fragile economic recovery, the world's financial system is going through a major shake-up. Former U.S. Ambassador to China, Jon Huntsman sheds light on the evolving and complex global financial system and what is necessary for U.S. financial regulatory reform to remain competitive for the next generation. Huntsman discusses all hot topics of financial reform, including:
The European Sovereign Debt Crisis and Its Impact on the World's Financial System

Meaningful Reform in the Aftermath of the Financial Crisis

How America Must Think Differently to Remain Competitive
Renewing America's Leadership in the World
Viewing the world through a diplomatic lens as former Ambassador to China and a twice-elected Governor of Utah, Jon Huntsman has a rare holistic outlook of the U.S. and its global position of strength. Huntsman sees that the greatest challenge for the U.S. to remain a powerful nation is to cultivate the resources to compete. Providing audiences with a road map for rebuilding America's competitive advantages, Huntsman provides details on how to advance international trade, craft wise policies toward the new great powers while sustaining traditional alliances, strengthen relationships with Latin American countries close to home and create a competitive military to meet current and future threats. Firmly believing that the U.S. is of diminishing value to the world if it is a country in decline, Huntsman reorients audiences to the choices we all must make from this point forward to secure the best future possible.
Education Reform: Maximizing Equality and Opportunity
In 2005, Jon Huntsman, then Governor of Utah, signed legislation that placed state educational requirements above the federal requirements -- the first state to enact such measures. With a passionate belief that our educational system must develop the next generation to ensure a better America, Huntsman shares his solutions for cutting the bureaucracy of the Department of Education, creating real accountability in our schools and protecting higher education. Understanding that public policy must be driven by reality and that Washington cannot single-handedly remedy our educational woes, he discusses the importance of states being empowered to fix their own systems. Forthright on the critical issue of education in a global marketplace, Huntsman eloquently emphasizes the need to develop and attract human capital and how it will be the key to the United States' economic success in the next century.
Related Speakers View all
---
Mitt Romney

Former Governor of Massachusetts, 2012 Republican Pr...

Peter Diamandis

Founder & Executive Chairman of the XPRIZE Foundatio...

Sir Richard Branson

Businessman & Founder of Virgin Group

Barney Frank

U.S. Congressman (1981-2012); Chairman, House Financ...

Joseph Stiglitz

American Economist, Professor at Columbia Universit...

Robert Reich

Economic Analyst, CNBC Contributor, Professor, Autho...

Gary Vaynerchuk

Co-Founder & CEO of VaynerMedia

Ben Stein

Political Economist, Commentator, Author & Actor

Jeremy Rifkin

Leading Global Technologist, Futurist, Authority on ...

Adrian Grenier

Actor Known for HBO's "Entourage"; Environmental Act...

John Legend

EGOT Winning Musician, Producer & Philantropist

Robert Redford

Actor, Director, Producer, Environmentalist & Founde...

Peter Orszag

Economist, Vice Chairman of Corporate and Investment...

Ralph Nader

Former Presidential Candidate for the Green Party, C...

Dave Barry

New York Times Best-Selling Author & Humorist

Mark Cuban

Serial Entrepreneur, Investor & Owner of the Dallas ...

Spencer Rascoff

Co-Founder and Former CEO of Zillow; Co-Founder of H...

Peter Guber

Executive, Entrepreneur & #1 NYT Bestselling Author,...

Charlie Rose

Anchor and Executive Editor

Ray Kurzweil

Chairman of Kurzweil Technologies; Inventor; Futurist
More like Jon