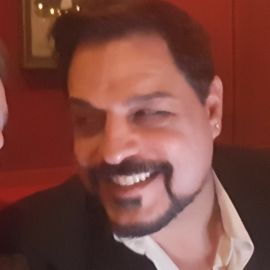 Jon & Michael Galluccio
Civil Rights Activists & Joint-Adoption Parents
For Jon and Michael Galluccio, one of the most difficult aspects of accepting their homosexuality was abandoning their dreams of fatherhood and a family … or so they thought. Jon and Michael always knew that they wanted more from life than what was then the stereotypical "gay lifestyle," so they began their life together with little support and no role models. Throughout their relationship, however, they had gained the tools necessary to take on their biggest challenge, the adoption of Adam, their first child.
Adam joined the Galluccio family as an infant around Christmas of 1996. He was born in critical condition, addicted to crack and exposed to numerous diseases, including HIV. He was painstakingly nursed back to health and the Galluccio's filed to adopt the baby.
It was during their 1997 petition for adoption that the Galluccio's were notified that New Jersey State law prohibited them from proceeding as a couple. They refused to settle for the second class status often assigned to members of the gay community. They filed a class action lawsuit against the State of New Jersey, in which they demanded a change in the policy barring their joint adoption efforts. The victories of their joint adoption and the historic state settlement of the lawsuit, which attracted world-wide praise and controversy, established a crucial precedent for other gay couples. No longer does sexual orientation or marital status matter in New Jersey adoptions. As a direct result of the Galluccio's battle with the system, New Jersey became the first state in the nation to allow joint adoption by gay and unmarried couples and the way has been paved for other States to institute like fair minded policies.
Now, together for almost thirty years, Jon and Michael have continued to advocate on many issues that affect the lives of the GLBT community. They were married in California prior to Prop 8 and have become vocal advocates for marriage equality. They have been recognized by politicians and civil rights organizations around the country including being awarded the Human Rights Campaign – Family Civil Rights Award. They are the authors of "An American Family" by Jon and Michael Galluccio, with David Groff, a St. Martin's Press Publication. They also stay active in their community. Jon having served on the board of directors for the NJ ACLU is now a Financial Services Representative with MetLife. Michael currently a Sales Manager with Sprint also has a seat on the Board of Education for Manchester Regional High School.
Topping the list of personal and professional achievements the Galluccio's greatest achievement is their family. In addition to Adam, now fifteen, Jon and Michael adopted a second baby, Madison who is now fourteen years old and her half-sister Rosa, who lived in a group foster home through her early teens. Rosa is now twenty eight and married with three daughters of her own. This brings Jon and Michael's family to three children and three grandchildren. They have proven that you can be gay and have the American dream including a family, despite the enormous obstacles of homophobia and discrimination
Jon and Michael's story about the meaning of commitment and family is an inspiring testimony to the power of love. Jon and Michael have actively increased public awareness. Whether the medium be television, radio, print or podium Jon and Michael weave a story of realizing the American dream to the full extent. They share personal stories of heartache and hope, overcoming homophobia to raising an autistic child to standing up for truth, love and the American Dream.
Related Speakers View all
---
Mikki Kendall

Writer, Diversity Consultant & Feminist

Simon Tam

Author, Musician, Activist, Founder of The Slants

Zach Norris

Executive Director of Ella Baker Center for Human Ri...

David Ikard

Professor of African American & Diaspora Studies at ...

Leah V

Hijabi Social Media Influencer, Muslim Feminist, Bod...

Zyahna Bryant

Student Activist & Community Organizer

Shariff Abdullah

Director of Commonway Institute

Samra Zafar

Human Rights Activist & Author of "A Good Wife"

Emily Quinn

Intersex Activist, Artist & Animator

Duncan Tonatiuh

Award-Winning Children's Book Author & Illustrator

Charlene Carruthers

Social Justice Activist, Community Organizer & Found...

Oren Lyons

Faithkeeper of the Turtle Clan, Onondaga Council of ...

Kristin Russo

LGBTQ Educator & Consultant; Author of "This is a Bo...

DeRay Mckesson

Civil Rights Activist & Host of "Pod Save The People"

Rob King

SENIOR VP, SPORTSCENTER AND NEWS, ESPN

Joy-Ann Reid

MSNBC Correspondent, Political Author & Former Host ...

Zak Ebrahim

Peace Activist & Author, "The Terrorist's Son"

Robert M. Caruso

Founder & CEO Fondalo, Inc.

Geena Rocero

Transgender Model & Advocate; Founder of Gender Proud

Jon Collins

President FRAMESTORE
More like Jon