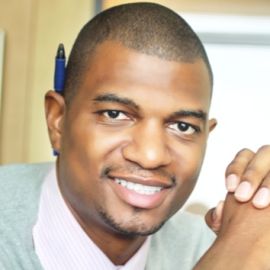 Jonathan Bender
Entrepreneur, Inventor, Former NBA Star Player
Jonathan Bender of the Indiana Pacers was one of the hottest prospects in professional basketball. He was the rare athlete who could play all five positions on the court. Hailed as the heir to Michael Jordan, he scored 31 points in the 1999 McDonald's All-American game, beating the legend's record and setting himself up for a potentially extraordinary career.
But a knee injury forced Bender into sudden retirement at age 25, pressuring him to find new revenue streams when the $30 million he earned with the Pacers quickly dwindled. He tried concert promotion, rescue work and real estate investment, with limited results. Inspired by Pacers owner Mel Simon, a self-made strip mall magnate, he started thinking about entrepreneurship, innovation and product invention. Then the spark came: While people watching in a Houston park, Bender envisioned a resistance-based training and rehabilitation device that improved the way people walked. Fashioning a prototype out of duct tape, cables and ankle weights sourced from a local pharmacy, he tested the device on himself. Alleviating stress on the joints by strengthening the muscle groups around it, the device resembled nothing less than a common weightlifting belt —sewn together by a seamstress he knew from the neighborhood.
While wearing the prototype, his injuries gradually healed, easing pressure on his knees and building strength in the quads, hamstrings and calves. Not only could he walk again — he discovered he could play basketball again. On December 13, 2009, Bender signed with the New York Knicks after a four-year absence from the game. He made a favorable comeback on the court; behind the scenes, Knicks doctors were stunned to discover that he boasted the strongest lower-body power of any player on the team, even after injury and rehabilitation. Invited to return to the Knicks the following season, he declined, opting instead to perfect the device that helped him walk again.
His book "The Courtside CEO", describes how he took the mindset and approach of a professional athlete and transformed it through entrepreneurial savvy into the invention and marketing of a landmark product that has helped thousands of people rehabilitate worldwide. In his keynote presentations, he employs slides and videos highlighting his personal experiences and business expertise, using the platform of his NBA experience to inspire audiences on the importance of innovation and embracing change when you hit the inevitable roadblock.
Related Speakers View all
---
Britton Johnsen

Former NBA Player, First to Dunk on Lebron James in ...

Al Harrington

Cannabis Advocate, Entrepreneur, Co-Founder of Viola...

Mark Eaton

Award-Winning Motivational Speaker, Entrepreneur, Be...

Dr. Franklin Chang Díaz

Former NASA Astronaut, CEO of Ad Astra Rocket Compan...

Elad Shoushan

Entrepreneur In Residence at MIT, Successful Startup...

Khalia Collier

Entrepreneur, Community Activist, Owner & General Ma...

Richard Browning

English Inventor, Entrepreneur and Speaker; Dubbed "...

Ryan Janzen

Scientist, Engineering Researcher, & Entrepreneur; C...

Jamie Siminoff

Inventor & Entrepreneur; Creator of DoorBot, now kno...

David Barnett

Founder & CEO of PopSockets

Monique Woodard

Founder & Executive Director of Black Founders; Vent...

Draymond Green

NBA Professional Basketball Player for Golden State ...

Mario Moretti Polegato

Chairman, GEOX Group, Italy

Dan Harden

Award-Winning Product Designer; President & CEO of W...

Elwood Norris

Inventor & Serial Entrepreneur

Steve Nash

Head Coach, Brooklyn Nets; Former Professional Baske...

Isiah Thomas

Businessman, Legendary Sports Icon & Philanthropist

Shawn Brown

Engineer, Designer & Content Creator at Kids Invent ...

Lisa Damato

Winner of "America's Next Top Model" All Stars & Inv...

Kate Jhaveri

Chief Marketing Officer of the NBA; Former CMO of Tw...
More like Jonathan