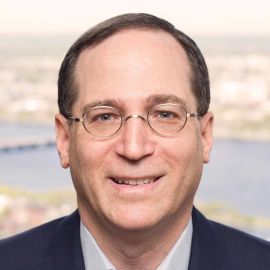 Jonathan Lavine is Co-Managing Partner of Bain Capital, a leading private alternative investment firm with approximately $105 billion in assets under management. He also serves as the Chief Investment Officer of Bain Capital Credit, a global credit specialist that invests across the full spectrum of credit strategies including leveraged loans, high-yield bonds, distressed debt, private lending, structured products, non-performing loans and equities.
Lavine founded Bain Capital Credit, formerly known as Sankaty Advisors, in 1998. Today, Bain Capital Credit Bain Capital Credit has more than $41 billion in assets under management, more than 200 employees and offices in Boston, New York, Chicago, London, Dublin, Melbourne and Hong Kong. Lavine joined Bain Capital's private equity group in 1993. His experience prior to joining the firm includes McKinsey & Company and Drexel Burnham Lambert.
Mr. Lavine is co-chair of the Board of Trustees of Columbia University. He previously served as vice chair of the Board, and is a former chair of the Columbia Board of Visitors. He is a member of the Advisory Board of the Schuster School of Journalism at Brandeis University. Since 2006, Lavine has served on the Board of City Year, an organization that works to improve student performance and graduation rates in schools across the country. He is currently the organization's co-chair. Mr. Lavine also sits on the boards of Boston Children's Hospital Trust, Dana-Farber Cancer Institute and Opportunity Nation. He was appointed to the U.S Holocaust Memorial Council in 2016 by President Obama.
An active philanthropist, Mr. Lavine and his wife, Jeannie, support a variety of nonprofit organizations focused on addressing income inequality and improving access to education and opportunity. In 2007, they founded the Crimson Lion Lavine Family Foundation to deliver financial resources to a variety of nonprofit organizations. The Lavines have supported financial aid initiatives at Harvard University and helped expand academic programs. In 2018, they provided the largest fellowship gift in the school's history to fund scholarship aid for first-generation students at Harvard Business School. The Lavines also co-chaired the Harvard School of Public Health Capital Campaign. Through the Foundation and personal giving, the Lavines support Combined Jewish Philanthropies, LIFT Communities, uAspire, the Equal Justice Initiative (EJI), and other organizations.
Mr. Lavine is the 2017 recipient of Columbia University's Alexander Hamilton Medal, the college's highest honor. He is a past recipient of Columbia's John Jay Award for professional achievement, Columbia's David Truman Award for outstanding contribution to academic affairs, the Dean's Leadership Award for the Class of 1988 25th Reunion, Columbia/Barnard Hillel's Seixas Award, Opportunity Nation's American Dream Award, Voices for National Service Citizen Service Award and of the New England Anti-Defamation League's Distinguished Community Service Award. Mr. Lavine is also a member of the ownership group and a director of the Boston Celtics.
Mr. Lavine graduated from Columbia College, Phi Beta Kappa and Magna Cum Laude, and holds an M.B.A with Distinction from Harvard Business School.
Videos
---