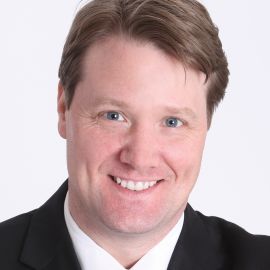 Jonathan Sandys
Speaking on the life & leadership of my great-grandfather, Sir Winston Churchill, & author of the ground-breaking book: 'God & Churchill''
Jonathan Sandys, a great-grandson of Britain's wartime Prime Minister Sir Winston Churchill, is an international public speaker on the life, times and leadership of his illustrious relative and the impact Sir Winston still has on the world today. His book, God & Churchill, reveals compelling evidence that Churchill was correct in his belief that his life, like many others, had been protected and guided by, as he put it, 'Divine intervention.' Jonathan is also the curator of the online publicationImpressions of Churchill, allowing people who met the great man, as well as those who are just now old enough to have heard of him, to share their thoughts on the impact Sir Winston has made on their lives.
Jonathan's mission is to continue the amazing legacy Sir Winston left theworld, and work with present and future generations to inspire the great leadership of courage, faith and integrity employed by his great-grandfather throughout his tumultuous life.
Speech Topics
---
LEAD LIKE CHURCHILL: Courage, Faith, Integrity™
A complete overview of my great-grandfather's Foundational Leadership. In life and business we are taught to duplicate great leaders, but without an understanding of Foundational Leadership, the building-blocks those great leaders understood and incorporated into their own leadership styles, when faced with unfamiliar challenges we often find the ground we are standing on gives-way.
Aimed at business executives, workforces, schools, colleges, universities, and those who want simply want to increase their leadership effectiveness; LEAD LIKE CHURCHILL: Courage, Faith, Integrity, is encouraging and informative, empowering the audience to map their own leadership path, and forming or building on current leadership skills.
We all have the capacity to Lead Like Churchill, with courage, faith and integrity, we just need to understand Foundational Leadership, and the skills to draw the path to success.
TAKE-AWAY: LEAD LIKE CHURCHILL: Courage, Faith, Integrity, offers the specially designed Churchill Challenge® take-away that attendees will be invited to complete in order to form, practice and improve on current leadership skills.
GOD & CHURCHILL: A Most Remarkable Connection
Based on his recently released book God & Churchill, published by Tyndale House, Jonathan presents strongly compelling evidence that supports his great-grandfather's own belief that his life was both guided and protected by, as he put it, 'Divine intervention.'
When Winston Churchill was a boy of sixteen, he already had a vision for his purpose in life. "This country will be subjected somehow to a tremendous invasion . . . I shall be in command of the defences of London . . . it will fall to me to save the Capital, to save the Empire."
It was a most unlikely prediction. Perceived as a failure for much of his life, Churchill was the last person anyone would have expected to rise to national prominence as prime minister and influence the fate of the world during World War II. But Churchill persevered, on a mission to achieve his purpose. God and Churchill tells the remarkable story of how one man, armed with belief in his divine destiny, embarked on a course to save Christian civilization when Adolf Hitler and the forces of evil stood opposed. It traces the personal, political, and spiritual path of one of history's greatest leaders and offers hope for our own violent and troubled times.
More than a spiritual biography, God and Churchill is also a deeply personal quest. Written by Jonathan Sandys (Churchill's great-grandson) and former White House staffer Wallace Henley, God and Churchill explores Sandys' intense search to discover his great-grandfather—and how it changed his own destiny forever.
Aimed at faith-based organizations and others who desire to understand Churchill's life in the context of God's relevance today and how his life and times offers hope today in our own troubled times.
CHURCHILL: A Life of Failure. A Template for Success
"I felt as if I were walking with Destiny, and that all my past life had been but a preparation for this hour and for this trial." Throughout the majority of his life, Sir Winston Churchill was written-off by almost everyone. Teachers, colleagues, leaders, friends, and even family believed he would be a failure who would never amount to anything. He was seen as an arrogant, self-centered warmonger, who was obstinate in his challenges, could never be trusted, and would be the last person to be called upon to lead in a crisis. However, when Britain faced her greatest challenge, Churchill was the very man they called upon to save them. CHURCHILL: A Life of Failure. A Template for Success, is an in-depth study of the character of a man who despite great failures, never gave up and never surrendered. From the depths of failure he rose not just in power, but from being one of the most hated men in Britain to being recognized by popular vote as 'The Greatest Briton…Ever'.
Aimed at businesses, educational establishments and general interest groups, CHURCHILL: A Life of Failure. A Template for Success, is a motivational speech that proves beyond a shadow of doubt what a person with truly courageous determination and an unwavering faith in himself and his abilities can achieve. CHURCHILL: A Life of Failure. A Template for Success, will change your mindset completely and make you realize that it doesn't matter where you've come from, or what has gone before, the journey should be enjoyed and learned from and it is the destination that truly matters.
CHURCHILL: An Overview
Born in the later part of Victorian-England where parents firmly believed that children should be seen and not heard, Winston Churchill grew-up almost along. Packed-off to a cruel boarding school at the tender age of seven where throughout his schooling he remained at the bottom of his class and school, Churchill suffered great rejection for many years. His pleas for help and companionship were ignored and instead of giving-up, he chose to learn resilience. Finally finding success on the battlefields of the Sudan and South Africa, Churchill entered politics only to find a similar rejection he had experienced at school. Labelled troublesome, a war-monger, untrustworthy and hateful when he dared to raise his voice in defense of his country and its people, Churchill refused to surrender. When a totally unprepared Britain went to war in 1939, Churchill watched helplessly as Hitler and his Nazis ravished Europe. Finally, on May 10, 1940, his call from Destiny was answered. Taking the reins of power as Britain's wartime Prime Minister, Churchill led his tattered, war-torn country to the most unlikely victory history has ever seen. Removed from office at the conclusion of the Second World War, and then returned again to lead in 1951, Churchill remained as always, at the forefront of world politics until his resignation in 1955. Known famously for his writings as a journalist, an author and later an artist, Churchill lived out his remaining years as if they were his first. His countless speeches are still quoted and his wise words of wisdom have never died. Winston Churchill's tumultuous and exciting life eclipses most others in history. His life, daring courage, faithful service and unwavering honesty all come alive as his great-grandson, Jonathan Sandys retells the stories, some well-known and others not in CHURCHILL: An Overview.
Aimed at educational establishments and general interest groups, CHURCHILL: An Overview, is a fascinating outline of one of history's greatest heroes. For educational establishments especially, CHURCHILL: An Overview, is a great introduction to those students studying European History, and/or the Second World War.
CHURCHILL: The Gathering Storm
In the 10-years leading up to the start of the Second World War, Winston Churchill was the lone voice calling out warnings of the threat that Hitler and his Nazis posed. Everyone ignored his warnings and he was ostracized by his own people and political colleagues. Despite this rejection, Churchill courageously continued his warnings, faithfully believing that he had correctly read the warning signs. His integrity held him firm in his position as he refused to back down and submit to the populous of Parliament. As tensions in Europe tightened and Prime Ministers Stanley Baldwin and then Neville Chamberlain refused to face the black and white facts of Germany's rearmament program, Churchill's prophetic warnings began to take shape and the reality which had so easily been ignored in the hope of preventing war, began to emerge with frightening accuracy. When Hitler invaded Poland in September 1939, a reluctant Chamberlain declared war, committing a totally unprepared Britain to history's worst recorded conflict. Chamberlain proved to be a terrible wartime leader and in May 1940, Winston Churchill was called upon to be Prime Minister and lead Britain through the terribly dark years of the Second World War.
Aimed at educational establishments and general interest groups, CHURCHILL: The Gathering Storm, is a fascinating overview of the ten years that as Churchill put it, the locusts had eaten. For educational establishments especially, CHURCHILL: The Gathering Storm, is a great introduction to those students about to embark on studying the Second World War.
CHURCHILL: A Bit of Wit and Wisdom
Winston Churchill is well known for his great wit and wisdom. Many of his quips are well known but some are not. In this fun and humorous speech, CHURCHILL: A Bit of Wit and Wisdom, his great-grandson, Jonathan Sandys, brings to life some of Churchill's most cutting and witty remarks, while also revealing the great wisdom Winston Churchill displayed on numerous occasions throughout his life.
Aimed at general interest groups, parties, dinners and other occasions, CHURCHILL: A Bit of Wit and Wisdom will add a touch of humor to your event as Jonathan highlights both some of the more well-known, and less well-known tidbits of his great-grandfather's wit and wisdom.
Related Speakers View all
---
Bill Wooditch

Founder, CEO, and president of The Wooditch Group

Paula McDade

Women's Empowerment & Leadership Speaker, Bestsellin...

Jon Bergmann

Pioneer of the Flipped Class Movement & Bestselling ...

Kristie Kennedy

Women's Worth & Wellness Expert, TEDx Audacious Lead...

Mark Victor Hansen

Founder & Author of Chicken Soup for the Soul Book S...

Erin Gruwell

Founder & Executive Director of the Freedom Writers ...

Gary Greeno

Motivational Speaker, Coach, Educator

Daman Mott, MSN, RN

Chief Clinical Officer

Tina Marie Jones

Connecting with the audience through the style of a ...

Montel Williams

Emmy Award-Winning Talk Show Host Best Known For "Th...

Neal Petersen

History-Making Extreme Adventurer, Award-Winning Aut...

Linda Darling-Hammond

CEO of the Learning Policy Institute & Founder of th...

Jessica Cox

World's First Armless Pilot & First Armless Black-Be...

Jean Bailey Robor

Jean Bailey Robor, award-winning author and inspirat...

Ariane de Bonvoisin

Founder and CEO of First30Days.com & Author, "The Fi...

Anand Bhatt

Speaker on eastern and western spirituality, leaders...

Charlie Alejandro

Motivational Speaker, Writer, Actress & Radio Talk S...

Val McLeod

Inspirational Influencer and Empowerment Speaker and...

Liz Nead

Executive Business & Life Coach

Hypnotist The Incredible BORIS

Award-winning Motivational Hypnotist and Keynote Spe...
More like Jonathan