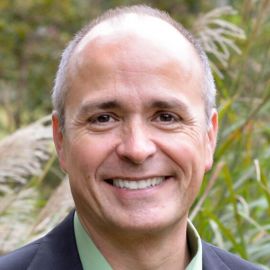 Jones Loflin
Internationally-Recognized Author & Speaker on Change, Work-Life Balance & Time Management
Jones Loflin has made it his life's work to deliver powerful ideas and practical solutions to individuals around the world so they can achieve more of what is most important to them. His books are described as "illuminating" and his presentations as "unforgettable." In his 23 years as a speaker and trainer he has helped countless people regain confidence in their ability to achieve greater success in work and life.
Jones' "3P Approach" of Powerful Ideas connected to Practical Solutions delivered with a Personal Approach has attracted the attention of organizations around the world. His client list includes Federal Express, Wal-Mart, Choice Hotels, Toyota, Bridgestone, Saudi Aramco and State Farm as well as the United States Navy and Air Force.
Looking for ways to expand the reach of his message, Jones chose to become an author. His newest book, Always Growing, is a fresh approach to leadership and offers powerfully practical strategies for individuals who have been leading for two days or two decades. Juggling Elephants is a witty and profound parable about one man's search for solutions for the struggle of too much do. The book is available in the US and over 14 countries. He is also the author of Getting The Blue Ribbon, a unique story offering simple strategies to get better results in your work and life. Getting to It is considered a field guide to accomplishing what is most important.
Prior to becoming an internationally-recognized speaker, Jones was an educator. His past work also includes serving as the "Trainer of Trainers" for the best-selling book, Who Moved My Cheese? Jones holds a BS and M.Ed. from North Carolina State University. He is a member of the National Speaker's Association as well as the Association for Talent Development.
Jones believes the key to success is being passionate about certain things in life, including family, spiritual beliefs, career and relationships. He is active in his community and because of his commitment to improving the lives of others, Jones has been presented the Distinguished Service Award by the Charlotte Jaycees.
When not working with some amazing individuals and organizations seeking better results, Jones resides in North Carolina with his wonderful wife Lisa and their two perfect daughters.
Videos
---
Speech Topics
---
BE THE RINGMASTER OF YOUR WORK AND LIFE
See if this sounds familiar? Too much to do, too many priorities, too much stress and too little time. If this sounds like you, maybe it's time to run off and join the circus...well mentally, that is. Using the engaging metaphor of a circus, Jones equips participants to take more control of their time and energy resources to accomplish what is most important to them and their organization.
Key Objectives
Better prioritizing what needs to get done so not everything is a "crisis"
Taking more conscious control of your time and energy
Creating a concrete plan to transform ideas and goals into part of your daily tasks and activities
Improving your relationships with others to increase their engagement on what is most important to you and the organization
Discovering ways to sustain productivity in today's "always on" work environment
GOING GREEN WITH CHANGE
Take a survey of the people in your organization about topics they would rather NOT talk about, and one of them will be change. They may have dutifully followed the steps outlined by the organization, only to experience a negative result when the change process was over. Others may have felt forced to change, led to believe the current contributions they were making were completely unacceptable. Still others may have felt overwhelmed by the thought of change when they were already working at capacity with their time and energy. A fresh approach is needed for individuals and organizations of the 21st century. Jones Loflin says that new approach is built on four words: Plant, Cultivate, Prune, and Harvest.
Key Objectives
Teaching others to develop a "gardeners" mentality toward change
Discovering the 4 key elements required to start the growth of any change
Identifying the "3Ps" that must be addressed to help any change move forward
Determining where resources need to be reallocated to nurture the continued growth of a change
Leveraging the motivation that comes from small wins in the change process
YOU CHOOSE THE TOPIC AREA - JONES DELIVERS THE RESULTS!
Whether you are looking for a guest speaker, keynote speaker or someone to address your conference attendees, Jones Loflin is your speaker of choice. In his over 18 years of experience, Jones has worked with audiences of all sizes and all places (even on a fishing boat!). Opportunities range from a full day competency-based training to a one hour keynote.
WE'RE HERE ...NOW WHAT?
Your staff or association members have arrived and are ready to begin another meeting or corporate retreat. But are they focused on improving their professional skills and their individual performance? Using witty examples and a high-energy style, Jones assists individuals in embracing the need to make the most of their time away from their normal routine.
MAKING IT HAPPEN
How busy are you? In the daily struggle to get it all done, what are you forgetting? Is your mind constantly racing with lists of all the things you could and should be doing? And how about the people for whom you are responsible? Are you concerned that they aren't always focused on the organization's most critical priorities? If so, it's time for you (and them) to get to IT-the most "Important Thing." Define IT. Focus on IT. Even get excited about IT.
Key Objectives
Recognize the danger in frequently working on your "something elses" instead of IT
Understanding how to move your IT from an idea to reality
How to identify what your ITs are throughout the day
Developing a plan to communicate your IT to others so they will assist in helping you get IT done
Finding the motivation and sense of urgency to make IT a priority
Managing current distractions or obstacles limiting your work on IT
Developing IT routines that help align what you say is important with what you actually do
Teaching others how to quickly identify what IT is for them and how to take action on IT