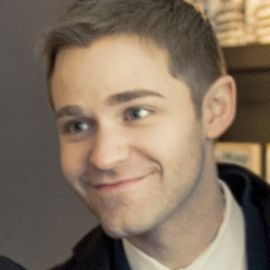 Jordan Goldman
Named "One of the top young entrepreneurs in America" by Inc Magazine, The White House, Business Insider, PBS and more.
Jordan Goldman has been named "One of the Top 30 Young Entrepreneurs in America" by Inc. Magazine, "One of the Top 100 Young Entrepreneurs in America" by the White House, "One of the 100 Most Influential People in NYC Business and Technology" by Business Insider, and "One of the 13 Faces of NYC Tech" by PBS.
Goldman started his first company at 18, getting 30,000 current college students to send him reviews of their colleges. He edited the results to create "Students' Guide to Colleges," which was published by Penguin Books. Goldman and Penguin turned "Students' Guide" into a best-selling series, released in five annually updated editions.
After college Goldman created the college review website Unigo, which generated 1.35 million page views in its first week after launch with current college students contributing hundreds of thousands of college reviews, photos and videos. The Wall Street Journal's Walt Mossberg called Unigo "a college resource built for the age of YouTube and Facebook", and The New York Times called its reviews "vivid in a way no guidebook can match."
As Unigo's CEO, Goldman recruited a team, received investment from McGraw-Hill Ventures, News Corp and The Gates Foundation, and grew Unigo into a popular destination site with more than 1 million registered users and 15 million unique visitors per year.
As its content grew, Unigo began to provide education stories to ABC News, licensed student reviews to US News & World Report's annual college rankings,teamed up with USA Today to create the USA Today / Unigo College Guide, built a partnership with The Wall Street Journal to distribute original stories about college life nationwide, and worked with McGraw-Hill Education to create a college readiness curriculum taught in high schools across America.[18] Unigo also received awards and recognitions from The Webby Awards, The Association of Educational Publishers, AlwaysOn, the InfoCommerce Group and Facebook.
In 2014 Unigo was acquired by Aequitas Capital, a $750 million private equity firm that wholly owns & operates education companies and provides more than $300 million in student loans. After the acquisition Aequitas renamed its education operation "The Unigo Group." Today, The Unigo Group provides products and services reaching more than 50% of all college-bound high school students, with 50+ employees and offices in New York, Portland and Florida.
In addition to Unigo Goldman is also the founder of Switchboard, a B2B technology licensing business. Switchboard provides tools helping companies connect prospective customers with satisfied customers to increase sales. Switchboard saw quick adoption, signing clients including News Corp, Macmillan Publishing, McGraw-Hill, NYC Board of Education, Triumph Learning, Strayer University, Jabil Manufacturing and more within months of launch, and was also acquired by Aequitas Capital. It has since been renamed Unigo Connect.
As a business, education and new media expert, Goldman has appeared on more than 75 episodes of ABC News, Fox News, CNBC, MSNBC and CNN, written weekly education columns for USA Today, US News & World Report and The Huffington Post, moderated live education events for both The New York Times and The Wall Street Journal, and co-authored white papers with The McGraw-Hill Research Foundation. He is an advisory board member to the YEC, a mentor for the Founder Institute start-up accelerator, and a Lead Mentor for the TechStars start-up accelerator. He lives in Manhattan.
Related Speakers View all
---
R "Ray" Wang

Founder, Chairman & Principal Analyst at Constellati...

Tim Sanders

Bestselling Author, Technology Pioneer, Expert on Co...

Gary Vaynerchuk

Co-Founder & CEO of VaynerMedia

Jeff Taylor

Founder of Monster.com & Eons.com

Gary Hamel

Internationally Renowned Expert on Business Strategy...

Richard Florida

Leading Urbanist, Economist & Author of "The Rise of...

Dan Ariely

Behavioral Economist; Professor at Duke University; ...

Tony Alessandra

Premier Communications Expert; Author of "The Platin...

Peter Guber

Executive, Entrepreneur & #1 NYT Bestselling Author,...

Igor Beuker

World Authority on Marketing and Media

Don Peppers

Marketing and Sales Futurist; Customer Experience Th...

Scott McKain

Customer Experience Expert & Best-Selling Business A...

Ray Kurzweil

Chairman of Kurzweil Technologies; Inventor; Futurist

Maddy Dychtwald

Co-Founder & Senior VP of Age Wave, Author & Changin...

Matt Barrie

CEO of Freelancer.com; Matt Barrie is an award winni...

Chris Hughes

Co-founder, Facebook and Editor-in-Chief and Publish...

Mark C. Thompson

Executive Coach & Author

Afterburner

US Fighter Pilots & Team-Building Experts

Michael Treacy

Best-Selling Author, Entrepreneur & Business Adviser

Geoffrey Moore

Managing Director, Geoffrey Moore Consulting; Ventur...
More like Jordan