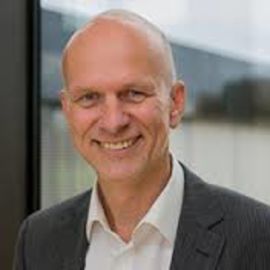 Jorg Spieldenner
Head of Public Health Nutrition Department, Nestle Research Center
Jörg Spieldenner is head of the public health nutrition department at Nestlé Research Center, where he is responsible for the sustainable nutrition research program. He was previously global head of health economics for Nestlé Nutrition Institute. Spieldenner joined Nestlé in 2009 after holding positions as head of Switzerland's National Prevention Programmes Division, professor at the University of Applied Sciences of Western Switzerland, and executive director of a global NGO. He was a delegate and advisor to a German state health minister and served in the directorate of external relations at the European Commission. Spieldenner lectures at universities of applied sciences in Zurich and Lausanne.
Related Speakers View all
---
Henna-Maria Uusitupa

Microbiome Researcher

Barbara E. Corkey, PhD

Leading Expert in Diabetes and Obesity Research; Pro...

Dianne McGrath

Researcher, Consultant & Mars One Astronaut Candidat...

Rick Doblin

Psychedelics Researcher; Founder of the Multidiscipl...

Dariush Mozaffarian

Cardiologist; Dean and Jean Mayer Professor at the F...

Dr. Anthony Fauci

Director, National Institute of Allergy and Infectio...

Dr. Paul Wolpe

Director of the Emory Center for Ethics

David Cutler

Harvard Professor of Applied Economics & Author

Regina Herzlinger

Economist / Authority on Healthcare / Author

Dan Ariely

Behavioral Economist; Professor at Duke University; ...

Kathryn Hawk

Assistant Professor of Emergency Medicine at Yale Un...

Anita Vreugdenhil

Pediatric Gastroenterologist Specializing in Childho...

Jennifer Nuzzo

Epidemiologist & Senior Scholar at the Johns Hopkins...

Scott Kahan, MD, MPH

Physician, Writer & Director of the National Center ...

Joe Nadglowski

Author, President & CEO of the Obesity Action Coalition

Dr. Mark Jabro

Physician & Director for the Center for Health Manag...

Philip Schauer, MD

Professor of Metabolic Surgery; Director of Bariatri...

Neal Benowitz

Academic Physician & Professor Emeritus of Medicine ...

Nikhil Wagle

Director, Count Me In, Broad Institute

Megan Ranney

Chief Research Officer, AFFIRM Research; Associate P...
More like Jorg