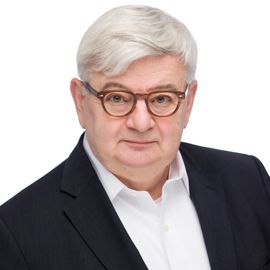 Joschka Fischer
Former Vice Chancellor & Foreign Minister of Germany; Former Leader of the German Green Party
Joschka Fischer is a former vice chancellor of Germany (1998-2005), as well as Germany's former foreign minister.
In the 1990s, Fischer led the German Green Party and was arguably the most popular politician in his nation. y uniting the various factions of the Green Party, Fischer's leadership transformed it into a key political player, marking one of the most profound political accomplishments of his generation.
In his youth, Fischer was involved in militant leftist groups such as Putzgruppe and Revolutionärer Kampf (Revolutionary Struggle). However, in the German autumn of 1977, he was rattled by a series of left-wing terrorist attacks that led him to denounce violence as a manner of seeking political change.
While spearheading dialogue about the most urgent issues of our age, Fischer enlightens audiences with personal motivational anecdotes about applying diplomacy and championing leadership, negotiation and organizational renewal.
Videos
---
Related Speakers View all
---
Norman Ornstein

Bestselling Author, Political Analyst & Resident Sch...

Parag Khanna

Leading Geo-Strategist & Author

Nicholas Burns

Professor of the Practice of Diplomacy & Internation...

Muhammad Yunus

Nobel Peace Prize Laureate & Founder of Grameen Bank...

Ben Stein

Political Economist, Commentator, Author & Actor

Larry Kudlow

Conservative Commentator, Economic Analyst, TV Perso...

Todd Buchholz

Former White House Director of Economic Policy & CNB...

Raj Patel

Award-Winning Writer, Activist & Academic

Robert D. Kaplan

Best-Selling Author & Atlantic Monthly Correspondent

Hamish McRae

One of the Leading Speakers in Europe on Future Tren...

Philippe Legrain

Critically acclaimed author, commentator and consult...

Ian Bremmer

Political Scientist, Author, Entrepreneur & Lecturer

Sir Richard Branson

Businessman & Founder of Virgin Group

John Tamny

Political Economy Editor, Forbes; Editor, RealClearM...

Guy Verhofstadt

Guy Verhofstadt won the 1999 Belgian elections to be...

Liz Claman

Anchor of the Fox Business Network Show "Countdown t...

Peter Zeihan

Energy & Geopolitical Strategist, Author of "The Abs...

Fan Gang

Director, National Economic Research Institute (NERI...

Clive Crook

Columnist and member of the editorial board at Bloom...

Javier Solana

Former Secretary General of NATO; High Representativ...
More like Joschka