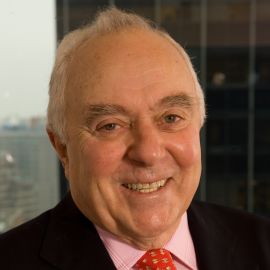 Joseph Anthony Califano Jr. is a former United States Secretary of Health, Education, and Welfare and the founder and chairman of The National Center on Addiction and Substance Abuse at Columbia University (CASAColumbia), an evidence-based research organization.
He has been Adjunct Professor of Public Health in Health Policy and Management at Columbia University Medical School Department of Psychiatry and School of Public Health and is a member of the Institute of Medicine of the National Academy of Sciences.
Califano began his career in the military as a Navy ensign and served three years in the Office of the Judge Advocate General in Washington, D.C., being released to inactive duty as a lieutenant. He also served as General Counsel of the Army and Special Assistant to the General Counsel of the Department of Defense, the Secretary of the Army, the Secretary and Deputy Secretary of Defense and to President Lyndon B. Johnson. He continued working in government, becoming the Secretary of Health, Education, and Welfare in 1977.
After serving the Carter administration, Califano formed the law firm of Califano, Ross & Heineman and served as the senior partner and head of the Washington office of Dewey Ballantine. In 1992, he founded the National Center on Addiction and Substance Abuse at Columbia University.
Califano was Founding Chairman of the Board of the Institute for Social and Economic Policy in the Middle East at the Kennedy School of Government at Harvard University. As well, he is a director of CBS Corporation and Willis Group Holdings, Ltd. He is a Trustee of New York Presbyterian Hospital, The Century Foundation, The Urban Institute, The American Ditchley Foundation, The LBJ Foundation and the National Health Museum; Trustee Emeritus of The John F. Kennedy Center for the Performing Arts, and a member of the advisory council of the American Foundation for AIDS Research and the Council on Foreign Relations.
He has authored of twelve books written articles for The New York Times, The Washington Post, The Wall Street Journal, Readers Digest, New Republic, Journal of the American Medical Association, The New England Journal of Medicine, America, The Washington Monthly, and other publications.
Califano received a Bachelor of Arts degree from the College of the Holy Cross, in Worcester, Massachusetts, in 1952, and his LL.B. magna cum laude, from Harvard Law School in 1955.
Books
---
Related Speakers View all
---
Rich McKeown

Chairman, Co-Founder & Former CEO of Leavitt Partner...

Quentin James

Co-founder of The Collective PAC

Jennifer Higgins

Partner at Chamber Hill Strategies & Founder of Rig...

Tom Price

United States Secretary of Health and Human Services...

Malcolm Nance

U.S. Intelligence Veteran, MSNBC Chief Terrorism Ana...

Richard Wilhelm

Executive Vice President, Booz Allen Hamilton

Mark Sanford

Former 2020 Republican Presidential Candidate; Forme...

Ezra Levin

Co-Founder & Co-Executive Director of Indivisible

Trey Gowdy

Attorney, Politician & Former Federal Prosecutor

Joyce Vance

MSNBC Legal Commentator, Former U.S. Attorney for th...

Ken Starr

Former U.S. Solicitor General & President of Baylor ...

Rebecca Kelly Slaughter

Commissioner at the Federal Trade Commission

Heather Weiner

Associate General Counsel of the Office of the Gover...

James Braid

Deputy Chief of Staff, Office of the Honorable Ted B...

Yaniv Barzilai

Counterterrorism Policy Advisor for North Africa, U....

Debbie Bucci

Lead IT Architect in the Department of Health and Hu...

Mark J. Green

Author, Public Interest Lawyer & Democratic Politici...

Meryl Chertoff

Executive Director of The Aspen Institute's Justice ...

Rami Nashashibi

Co-Founder & Executive Director of the Inner-City Mu...

Ryan Yeung

Chief Executive Officer of Happy- Retired
More like Joseph