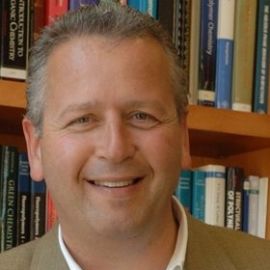 Joseph Desimone
Co-Founder & CEO of Carbon; Chancellor's Eminent Professor of Chemistry at the University of North Carolina at Chapel Hill
Joseph DeSimone is the Chancellor's Eminent Professor of Chemistry at the University of North Carolina at Chapel Hill and William R. Kenan Jr. Professor of Chemical Engineering at North Carolina State University. DeSimone is also an Adjunct Member at Memorial Sloan-Kettering Cancer Center in New York. DeSimone has published over 270 scientific articles and has 120 issued patents in his name with over 120 patents pending. In 2005 DeSimone was elected into the National Academy of Engineering and the American Academy of Arts and Sciences.
DeSimone has received over 40 major awards and recognitions including the 2010 AAAS Mentor Award, the 2009 NIH Director's Pioneer Award, the 2009 North Carolina Award, and the 2008 Lemelson-MIT Prize for Invention and Innovation. In 2002 DeSimone, along with Dr. Richard Stack (Duke University) and Dr. Robert Langer (MIT), co-founded Bioabsorbable Vascular Solutions (BVS) to commercialize a fully bioabsorbable, drug-eluting stent. The stent achieved CE Mark approval in Europe in 2011 and is being further evaluated in a series of international clinical trials led by Abbott for the treatment of coronary artery disease.
DeSimone's group is now heavily focused on harnessing the fabrication technologies from the semiconductor industry to design high-performance, cost-effective vaccines and medicines. DeSimone and his team have developed a roll-to-roll particle fabrication technology called PRINT (Particle Replication in Non-wetting Templates). They are exploiting the advantages of PRINT to generate "calibration quality" nano-tools to define the geometric (size, shape), surface (zeta potential, stealthing ligands), and deformability limitations associated with the delivery of drugs and vaccines using different dosage forms. DeSimone recently launched Liquidia Technologies (www.liquidia.com), which employs roughly 60 people in RTP and has raised over $60 million in venture financing, including the first ever equity investment by the Bill and Melinda Gates Foundation in a for-profit biotech company. Liquidia has converted PRINT into a GMP compliant process and has recently brought its first product, a seasonal influenza vaccine based on PRINT particles, into its first clinical trial. DeSimone received his BS in Chemistry in 1986 from Ursinus College in Collegeville, PA and his Ph.D. in Chemistry in 1990 from Virginia Tech.
Related Speakers View all
---
Peter Diamandis

Founder & Executive Chairman of the XPRIZE Foundatio...

Clifton Leaf

Editor-In-Chief of Fortune Magazine; Combating Cance...

Dean Kamen

Inventor and Entrepreneur; President, DEKA Research ...

David B. Agus

Professor of Medicine and Engineering at the Univers...

Dan Ariely

Behavioral Economist; Professor at Duke University; ...

Martine Rothblatt

Medical Ethics and Technology Expert, Creator of Sir...

Jonathan Bush

Co-Founder, President, Chairman & CEO of athenahealth

Read Montague

An American neuroscientist and popular science autho...

Seth Berkley

CEO of Gavi, the Vaccine Alliance; Medical Doctor Sp...

Daniel Kraft, M.D.

Physician-Scientist; Founder of Exponential Medicine...

Dan Buettner

National Geographic Writer, Renowned Explorer & Auth...

Rachel Haurwitz

President & CEO of Caribou Biosciences, Inc.

Tim O'Reilly

Founder and CEO, O'Reilly Media

Craig Venter

Founder & CEO of Synthetic Genomics Inc.

Catherine Mohr

Vice President of Strategy at Intuitive Surgical & P...

A.J. Jacobs

Best-Selling Author & "Human Guinea Pig"

Mario Schlosser

Co-Founder & CEO of Oscar Health Insurance

Monica Lewinsky

Social Activist; Expert on Cyberbullying, Women's Is...

Michael Archer

Paleontologist Michael Archer is working to bring ba...

Tal Golesworthy

Tal Golesworthy is an engineer and entrepreneur, wor...
More like Joseph