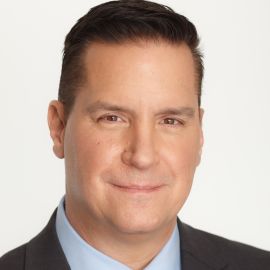 An innovative asset protection/security professional with over 20 years of experience, Joseph LaRocca is a nationally recognized leader and public speaker on loss prevention, organized retail crime and emerging technologies. He is the Founder of RetaiLPartners and former Vice President of Loss Prevention for the National Retail Federation. He serves as a loss prevention spokesperson and intermediary between retailers and law enforcement entities nationwide.
Joe's expertise includes skills in retail crime prevention; theft investigations; loss prevention legislative matters; crisis management, business continuity programs; emerging technology; private sector and government networking; security cost savings initiatives and business management strategies. He frequently lectures to retail and law enforcement industry groups about emerging technology and the crime issues plaguing the retail industry.
LaRocca has testified before the United States House of Representatives on the topics of identity theft and organized retail crime. His testimony has also been used in California, Maryland, Colorado, Vermont, and in conjunction with the American Legislative Exchange Council (ALEC) and National Council of State Legislatures (NCSL).
In the media, his work has appeared on CNN, Fox News, Good Morning America, the Today Show and has been published in Time Magazine, Consumer Reports, The Wall Street Journal, New York Times, The Daily Beast and a host of other trade, local and national publications.
In 2005, 2006 and 2010, the Federal Bureau of Investigation (FBI) recognized him for outstanding assistance to the Bureau in connection with its investigative efforts and for exceptional service in the interest of public safety. He is a Volunteer Reserve with the Los Angeles Police Department, Founding Member of the Los Angeles Area Organized Retail Crimes Association (LAAORCA) and serves as an Advisor to the Southern California Chapter of the International Association of Financial Crimes Investigators (IAFCI).
Prior to joining the National Retail Federation in 2005, he was Director, Loss Prevention, for the Walt Disney Company's Retail Division, Disney Stores, where he spent nine years directing strategic and tactical loss prevention, crisis management and business continuity programs.
For media or speaking inquiries, please contact Mr. LaRocca directly, [email protected] or 818-641-1249.
LinkedIn: https://www.linkedin.com/in/laroccaj Twitter: http://www.twitter.com/laroccaj
Videos
---
Speech Topics
---
The E.T.s of Retail: Emerging Technologies and Emerging Threats
New technologies are being developed and coming to the market at lightning speed. From blue sky, serious research, piloting and full deployment, retailers agree: It's not a matter of 'if', it's a matter of 'when.' This session will highlight Near Field Communication (NFC), Mobile POS, touchless payments, e-receipts, chip and pin (EMV), Radio Frequency Identification (RFID) and more. Attendees will see how these new technologies may facilitate and drive sales, while identifying potential vulnerabilities with shrinkage, fraud, returns management and data security. Sit back, grab an iPad, Google Tablet or pencil and watch as we fast forward retail technology from here to there.
Fight Counterfeiting, Protect Your Brand with Precise Supply Chain Data
Pinpoint inventory accuracy is the best way to protect your brand from counterfeiting. Inventory tracking via standardized radio frequency identification (RFID) technology allows you to bring the right product to the right place at the right time. Failing to do so places your brand at risk for lost revenue and damaged credibility. In this session, you'll learn how to extend the use of inventory tracking standards to walk away from this business challenge unscathed.
Combating Professional Shoplifting and Organized Retail Crime
Organized retail crime has long been an issue plaguing both retailers and secondary marketplaces. According to Congressional testimony and industry experts, ORC losses total an estimated $15-30 billion annually and 9 out of 10 retailers were victimized by organized retail crime within the past year. Sophisticated groups and sometimes individuals, steal thousands of dollars of popular goods at a time with the intent to resell them for profit. ORC incidents can result in safety concerns, higher prices at the register for consumers, lack of product availability and reduced sales tax revenue for cities, counties and states.
Related Speakers View all
---
Louis-Philippe Loncke

European Adventurer 2016, Explorer, Motivational Spe...

John Sileo

America's Top Identity Theft Expert, President & CEO...

Scott Shellstrom

Creativity Innovator, Award Winning Creative Directo...

Michael Santarcangelo

Catalyst to translate complexity into understanding....

Mike Wittenstein

Customer Experience and Service Design Expert

Michael DiTullo

Passionate advocate & experienced practitioner of de...

Jared Blank

Interim Chief Marketing Officer at Doodle AG; Former...

Byron Reese

Inventor, Technologist, Author, Entrepreneur & Etern...

Roland Martin

Award-Winning Journalist & Media Personality, Author...

Ford Saeks

Business Growth & Internet Marketing & Social Media ...

Michael Wakshull

Only document Examiner from the USA to speak at the ...

Brent Darnell

An international best-selling author and leading aut...

David Byrne

Musician, Artist & Author; Co-founder of the Band "T...

Dave Lieber

Speaker, Columnist & Yankee Cowboy humorist

R "Ray" Wang

Founder, Chairman & Principal Analyst at Constellati...

Steve Wozniak

Co-Founder of Apple Computer, Inc.

James Canton

Futurist, Author & Visionary Business Advisor

Terry Brock

Marketing Coach & Author

Dan Ariely

Behavioral Economist; Professor at Duke University; ...

Jerry Inman

Co-Founder of Demand Worldwide & MintModa and Author...
More like Joseph