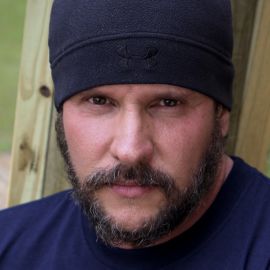 Joseph Teti is a veteran of both US military and US government special operations units.
He is a former Force Recon Marine, Army Special Forces "Green Beret" and a former operative in what is widely considered the most secretive government counter-terrorist unit in the world.
He is a combat veteran of both OIF (Operation Iraqi Freedom) in Iraq and OEF (Operation Enduring Freedom) in Afghanistan. He planned and conducted a broad range of special operations missions covering the entire operational continuum. These missions gave the President of the United States an option when overt military and / or diplomatic actions were not viable or politically feasible. Operations of this nature required rapid response with surgical application of a wide variety of unique skills, while maintaining the lowest possible profile of U.S. involvement. He has participated in numerous classified direct action missions with several Tier 1 SMU's (Special Mission Units).
Joseph has performed high-risk PSD (Personal Security Detail) operations in Afghanistan and Iraq for U.S. government and civilian clients. He was also a member of a U.S. State Department close protection team assigned to several high profile government officials and visiting diplomats in Israel. Working out of the U.S. Embassy in Tel Aviv, and the U.S. Consulate in Jerusalem, he operated in high-risk areas throughout the country to include Ramallah, Abu Dis, Jericho, The Gaza Strip and the West Bank. He has extensive experience and training in fully armored vehicle operations, advance team operations, motorcade operations, CAT (Counter Assault Team) operations and surveillance / counter surveillance operations.
A graduate of over 30 formal schools in regards to special operations, his skill sets and experiences are highly diverse. He is an accomplished skydiver, scuba diver, marksman and climber.
He has held a TOP SECRET-SCI with polygraph security clearance, the highest security clearance awarded by the U.S. government.
He is co-star of the show "Dual Survival" on the Discovery Channel currently in its fourth season of production.
Videos
---
Speech Topics
---
Survival (Both urban and rural).
News
---
'Dual Survivor' co-star disavowed by Special Forces Association
The Discovery Channel's reality TV show "Dual Survival" is taking another hit as its military co-host Joseph Teti, a former Army and Marine Corps special operator, has been disavowed by the Special Forces Association after facing allegations of misrepresention.
Casio PRO TREK Announces Partnership With Outdoor Survival Expert Joseph Teti (2014)
Casio America, Inc. is proud to announce its partnership with Joseph Teti, outdoor survival expert and co-star of Discovery Channel's hit show, Dual Survival, in support of the company's PRO TREK series of Triple Sensor timepieces. Through this partnership, Teti will demonstrate the benefits of Casio's PRO TREK timepieces when navigating the great outdoors on this season of Dual Survival as well as document his experiences with the brand in his blog and through personal appearances.
Related Speakers View all
---
Malcolm Nance

U.S. Intelligence Veteran, MSNBC Chief Terrorism Ana...

J. Christopher Daniel

Senior Associate (Consultant), Global Health Policy ...

Lt. Col. Dave Grossman

Scholar, Author, Soldier, and One of the World's For...

Nada Bakos

Former CIA Analyst & Targeting Officer

General Martin E. Dempsey

Retired United States Army General; 18th Chairman of...

Karl Eikenberry

Retired U.S. Army Lieutenant General & Former U.S. A...

Linda L. Singh

Retired Major General of the Maryland Army National ...

Michael Glover

Former Green Beret & CIA Contractor

Dean Stott

Former British Special Forces Soldier, 2x World Reco...

R.P. Eddy

Chief Business Officer of Zume; Founder & Chairman o...

William R. Evanina

Director of the National Counterintelligence and Sec...

Chuck Banks

Retired CIA Executive

Wendi Whitmore

Cybersecurity Leader; Vice President of IBM X-Force ...

Vincent Viola

Billionaire Owner of Florida Panthers, Named Trump's...

Mark Geist

Co-Author of "13 Hours", Member of Benghazi Annex Se...

Joe Bassani

Project Leader at McChrystal Group

Marie Harf

Co-Host on Fox News' "Benson and Harf"

James E. Horn

Veteran, Author and Retired American Diplomat with a...

Timothy Keating

First Navy Officer to Head Northern Command and NORAD

William Wagasy

Special Operations Chief for the U.S. Navy, Former L...
More like Joseph