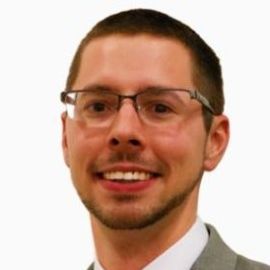 Dr. Joshua Allen, PhD serves as Director of Development at Oncoceutics, Inc. In 2016, Dr. Allen was selected as one of Forbes' 30 Under 30 Healthcare honorees.
Dr. Allen has relevant drug development skills that include high-throughput screening, in silico analysis, animal models, combination therapy, cell signaling, cell death, biomarkers, and correlative assays.
Dr. Allen has several publications regarding drug discovery and development as well as biomarkers in oncology with an emphasis on understanding and targeting the TRAIL pathway for therapeutic intervention in cancer.
Dr. Allen received his Ph.D. in Biochemistry and Molecular Biophysics from the University of Pennsylvania and completed a post-doctoral fellowship at the Penn State Cancer Institute.
Related Speakers View all
---
Yehia Abugabal

Founder and Director at International Cancer Researc...

Corey Casper

Chief Medical Officer at the Infectious Disease Rese...

Barbara Bowers, MD

Medical Oncologist Specialized in the Diagnosis & Tr...

Douglas Yee, MD

Director of the Masonic Cancer Center at the Univers...

Dr. Elizabeth Jaffee

Deputy Director of the Comprehensive Cancer Center a...

Andy Schmeltz

Global President and General Manager, Pfizer Oncology

Steven Burakoff

Dean for Cancer Innovation & Chief of Pediatric Hema...

Dr. Laura Esserman

Surgeon & Breast Cancer Oncology Specialist at UCSF;...

Laurie H. Glimcher

President & CEO of Dana-Farber Cancer Institute; Can...

Marty Makary, M.D.

Healthcare Futurist, Johns Hopkins Surgeon & Profess...

Shekinah Elmore

Oncologist; Dedicated to pursuing equity and empathy...

Nikhil Wagle

Director, Count Me In, Broad Institute

Dr. Mikhail Varshavski

Known as "Doctor Mike," Leading Medical Media Voice

Alexa Marks, RN, BSN

Registered Nurse, Mom of Three & Breast Cancer Survivor

Dr. Kristi Funk

Founder of Pink Lotus Breast Center; Breast Cancer S...

Leonard I. Zon

Cancer Genetics & Stem Cell Biology Researcher; Prof...

Dr. Jennifer Ashton

Leading Women's Health Expert & Chief Medical Corres...

Jay Bradner

President at the Novartis Institutes for BioMedical ...

Nancy Snyderman, MD

Former Chief Medical Editor of NBC News

Dr. Susan Love

Breast Cancer Researcher & Advocate; Teacher, Surgeo...
More like Josh