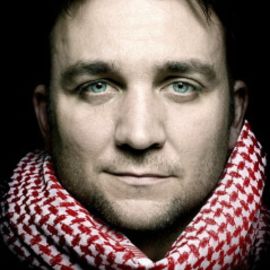 Joshua Rushing became a celebrity by accident. As a veteran Marine captain, he was a spokesperson at Central Command Qatar, during Operation Iraqi Freedom. When his earnest discussions about war coverage with Al Jazeera reporters were featured in the hit documentary, Control Room, he found himself elevated to stardom and immersed in a whirlwind of controversy.
When Rushing made the transformative choice to resign from his distinguished military career, he became a correspondent and military analyst for the fledgling network, Al Jazeera International, the world's revolutionary first international English-language news and current affairs channel headquartered in the Middle East. Now, as co-host of Fault Lines, Al Jazeera English's current affairs program about the Americas, Rushing continues to deliver the news from a unique prism of experience, providing accurate and impartial reporting with an international perspective.
Rushing is the author of the critically acclaimed Mission Al Jazeera: Build a Bridge, Seek the Truth, Change the World, a book that blends his personal experience with a unique behind-the-scenes look at the controversial Al Jazeera broadcast networks. He also regularly blogs for The Huffington Post and Al Jazeera English Blogs, and his work has been covered by nearly every major news outlet.
Determined to serve as a personal conduit for bridging America and the world, Rushing offers intelligent and informed analysis about the role the US plays in the global arena and in the Arab world. Never one to back down from his convictions, he serves as a non-partisan broker for the truth. His voice is fresh, honest, and destined to expand the global dialogue surrounding media, government, international conflict, and the US.
Videos
---
Speech Topics
---
The Power of Transformation: How the US Marine Corps Taught Me to Change Myself & the World
America, The Global Brand: Returning to the American Dream
Six Steps to a New America: How the US Can Reconnect with the World
What's Wrong with American News? And Why It's Your Fault!
Holy Warriors: How Christian Extremists are Turning the US Wars into the New Crusades
Cast Away: The Criminalization of the Mentally Ill in America
Global Communicating: Succeeding in a Hyper-Connected World
Human Rights: Can America Lead the Way?
Ethics: The Pathway to Continued Success
News
---
Josh Rushing
Josh Rushing co-hosts Fault Lines, Al Jazeera English's flagship current affairs program about the Americas, he just returned from. Kirkuk, Iraq, where he went to  ...