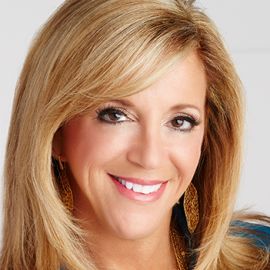 Joy Mangano
Inventor, Entrepreneur, HSN Personality; Inspiration for the Film, "Joy," Starring Jennifer Lawrence
Joy Mangano is regarded as one of today's most-successful product inventors. She is the President of Ingenious Designs LLC, a company that she founded in 1990 and was later acquired by HSN, Inc., parent company of direct-to-consumer content retailer HSN. Fueled by the breakout success of her first product, the Miracle Mop, she has spent the past 30 years pursuing her dream to simplify everyday challenges with innovative products that make a real difference. A busy working mom, Joy is inspired by real life, always looking for new ways to create smart, stylish products that serve a purpose, and bring a little more "joy" to women everywhere.
Joy began her career with The Miracle Mop, the first-ever self-wringing cotton mop, which reinvented the category and was a sales sensation in traditional and electronic retail. She followed that with her Huggable Hangers, the world's first velvety non-slip hanger, and has since sold almost 700 million hangers nationwide. Joy also developed Forever Fragrant for HSN, a record-breaking line of long lasting, plant-based home fragrance solutions. In addition, she has also created a best-selling line of Better Beauty Cases, Jewel Kits and luggage, which have provided travel and storage solutions to millions of consumers. Most recently, Joy premiered her Memory Cloud Warm & Cool Pillow, and sold over 500,000 pillows in less than 24 hours for HSN.
In addition to her own line of high quality products for HSN, Joy also develops and manages a portfolio of celebrity brands, including collections with Keith Urban, Randy Jackson, Chef Ming Tsai, Chef Lorena Garcia, and IMAN.
Joy has overcome incredible odds to experience great success. Press and business leaders alike have recognized Joy's accomplishments as a product creator and innovator. She was named one of Fast Company's "Most Creative People" alongside Marc Jacobs and Melinda Gates. Joy and her products have been profiled on 20/20, the TODAY Show, The View, The Ellen DeGeneres Show, USA Today, Entrepreneur, People, Glamour, InStyle, Town & Country, Cosmopolitan and O, The Oprah Magazine, among many others. In addition, her products regularly earn the Good Housekeeping Seal and are trusted by consumers everywhere.
Joy's products are sold in premier retailers such as Target, Bed Bath & Beyond and The Container Store, and her entire product portfolio can be found exclusively on HSN and HSN.com, where she appears regularly to launch new products, technologies, colors and assortments for her legion of loyal fans.
Videos
---